Theta Token price prediction as break and retest pattern forms
Theta Token (THETA/USD) price has bounced back after experiencing a major sell-off in the past few weeks. The token is trading at $3.65, which is about 62% above the lowest level this year. As a result, its total market capitalization has jumped to about $3.66 billion, making it the 45th biggest cryptocurrency in the world.
Theta bounces back
Theta is a leading blockchain project that is seeking to disrupt the video streaming infrastructure industry. Its business model is similar to that of LivePeer, another popular blockchain network for streaming.
The idea is simple. Instead of spending a fortune to pay centralized companies like Google and Amazon, one can use a decentralized network of computers to host their videos. The network claims to be faster than existing platforms.
It is worth noting that Theta is not trying to be a substitute for video companies like YouTube and Rumble. Instead, the company's goal is to create a substitute for streamers and other video users.
Theta has two tokens: Theta Token and Theta Fuel. Theta Fuel is equivalent to Ethereum gas. It is a tradable asset that is currently worth more than $1.2 billion. On the other hand, Theta Token, on the other hand, is the token that helps to secure the network.
In the past few months, Theta has embraced the non-fungible token (NFT) industry. Early this month, the developers launched Theta Drop, which is a platform where users can mint and sell non-fungible tokens. It is built using Theta's smart contract network.
Already, the platform has inked deals with Katy Perry and companies like PartyPoker and FuseTV among others. However, while the platform was highly anticipated, its performance has been relatively muted since it was launched.
Theta Token price prediction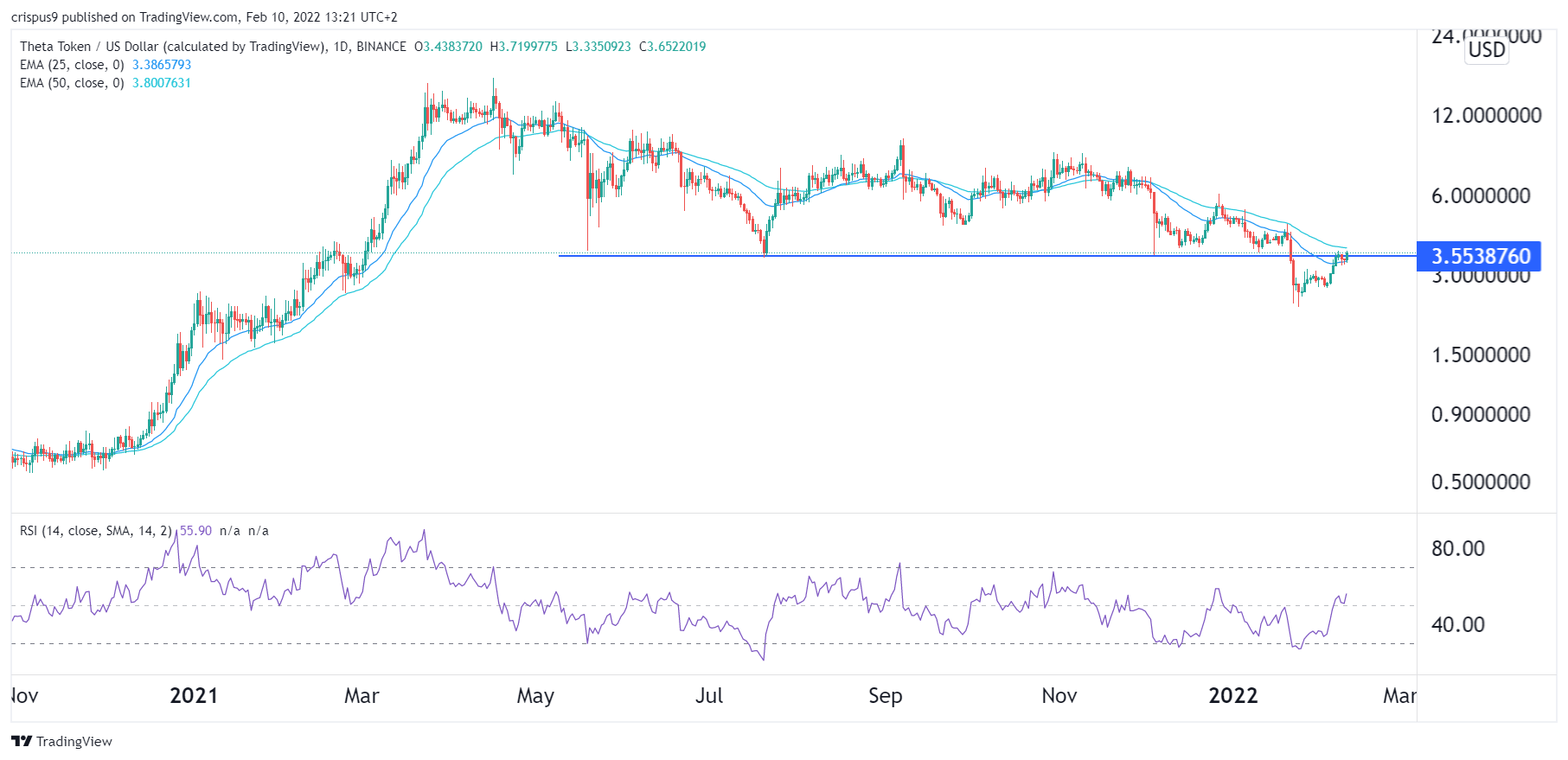 The daily chart shows that the Theta Token price has struggled in the past few weeks. Indeed, its price has crashed by more than 78% from its highest level on record. As a result, Theta has moved from being a top 20 crypto to the current level of 45.
Its current gain has seen it retest the key resistance level at $3.55. In technical analysis, a break and retest pattern is usually a sign that the price will continue moving in the same direction as its breakout. It remains below the 25-day and 50-day moving averages.
Therefore, there is a likelihood that the coin will continue falling as bears attempt to move below its YTD low of $2.30.