Ethereum price prediction ahead of US consumer inflation data
Ethereum (ETH/USD) price continued its bullish momentum on Thursday as investors waited for the upcoming American consumer inflation data. It is trading at $3,250, which is the highest it has been since January 17th this year. It has risen by about 50% from the lowest level this year.
US inflation data ahead
The Bureau of Labor Statistics (BLS) will publish the latest American inflation data on Thursday. Economists expect the data to show that inflation continued rallying in January as the supply challenges continued and energy prices kept soaring.
Precisely, economists expect the data to show that the headline CPI rose from 7.0% in December to 7.3% in January this year. If analysts are accurate, that increase will be the highest it has been in more than 40 years.
The core consumer price index, which excludes the volatile food and energy, is expected to have grown from 5.0% to 5.3%.
These numbers will be higher than the Fed's target of 2.0%. They will also validate the fact that inflation is no longer transitory.
Inflation data is important for Ethereum prices because of the Federal Reserve. The Fed is given two key mandates: manage inflation and ensure that the unemployment rate is low. Now, with inflation soaring, and with the unemployment rate falling, analysts expect that the Fed will be more hawkish this year.
The Fed has already started tightening its policy by starting to slow down the pace of asset purchases. It has also hinted that it will implement 3 rate hikes this year.
Therefore, stronger numbers will validate the bank's hawkish view. Historically, risky assets like cryptocurrencies tend to underperform the market in a period of high-interest rates.
Ethereum price is also rising as activity within its network rise. On-chain data shows that the number of people using Ethereum and the number of non-zero accounts are tilting higher.
Ethereum price prediction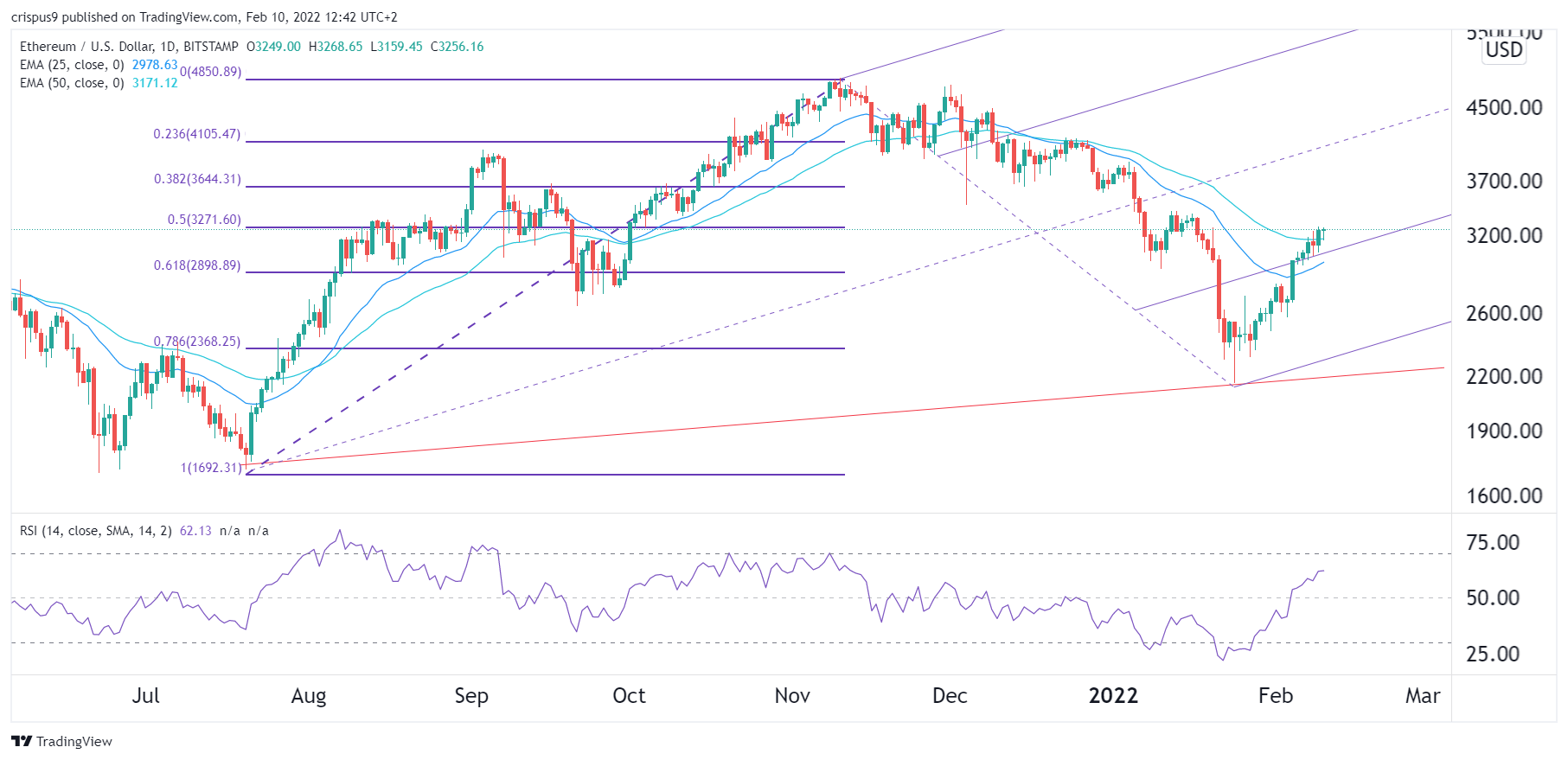 The daily chart shows that the ETH price has done well in the past few days. Along the way, the coin has managed to cross the 50-day and 25-day exponential moving averages (EMA). The Relative Strength Index (RSI) has also moved close to the overbought level.
It has also moved slightly above the first support of the Andrews pitchfork tool and is at the 50% Fibonacci retracement level.
Therefore, the coin will likely keep rising as bulls target the next key resistance level at $3,700, which is about 13% above the current level.