Will ICP be able to continue the rally after surging by over 50% this year?
Internet Computer Token (ICP/USD) has been on the watchlist of many investors this year after surging by over 50% in just 5 days. The ICP token has several major uses: it acts as a governance token (allowing holders to "lock" some of their ICP into the network in exchange for having a say in the future development of the ICP protocol), is rewarded by the network to participating data centres for good behaviour, and is used to pay transaction fees.
ICP has finally given a long-awaited reversal after falling by over 60% since November. ICP was trading 10% higher during the day on Wednesday however, several hours later ICP lost all its gains and was trading 11% lower from the highs of the day. This shows that a lot of investors were booking their profits on Wednesday as ICP approached a strong resistance level. Many investors were seen buying ICP due to a fear of missing out on profits however this could prove to be very risky especially after the fall on Wednesday. The fall on Wednesday may not mean that the ICP rally is over, however it could be pointing towards a small correction before ICP resumes the rally. Thus should you buy ICP now or wait for ICP to head for lower levels?
Here is what the charts are pointing towards-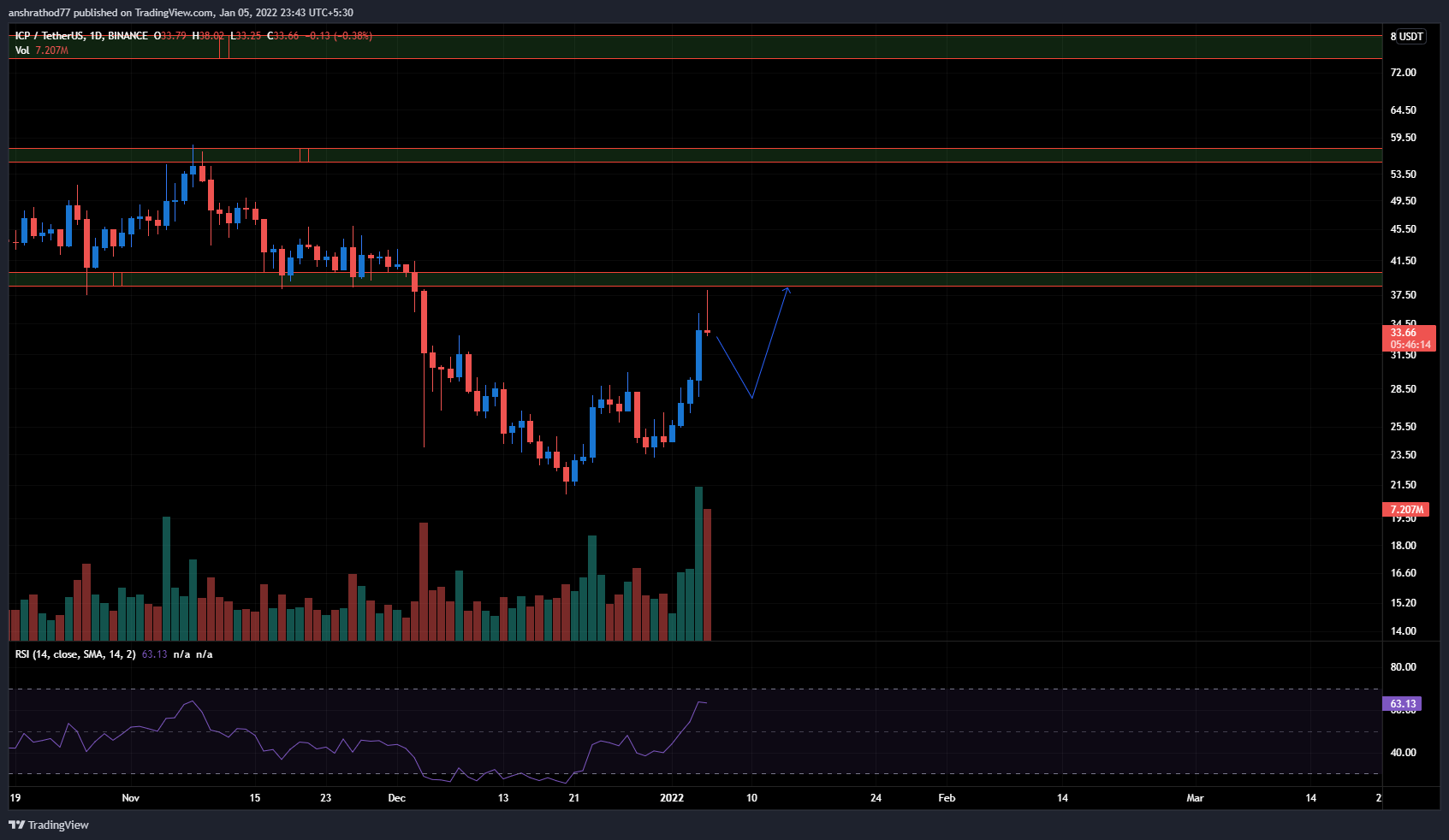 ICP has rallied by over 50% in just 5 days, however, the rally is now showing signs of stopping now as it approached a strong resistance at $38.

ICP could now correct to the Fibonacci 0.618 level at $27.6 before resuming the rally and breaking through the resistance at $38.

High selling volumes were seen on Wednesday which is suggesting that many investors were booking profits.

Investors should wait for the correction in ICP before entering a long position, as it is looking like it will fall further down.

Investors can set a target of $38, followed by $55.