What kind of value can AAVE reach after Aave V3 went live on the mainnet?
Aave (AAVE) is essentially a system of smart contracts that runs on top of the Ethereum blockchains that enables assets to be managed by a distributed network of computers, all of which run the software.
This allows Aave users to trust in the code which is executed as it is written instead of relying on a specific institution or a person to manage their funds.
The Aave V3 update as a catalyst for growth
According to an announcement made on March 16, 2022, Aave V3 went live on the mainnet across six networks.
One of the main new features here includes "Portals," which allows for transfers of Aave V3 assets across different chains by "permit listed" bridge protocols, which are approved by the Aave governance.
Many chains are now available due to the fact that this update was actually greenlit across Polygon, Fantom, Avalanche, Arbitrum, Optimism, and even Harmony.
Different blockchain networks can feature varying transaction fees, settlement times, and interoperability with other protocols.
This update also brings high-efficiency mode or E-mode, which allows borrowers to secure more money for their collateral within the same asset category.
Should you buy Aave (AAVE)?
On March 17, 2022, Aave (AAVE) had a value of $143.16.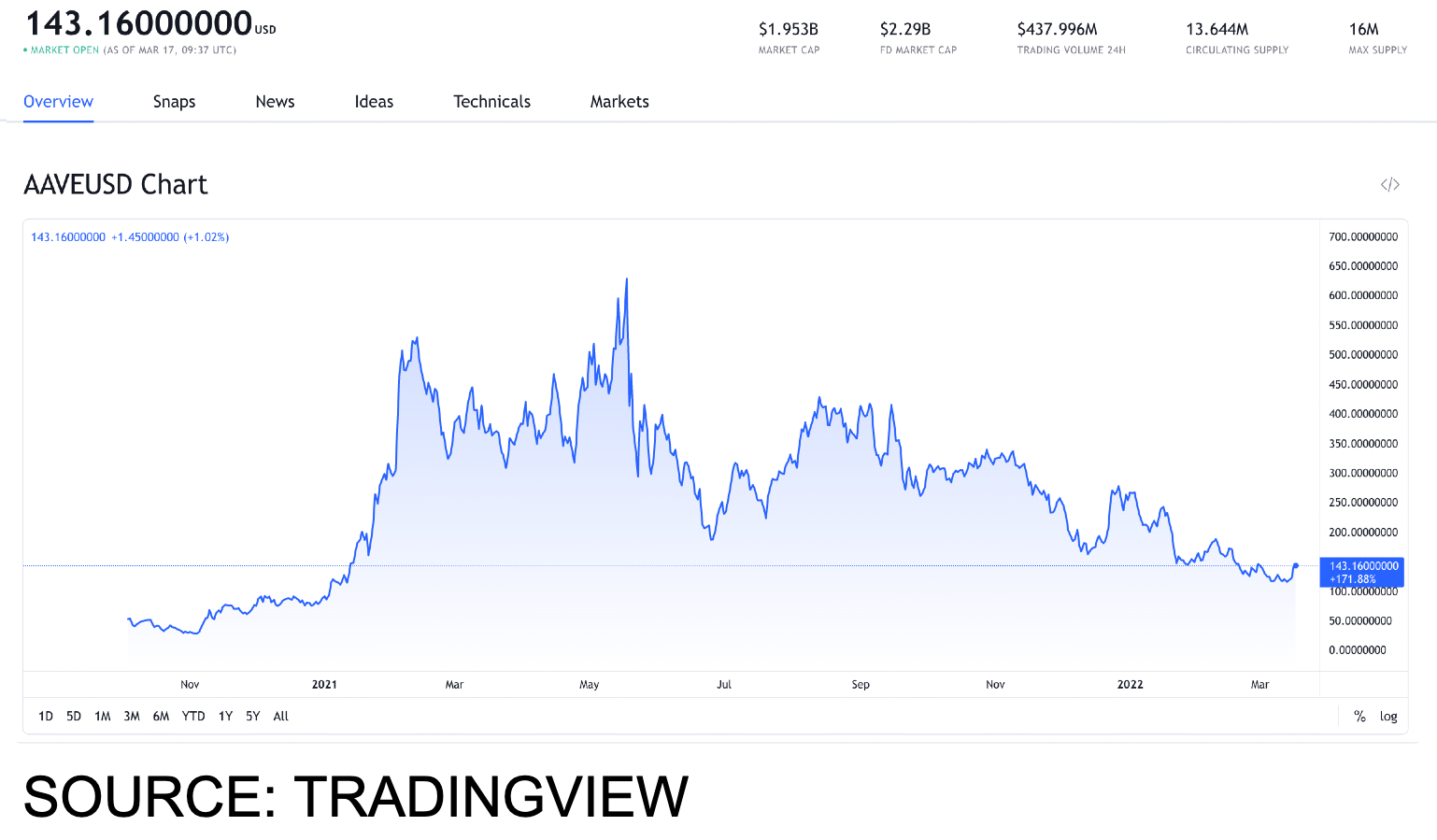 The all-time high value of the Aave (AAVE) token was on May 18, 2021, when the token reached a value of $661.69. This means that at its ATH, the value of the AAVE token was $518.53 higher.
When we go over the performance of the token throughout the previous month, Aave (AAVE) had its highest point of value on February 8 at $190.36, while its lowest point was on February 24 at $114.42
What this essentially means is that the token decreased in value by $75.94 from February 8 to February 24.
However, from February 24 to March 17, the token has increased in value by $28.74 or by 25%.
With all of this in mind, we can expect AAVE to reach a value of $160 by the end of March 2022.