Maker price prediction as MKR forms a descending triangle pattern
The Maker price rose substantially as decentralized finance tokens rebounded. The MKR token is trading at $1,995, which is about 30% above the lowest level this year. Its market cap has risen to $1.77 billion, making it the 65th biggest cryptocurrency in the world.
Why is MKR rising?
Maker is a leading decentralized finance platform that enables people to borrow and invest money online. In the past few years, it has grown to become the second-biggest DeFi platform in the world after Curve. It has a total value locked of $15.7 billion while Curve has a TVL of over $18 billion.
Unlike Curve, Maker has just one variant that is hosted in Ethereum's platform. On the other hand, Curve is hosted in multiple platforms like Avalanche, Fantom, Polygon, and Harmony among others.
Maker has a different model than other lending and investing platforms in DeFi. It solves the volatility of the industry by using its owns stablecoin known as Dai, which is backed ny the IS dollar. As such, this gives users a peace of mind that their value will be stable. Dai has a market cap of $9.4 billion and is the 5th biggest stablecoin in the world after Tether, USD Coin, Binance USD, and Terra USD.
It is unclear why the Maker price is rising. A possible reason is that activity in the network is rising. According to DeFi Llama, the TVL in its ecosystem has risen to $15.7 billion, which is above its lowest level this year.
Another reason could be that investors are buying the dip in DeFi tokens. A look at crypto performance shows that most DeFi tokens like Uniswap, Xido Finance, and AAVE have risen sharply in the past 24 hours.
Another reason is that the Maker community is debating whether to change the governance of the MKR token. If the proposal passes, it will replace MKR with stkMKR.
Maker price prediction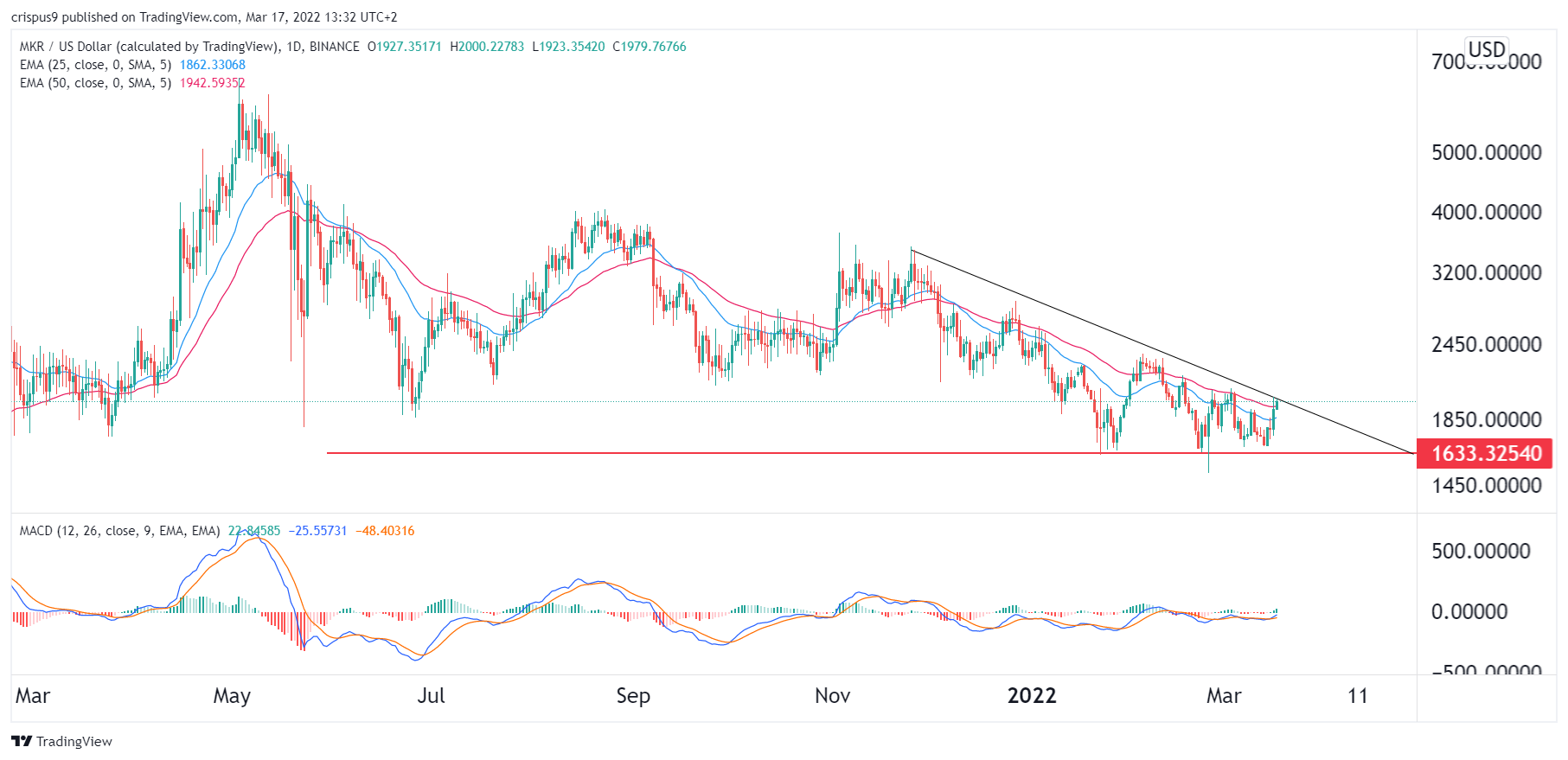 The daily chart shows that the MKR price has been in a bearish trend in the past few months. It has fallen by more than 70% from its all-time high.
The coin has found a strong support at around $1,633, where it has struggled to move below in the past few months. It is also slightly below the descending trendline that is shown in black, meaning that the bearish trend is still in full force.
Therefore, the Maker price will likely continue falling as long as it is below the descending trendline. Besides, it has formed what looks like a descending triangle pattern.