Waves price prediction as the Neutrino and Vires ecosystem grows
The Waves price bounced back on Monday morning as investors cheered the performance of its ecosystem. The coin is trading at $11.98, which is about 9% above its lowest level on Sunday. It has a total market capitalization of more than $1.18 billion.
Waves ecosystem growth
Waves is a relatively small Ethereum-killer that helps developers to build high-performing decentralized applications (dApps). The platform is widely used in decentralized finance, non-fungible tokens (NFT), and other decentralized autonomous organizations.
Waves price has done well in the past few days as investors watch the growth of its ecosystem. While its DeFi ecosystem has four apps, they have grown their total value locked (TVL) in the past few days.
For example, the TVL of the ecosystem has risen by 22% in the past 24 hours and by 46% in the past 7 days. This makes it a better performer than other smart contract platforms like Ethereum that have recorded modest growth.
Most of these gains come from Neutrino, a platform that has seen its TVL rise by about 30% in the past 7 days. Neutrino is a stablecoin that has algorithmic price-stable assetization. USDN is backed by the US dollar and then algorithmically backed by WAVES. Its total value locked has jumped to over $565 million in the past 24 hours.
The other leading DeFi platform in the Waves ecosystem is Vires Finance, which has a TVL of more than $484 million. Its TVL has risen by more than 16% in the past 24 hours to $484 million. The other two are Waves Exchange and Swop.
The Waves price has risen even as concerns about the ongoing Russia and Ukraine tensions have risen. During the weekend, Western countries ramped up pressure on Russia as they made plans to exclude it from the SWIFT network.
Waves price prediction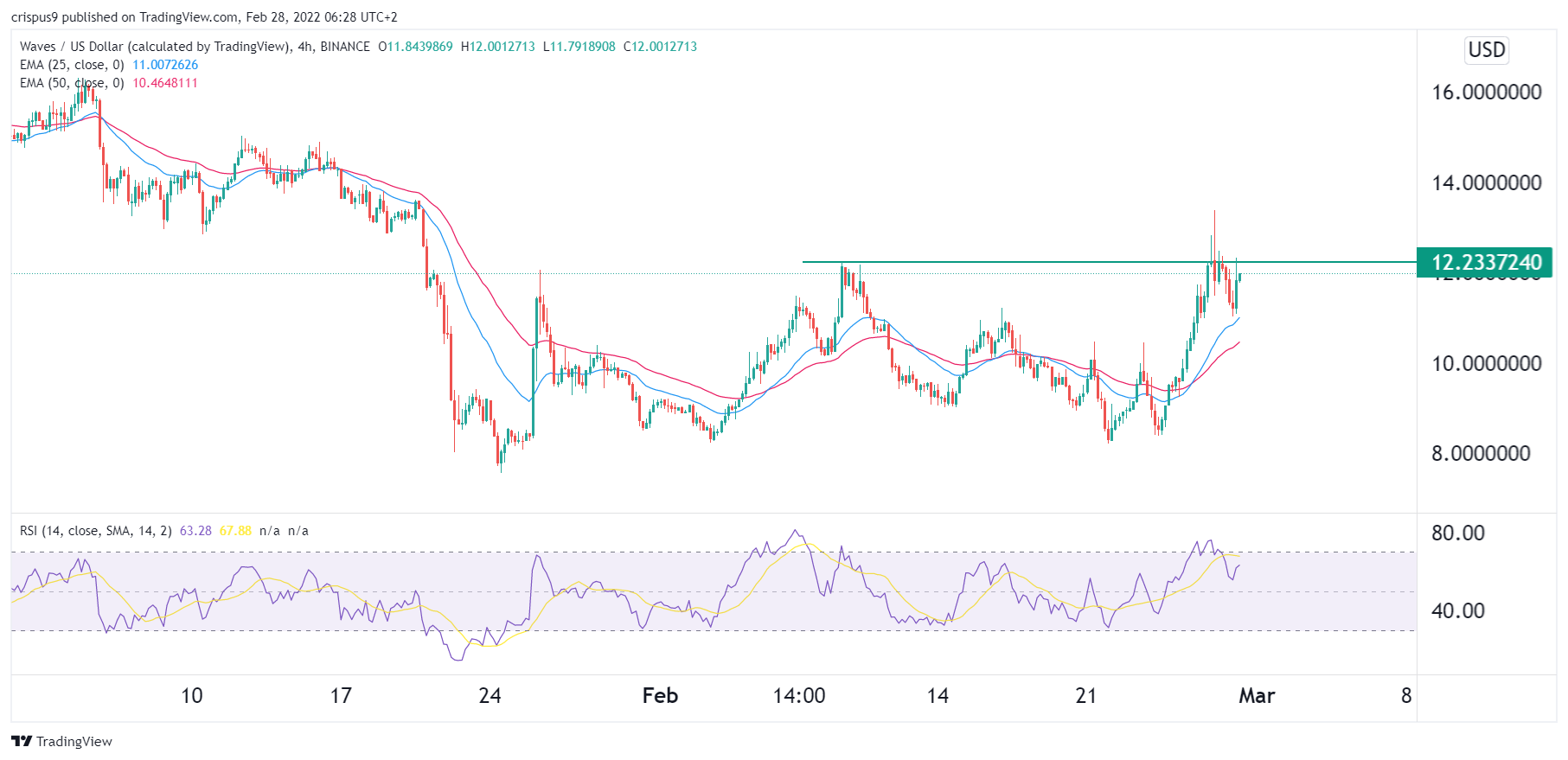 The four-hour chart shows that the Waves price continued its bullish trend as investors cheered the growth of its ecosystem. It is trading at about $12 and is slightly above the 25-day and 50-day moving averages. It also seems like it has formed a cup and handle pattern.
Therefore, there is a likelihood that the Waves price will keep rising in the coming days as bulls target the next key resistance level at $13.40, which was the highest point last week.