How will the new Russia sanctions hit Bitcoin prices?
The Bitcoin price was on edge on Monday morning as investors reflected on the ongoing crisis in Europe and the new Russian sanctions. The BTC is trading at $37,850, which is about 6.30% below the highest level during the weekend.
Ukraine crisis
The BTC price dropped by more than 6% on Monday morning after western countries decided to ramp up sanctions on Russia as the Ukrainian crisis continued.
The new sanctions will see Russia partially cut off from the outside world. For example, some of its biggest banks will be excluded from the SWIFT network, which is a messaging platform for over 11,000 banks.
In theory, while these sanctions are necessary, they also show the dangers of a centralized currency in which a few individuals or countries can dictate control about who can use the currencies.
However, the crisis could also lead to more regulations for the cryptocurrency industry. On Friday, Christine Lagarde of the European Central Bank (ECB) pressed the policymakers in Europe to implement more regulations in a bid to limit the number of Russians using the coins to evade the sanctions.
Another way that the Ukrainian crisis will affect Bitcoin prices is on monetary policy. Analysts expect that the Federal Reserve will maintain its policy stance even as the crisis changes the calculus in terms of recovery. Oil and gas prices have surged, which will lead to more inflation.
At the same time, the crisis will likely lead to more supply chain issues. For one, Russian flights have been banned from the European Union airspace while Russia has retaliated. As a result, the cost of avoiding the Russian airspace will be pushed to consumers, which will lead to higher prices.
Therefore, there is a likelihood that the Fed will stick with its plan of aggressively hiking interest rates this year.
Bitcoin price prediction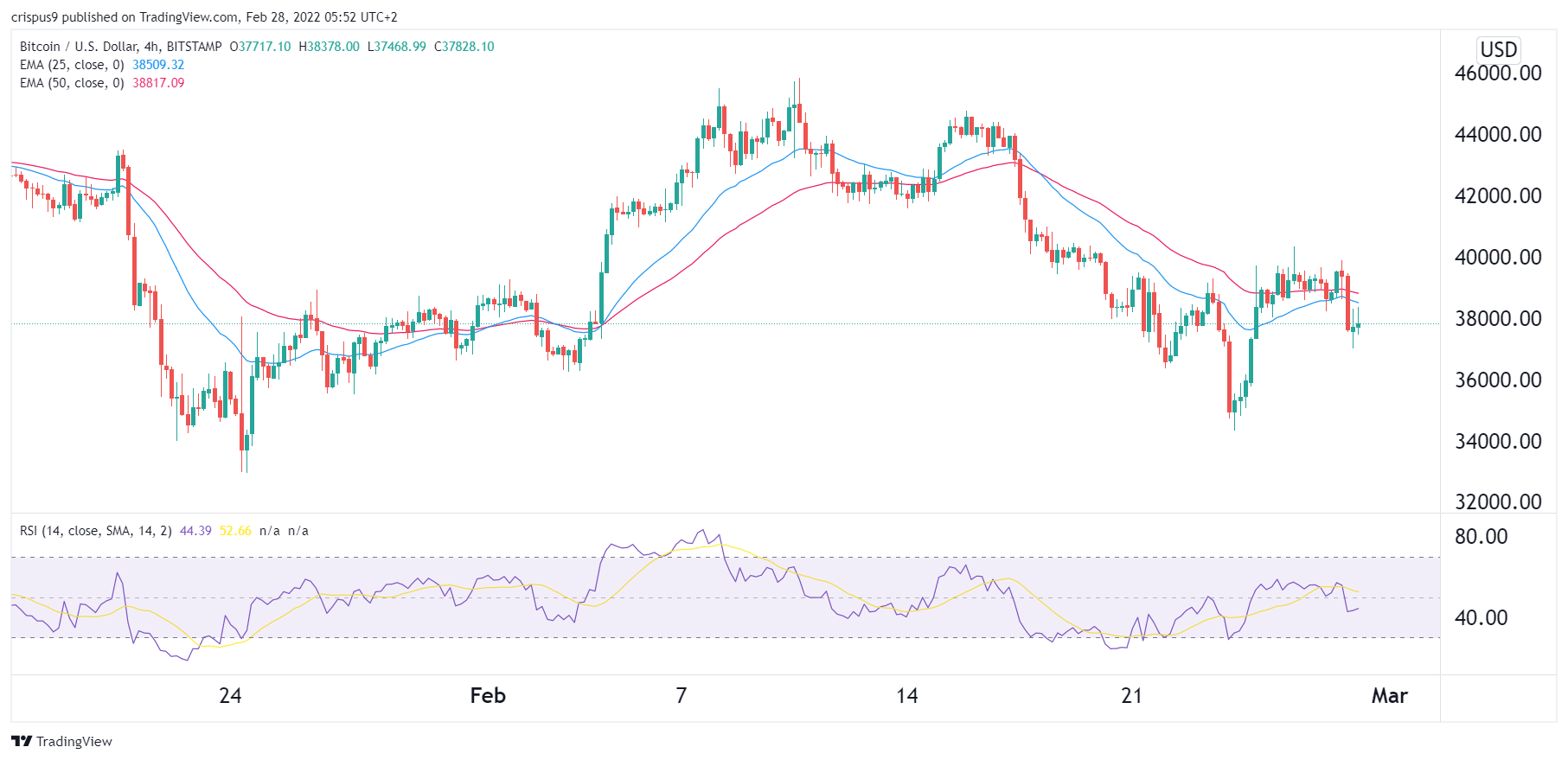 The BTC price dropped sharply in the overnight session as investors assessed the impact of the Russian sanctions. The coin is trading at $37,860, which is about 6% below where it was during the weekend. It has moved slightly below the 25-day and 50-day moving average while the Relative Strength Index (RSI) is pointing lower.
Therefore, the Bitcoin price will likely resume the downward trend this week as bears target the next key support at $35,000.