Uniswap price is at its 52-week low. Is it safe to buy the dip?
The Uniswap price crashed to the lowest level since January 2021 as concerns about the cryptocurrencies market remained. The UNI token is trading at $8, which is about 83% below the highest level in 2021. Its market capitalization has dropped to about $3 billion while its ranking in cryptocurrencies has slipped to 33.
Trading volume fall
Uniswap was among the first platforms in the decentralized finance (DeFi) industries. It is now one of the most popular decentralized exchanges (DEXes) with millions of global users.
Uniswap differs from other centralized exchanges in a number of ways. For one, it does not require a user to register for its platform. Instead, all one needs to do to access its service is to link their cryptocurrency wallet like Metamask.
Another difference is that Uniswap's revenue model is a bit different from that of centralized exchanges like Coinbase and Binance. Fees are set by the market and revenue is distributed among the UNI token holders.
Recently, however, the centralized and decentralized exchange industry has gone through a major challenge as trading volume dries out.
For example, in the past few months, companies like Coinbase, Block, and Robinhood Markets have published weak financial results. They have all blamed this on the relatively low trading volumes. As a result, these firms have lost billions of dollars in value.
The same trend has happened in Uniswap, which is the eighth biggest DeFi platform in the world with over $7 billion in total value locked (TVL). The platform's TVL has crashed from its all-time high of more than $10 billion.
This performance is mostly because all cryptocurrency prices have declined sharply in the past few months. Another reason is that competition in the sector has escalated, as the number of DEXes has risen.
Uniswap price forecast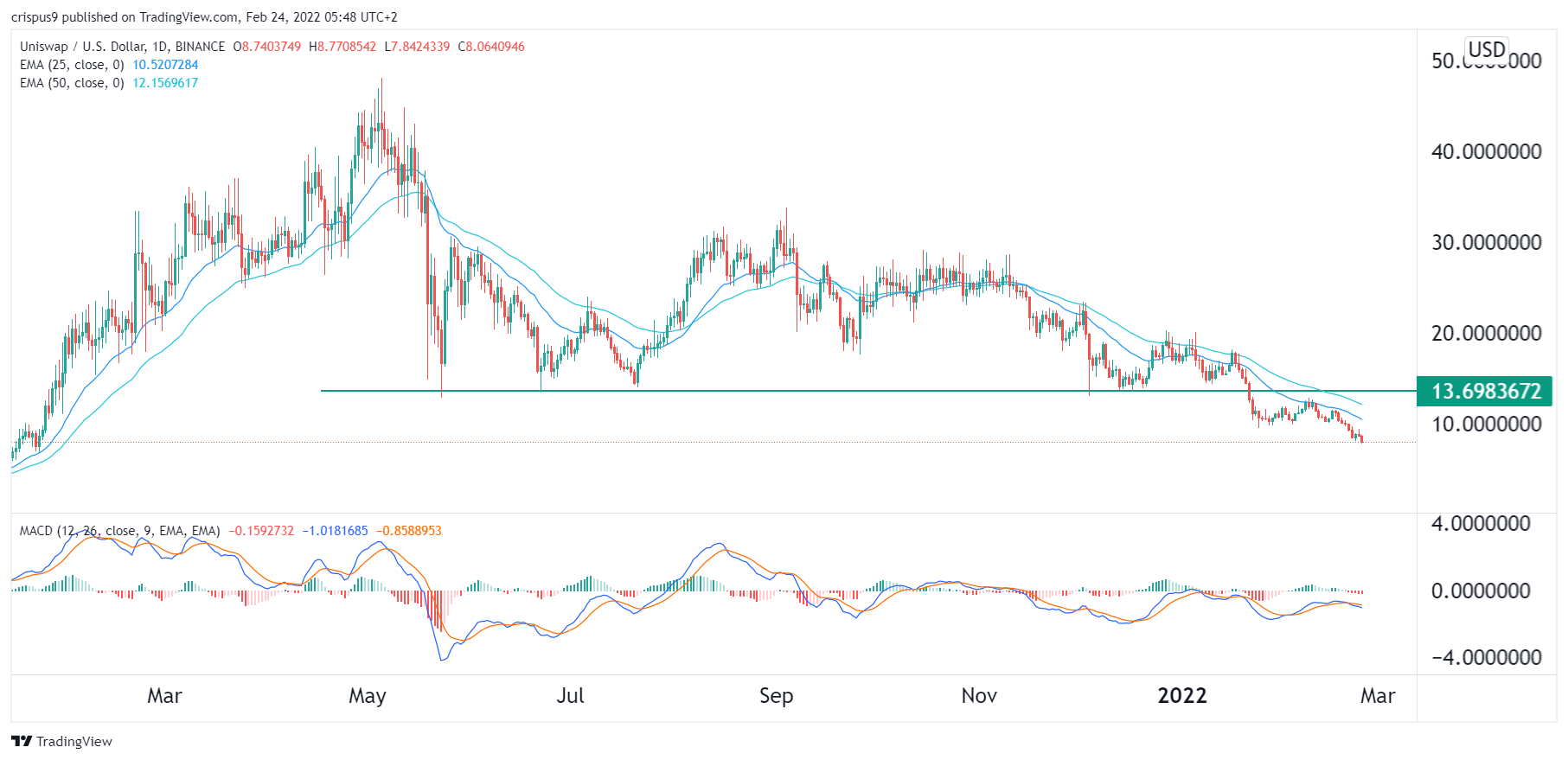 The daily chart shows that the UNI price has been in a deep sell-off on the past few months. The sell-off gained steam when it moved below the key support level at $13.70, where it struggled to move below in July last year. The coin also did a break and retest pattern, which is usually a bearish sign,
Therefore, there is a likelihood that the Uniswap price will keep falling as bears target the next key support level at $5.