Ethereum price fell below a key support. Is it a buy?
The Ethereum price crashed to the lowest level since January 22 as investors reflected on the ongoing tensions between western countries and Russia. The coin is trading at $2,460, which is about 24% below the highest level this month.
Geopolitical tensions
Ethereum and other cryptocurrency prices dropped sharply in the overnight session as investors remained focused in the Ukrainian crisis.
On Wednesday, Russia vowed to retaliate against the sanctions that western countries have imposed on Russia. As he said that, Ukraine reported that some of its government websites had been attacked. Some banks also saw their websites being pushed offline.
Analysts believe that Russia will use its knowledge on cybercrime to launch multiple attacks in both Ukraine and western countries. As you recall, Russian operatives made millions of dollars in 2021 by hacking critical infrastructure in the US.
In theory, these hacks should be positive for cryptocurrencies like Bitcoin and Ethereum. For one, hacks mean that demand for cryptocurrencies will go up.
However, the tensions have led to a major sell-off across the board. For example, US stocks have moved to a bear category. The tech-heavy Nasdaq 100 dropped by more than 345 points while its index futures have fallen by 250 points.
Meanwhile, on-chain data shows that activity in the cryptocurrency industry has started to show weakness. For example, Bitcoin transactions have fallen sharply while the number of activities in Ethereum's network has fallen. For example, NFT and decentralized finance activities have fallen.
All this is happening at a time when the Federal Reserve is set to start hiking interest rates in the coming month. Fed officials have committed to hike even as these geopolitical issues have escalated.
Ethereum price forecast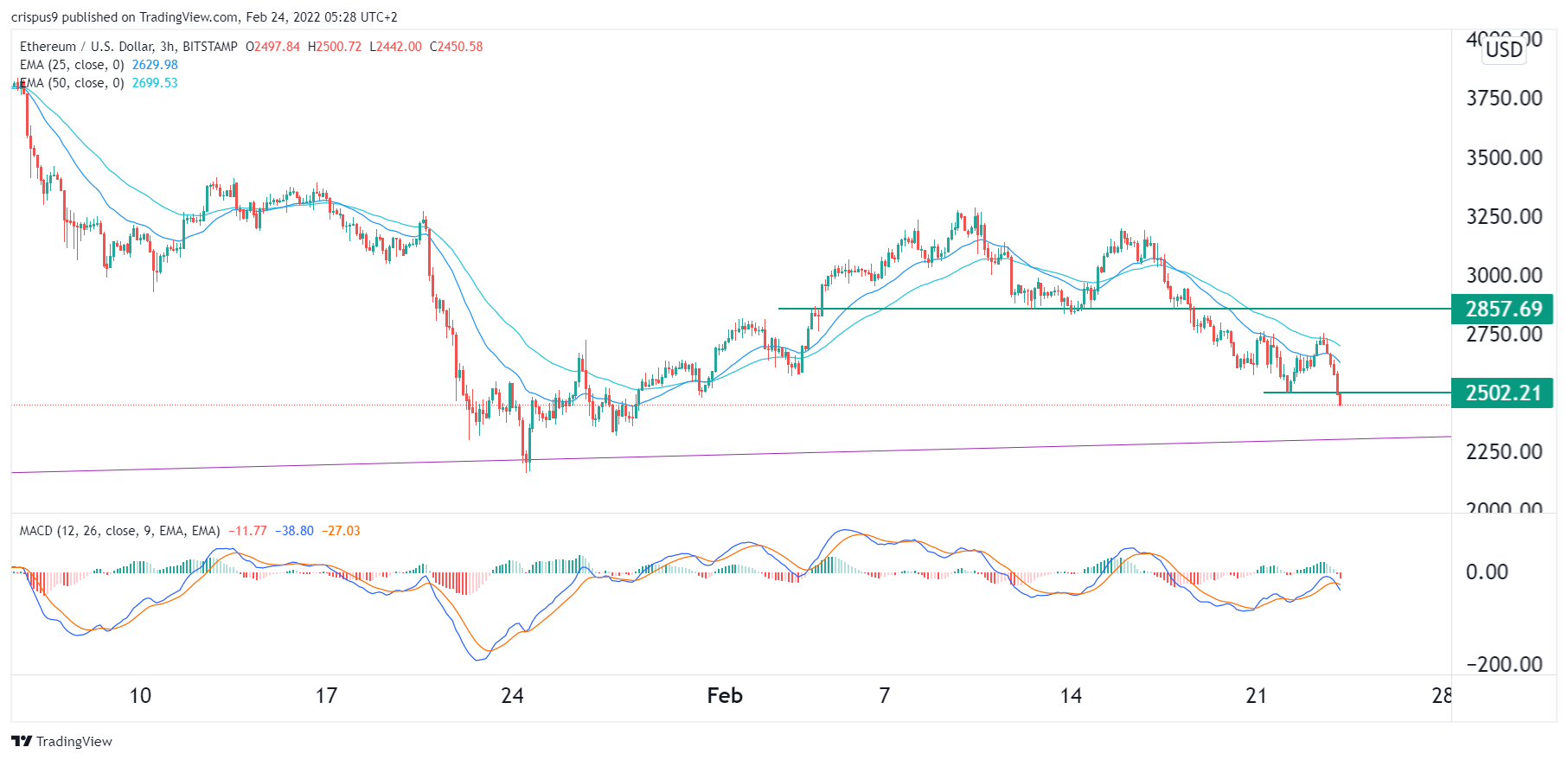 On the three-hour chart, we see that the Ethereum price crossed a key support level signaling that bears have prevailed. The coin moved below $2,402, which was the lowest level on February 22. Along the way, the coin has fallen below the 25-day and 50-day moving averages while the MACD indicator remains below the neutral line.
Therefore, there is a likelihood that the ETH price will keep falling in the coming weeks. If this happens, we can't rule out a situation where the coin moves below the support at $2,000.