The Graph price prediction: GRT heads to a 61% pump
The Graph price has held steady in the past few weeks as investors cheer the platform's growing adoption. GRT is trading at $0.50, which is about 68% above the lowest level this year. It remains sharply below its all-time high while its market cap is at $3.3 billion.
Ecosystem growing
The Graph is a leading blockchain project that many regular people don't use. But it is a major project that most developers use on a daily basis.
The platform provides useful APIs known as subgraphs that lets these developers quarry large data sets. As such, it is often seen as the Google of developers, making it extremely useful because of the vast amount of time it saves them.
In the past few months, the migration to The Graph's subgraphs has been growing rapidly. In a recent note, the developers noted that the number of activity in the network has been in a strong upward trend. As a result, the number of new subgraphs to the platform has risen to about 282.
They are from all industries like DeFi, music, art, and Non-Fungible Tokens (NFT). Some of the recent platforms to adopt The Graph are Boba Network, Avalanche, and Solana.
The Graph price has also risen because of the recent investments in the platform. Earlier this month, The Graph raised millions of dollars from investors. It has used some of these funds to fund projects moving to the platform.
Meanwhile, the GRT price has done well as investors wait for the upcoming Graph day event. Already, the first wave of tickets for the June event have been sold out, signaling that there is high demand. The second wave of tickets will go on sale today.
The Graph price prediction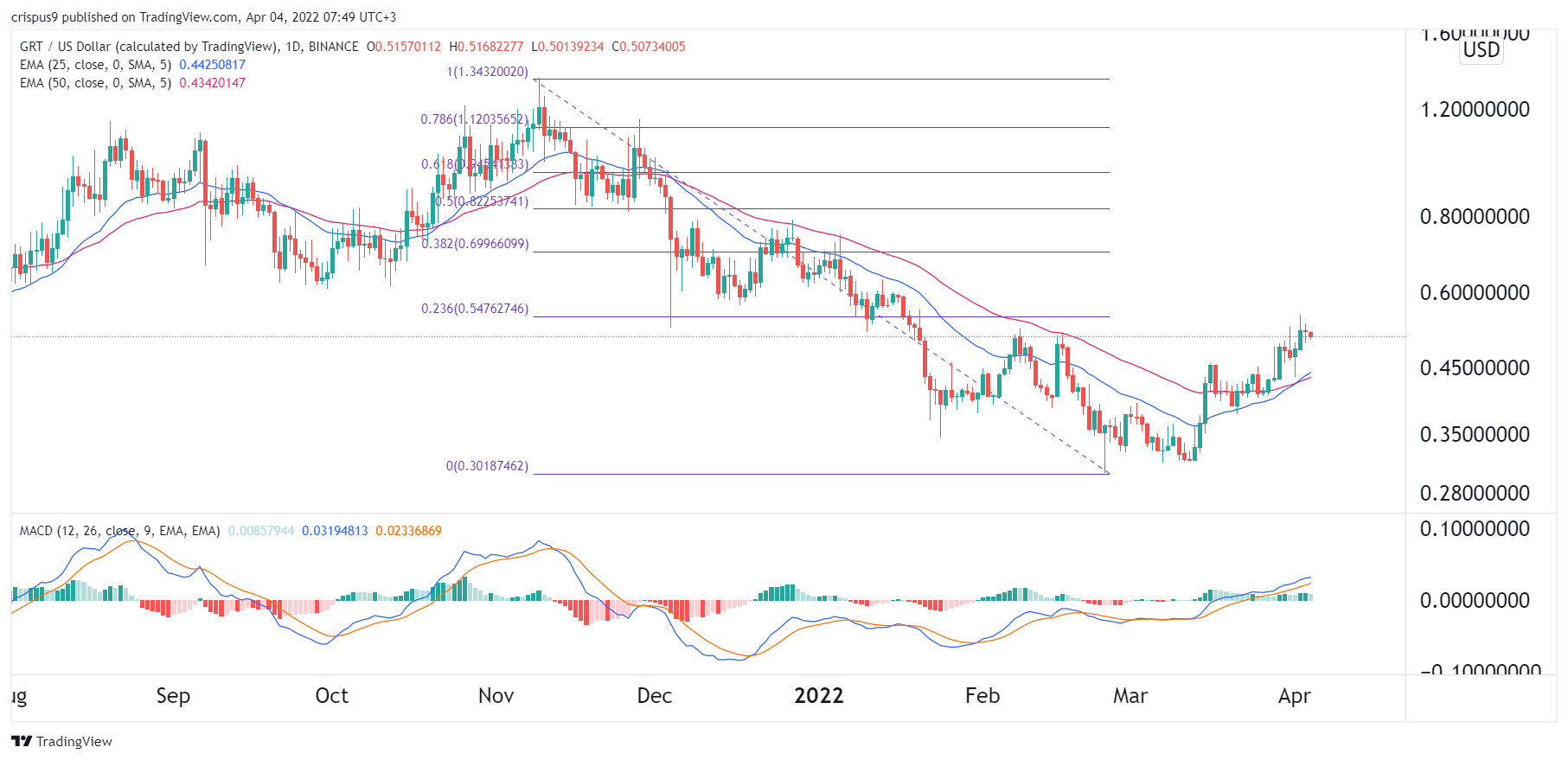 The daily chart reveals that the GRT price has been in an upward trend in the past few days. Along the way, the coin has moved slightly below the 23.6% Fibonacci retracement level. It has also moved above the 25-day and 50-day moving averages while the MACD has moved above the neutral level.
Therefore, The Graph price will likely keep rising as bulls target the 50% retracement level at $0.88. This price is about 61% above the current level.