Is Tezos (XTZ) a good buy after the Tenderbake upgrade?
The Tezos price held steady during the weekend as investors reflected on the latest network upgrade. The XTZ price rose to a high of $4.12, which was the highest level since February 16th. The price is about 61% above the lowest level this week.
Tezos upgrade
Tezos is a leading blockchain project that hopes to be a good substitute to Ethereum and other layer 1 networks. Its token, XTZ, has a market capitalization of more than $3.5 billion, making it the 47th biggest coin in the world.
Tezos has become a prominent platform partly due to its high-profile sponsorships in the past few years. For example, it has partnered with Manchester United to become its official blockchain partner. This is notable since Manchester is one of the best-known sports franchises globally.
Tezos has also partnered with Oracle Redbull racing team, one of the most prominent teams in Formula 1. As part of this partnership, Redbull uses its platform to generate and market its NFTs. At the same time, its logo is displayed well in Redbull's car.
However, for years, Tezos has struggled to become a preferred platform for developers. For one, it has no major DeFi platform in its ecosystem. According to DeFi Llama, its network has about 10 apps that have a total value locked (TVL) of $98 million. The biggest app in the ecosystem is Youves, which has a TVL of $36 million and a market dominance of 33%. Still, a $98 million TVL is a relatively tiny amount for a platform that has been around for years.
The Tezos price rose during the weekend as the developers launched the Ithaca upgrade that replaces Emmy with Tenderbake. Emmy was the previous consensus algorithm. It also prepares the network for more scalability efforts like rollups and EVM compatibilities.
Tezos price prediction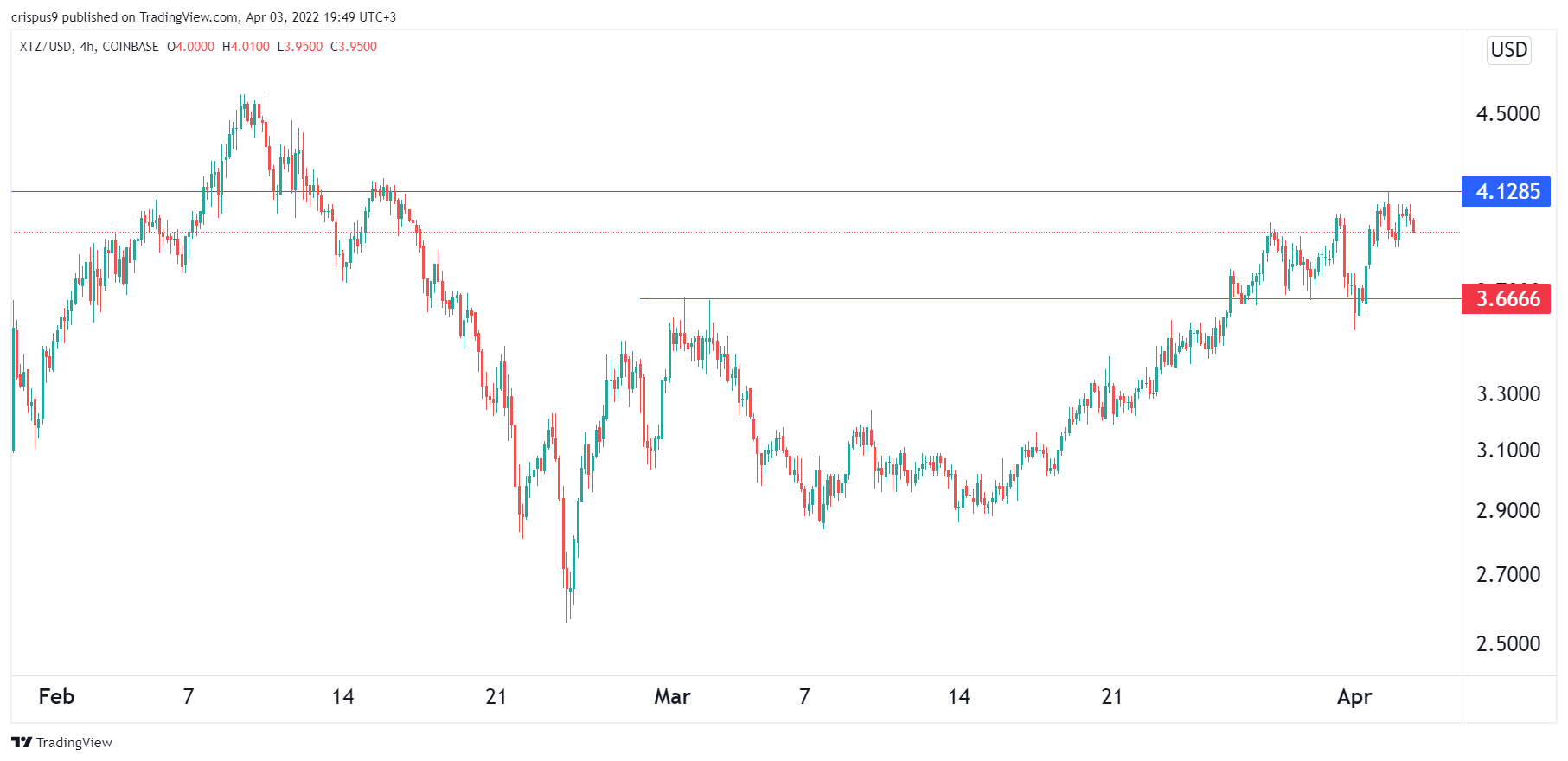 Tezos has been in a spectacular bull run in the past few days. This trend accelerated when it moved above the important resistance at $3.66, which was the highest level on March 1. The coin has also risen above the 25-day and 50-day moving averages. It has also found a strong resistance at $4.12, which was the highest point on February 16th.
Therefore, the XTZ price will likely keep rising as bulls target the next key resistance level at $4.50. A drop below the support at $3.70 will invalidate the bullish view.