Moonbeam price prediction after the spectacular comeback
The Moonbeam price has been in a bullish trend in the past few days as investors cheer the ecosystem and statistics growth. The GLMR token rose to a high of $5.72, which was the highest level since February this year. It is about 142% above the lowest level this year, bringing its total market cap to over $964 million.
Why is GLMR price rising?
Moonbeam is one of the most prominent platforms built in Polkadot's ecosystem. It is a platform that gives developers an opportunity to connect to Polkadot. Its mainnet launched in January this year after becoming one of the first winners of the past parachain auctions.
Moonbeam has had a lot of success in the past few months. According to its creators, there are now thousands of developers building on its ecosystem. Some of the top apps built in its ecosystem are StellaSwap, BeamSwap, cBridge, and Zenlink. StellaSwap has a total value locked (TVL) of over $42 million, giving it a dominance of 33%. In total, Moonbeam has a total TVL of more than $128 million.
There are several reasons why the Moonbeam price is rising. First, according to the developers, a new proposal has been submitted to remove staking rewards for tokens unbonded by delegators during the unbonding process. The new proposal aims to disincentivize the practice that allows delegators to receive rewards for tokens being unbonded.
Second, Moonbeam's platform has seen more integrations in the past few months. For example, it recently announced that it had integrated with Polkassembly. This means that the platform's users will be able to directly participate in governance for Moonriver and Moonbeam.
Moonbeam has also been integrated with Karura. KINT Token can also be used natively within Moonriver by integrating with XCM.
Moonbeam price prediction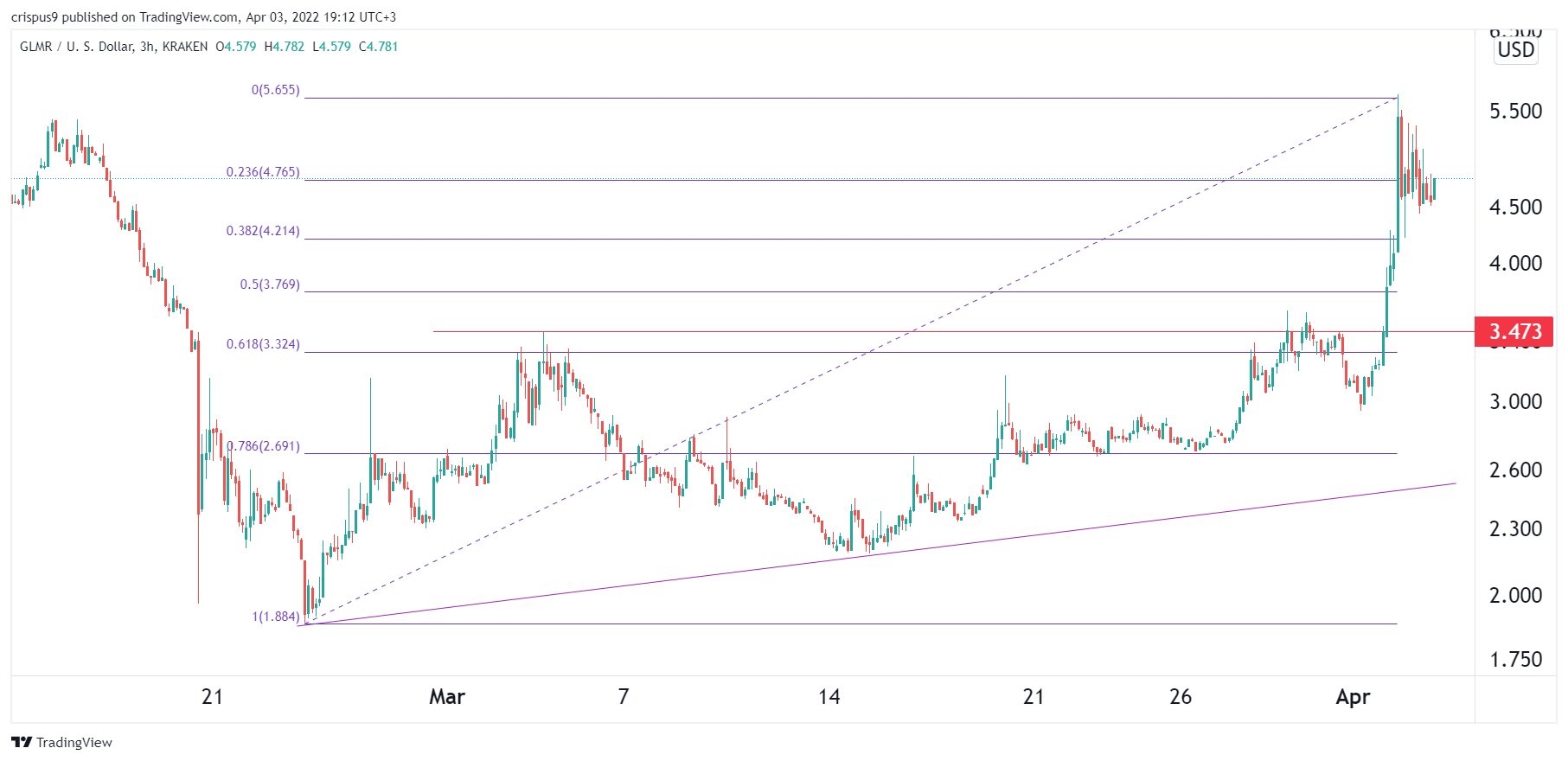 The Moonbeam price has been in a strong bullish trend in the past few days as investors cheer the network's growth. It managed to move above the important resistance level at $3.47, which was the highest level on March 4th. It has also managed to move above the 25-day and 50-day moving averages. It is also along the 23.6% Fibonacci retracement level.
The GLMR price has also formed a bullish pennant pattern, which is usually a bullish sign. Therefore, there is a likelihood that the price will bounce back in the coming days. If this happens, it will likely retest this month's high of $5.65.