Should you buy the dip in Luna on Friday?
Terra Luna (LUNA/USD)was one of the top losers amongst the top coins as a sell-off was seen in the broader market. It is looking like Luna, which caught the attention of many investors after doubling earlier in December, however, it is looking like the corrective wave may have started in Luna. Terra's local currency Luna was created for governance and mining, and it is used to issue stable coins, pay network fees, and vote in governance elections. It is a flexible token in the network that is critical to the growth of the Terra platform.
Luna rallied by over 100% to hit a new all-time high in December even though the overall market was on a steep downtrend, investors saw this as a sign of strength as Luna was performing so well. However, Luna has fallen by over 40% in the past two weeks and it is looking like the fall may not be over. Many investors were looking to buy the dip in Luna however it is not looking like Luna will reverse anytime soon as it was trading over 10% lower on Friday. Luna is in the corrective phase thus until it is oversold a reversal may not be seen. Thus when should you buy Luna?
Here is what the charts are pointing towards-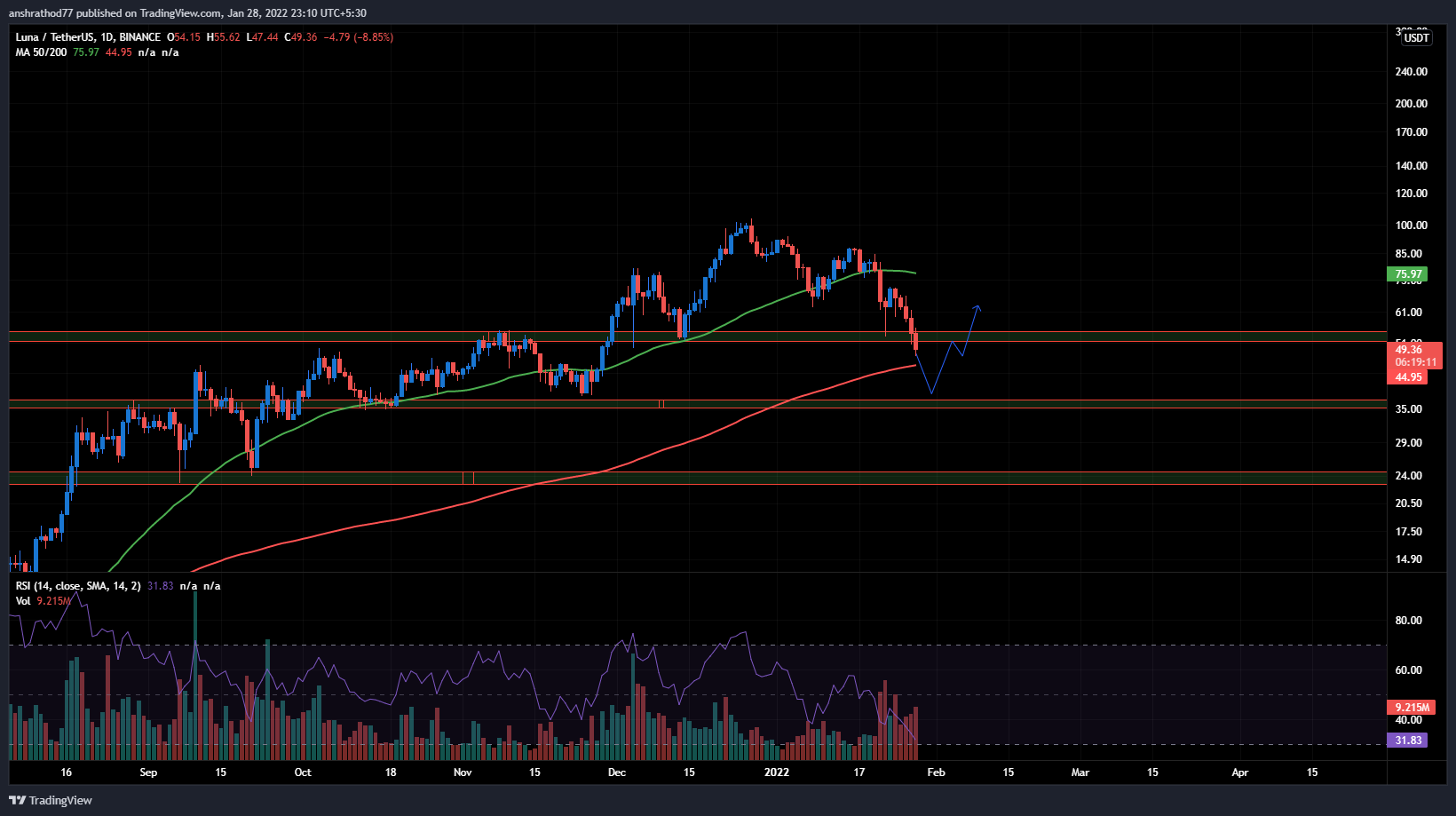 After hitting a new high in December, Luna started hitting lower lows and has now fallen by over 40% in just the past 2 weeks.

Luna broke a crucial support on Friday, and thus investors should avoid buying Luna as the support at $55 was crucial and Luna could now head towards the next support which is at $35.

There may be a slight chance that Luna could take support from the 200-day moving average as it is close to being oversold.

Investors can look to enter Luna at the $35 mark and can set a target of $55, followed by $78.