Should you buy Solana now as Coinbase Wallet added support for the SOL token?
Coinbase wallet added support for Solana and any Solana-based tokens

Coinbase also outlined that it will look at supporting NFTs and dApps on the blockchain at some point in the future.

This could lead to an increase in the value of the Solana (SOL) cryptocurrency token.
Solana (SOL) is essentially a high-performance blockchain network that supports builders on a global scale that aim to create as well as scale their applications.
It supports smart contracts, non-fungible tokens (NFTs), and other technologies, where SOL is the native token behind powering all of this.
The Coinbase Wallet listing as a catalyst for growth
As of March 17, 2022, Coinbase has fully added support for Solana (SOL) as a cryptocurrency, alongside all of its ecosystem tokens.
Coinbase also cited the surge in interest within the Solana token, and blockchain throughout the past 12 months, as investors are looking for a low-cost alternative to Ethereum.
This expanded wallet support also comes just a few days after the firm launched Coinbase Pay which enables users to fund their wallets directly through a web browser.
All of this can contribute to the growth of the Solana (SOL) cryptocurrency token.
Should you buy Solana (SOL)?
On March 18, 2022, Solana (SOL) had a value of $85.63.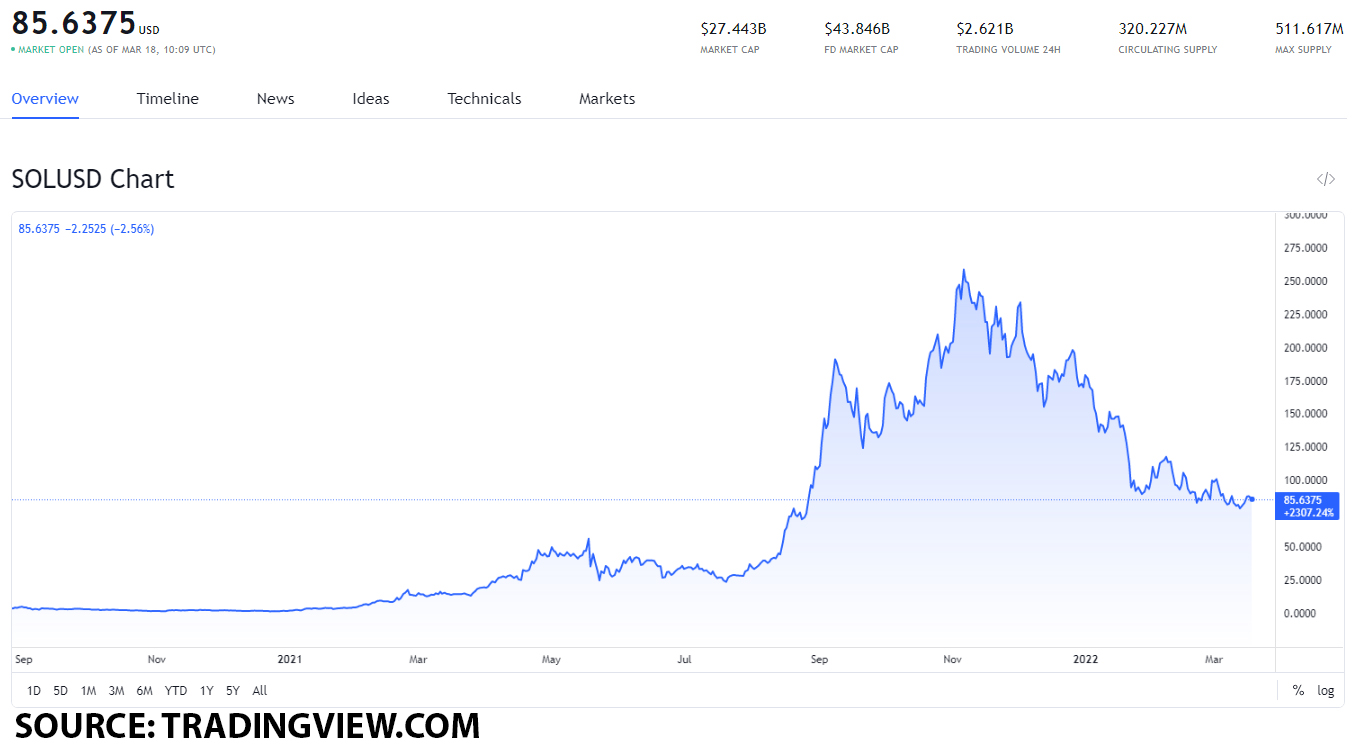 In order for us to get a better perspective as to exactly what this value point means for the Solana (SOL) token, we will be going over its ATH point of value as well as its performance throughout the previous month.
When we go over the all-time high point of value of the Solana (SOL) token, it was achieved on November 6, 2021, when the token reached a value of $259.96. Here, we can see that at its ATH, the token was $174.33 higher in value or by 203%.
When we go over the performance of the token experienced throughout the previous month, Solana (SOL) had its highest point of value on February 7 when it reached $121.33.
Its lowest point of value, however, was on February 24, when the token decreased to $77.99. Here, we can see that the token decreased in value by $43.34 or by 35%.
However, from February 24 to March 18, the token increased in value by $7.64 or by 10%.
With all of this taken into consideration, Solana (SOL) can reach $95 by the end of March 2022, making It a solid token to buy.