Should you buy Lina after the 7% dip on Wednesday?
Linear Token (LINA/USD) was trading over 7% lower on Wednesday losing all the gains from the 6% surge seen on Tuesday. Linear. Exchange enables trading of a variety of liquid assets (Liquids) based on spot cryptocurrencies, commodities, and thematic indexes with nearly instant confirmation time and immediate finality Which in basic terms is a decentralized application for staking and building LUSD, accepting a mixture of LINA tokens and other major cryptocurrencies. Many other coins were also trading lower on Wednesday as a market sell-off was seen.
Investors are now looking for opportunities to buy the dip, Lina, with hopes of a continuation of the rally seen last week. After falling by over 50% from the highs it hit in November, Lina has shown signs of a strong reversal after rallying by over 30% last week. However, Lina is trading 3% lower this week, which investors think could only be a small pullback before Lina continues its rally. It is important for investors to not enter Lina due to a fear of missing out on profits. Thus should you buy Lina before it continues its rally?
Here is what the charts are pointing towards-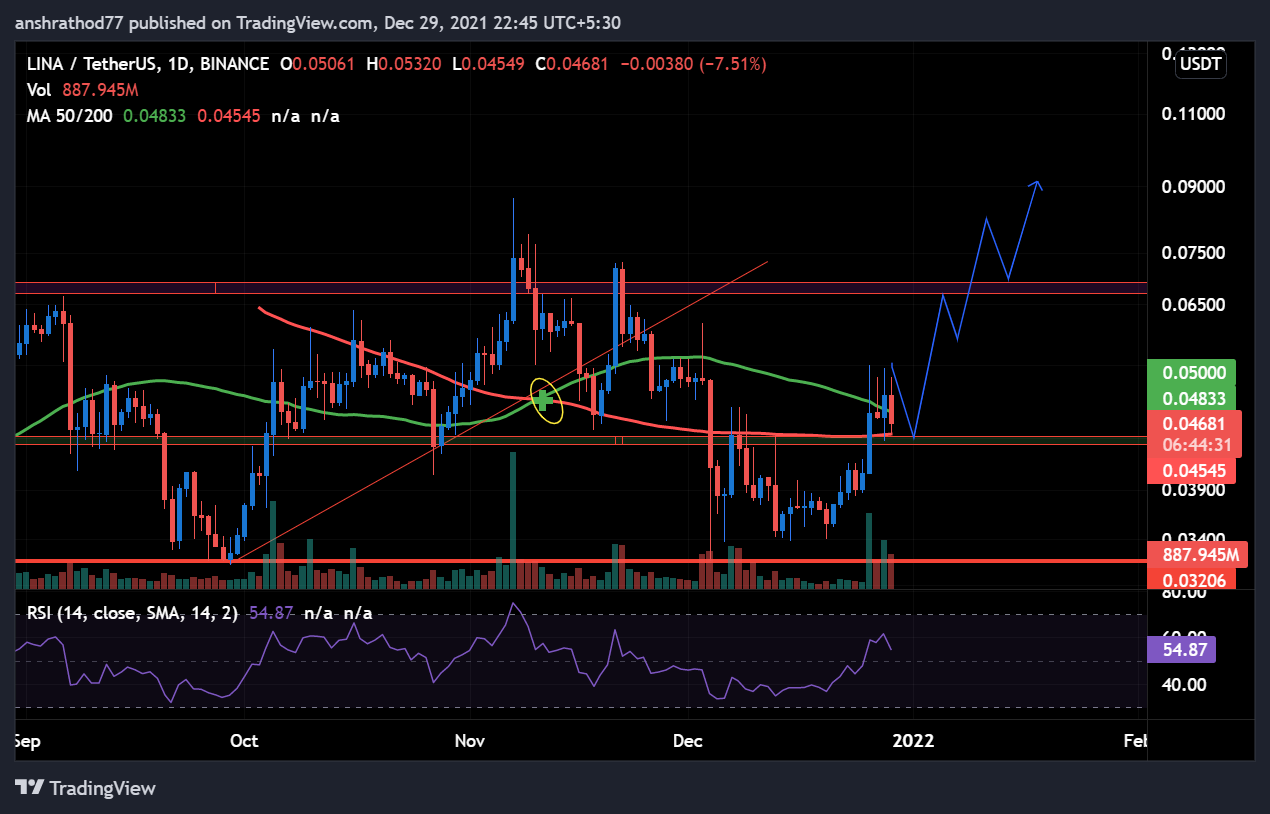 After Falling by over 50% from its highs in November, Lina has shown signs of a reversal, moreover, huge buying volumes can also be seen suggesting that the buyers are back.

A bullish golden crossover was seen earlier in November, which indicates that a rally could be seen soon.

Lina had a strong supply zone at $0.44, however, it broke through earlier this week and it is looking like it will retest the support zone.

Investors should wait for Lina to successfully retest the support zone before taking a long entry.

Investors can set a target of $0.57, followed by $0.7.