Should you buy Tron as the charts form a bullish pattern?
Tron (TRX/USD), a coin that was in the news recently after the Founder, Justin Sun left is showing signs of a powerful reversal. After Justin Sun's exit, the transactions reported by the Tron Foundation have seen a huge spike, hinting that investors may be cashing in on Justin Sun's exit. Tron is a blockchain-based decentralized digital platform with its own cryptocurrency, called Tronix or TRX. Founded in 2017 by a Singapore non-profit organization, the Tron Foundation, Tron aims to host a global entertainment system for the cost-effective sharing of digital content. There are several reasons why investors are expecting the transactions to grow in the future. Firstly, Tron charges no fees on transactions and is able to handle over 2000 transactions per second.
The past few months have not been too great for Tron investors as it has fallen by over 40% from the highs that it hit in a sharp rally in October. However, a new rally maybe just a matter of time as Tron is forming a bullish pattern on the charts. Thus investors are expecting a new all-time high in the First quarter of 2022. Should you buy Tron with hopes of a new all-time high?
Here is what the charts are pointing towards-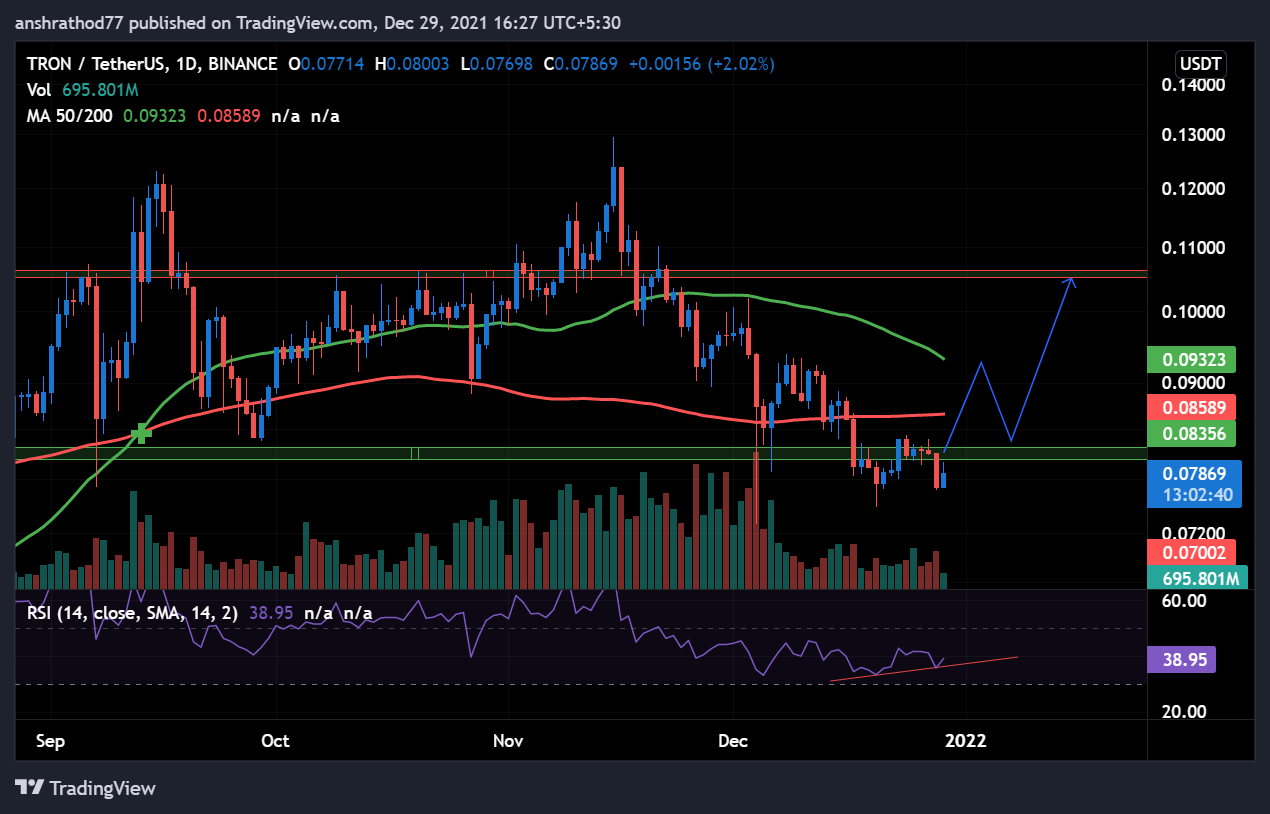 Tron has been continuously falling in the past few months however, a reversal could be seen soon.

Tron is forming a double bottom pattern, which is a bullish pattern and could mark the end of the downfall of Tron.

A bullish RSI divergence can also be seen, which is confirming the bullish view in Tron.

Investors should wait for Tron to break through the resistance at $0.08, as Tron could still fall further thus an early entry could be very risky.

Investors can set a target at $0.1, followed by $0.11 and a new all-time high could also be hit in the coming months.