Should you buy Hathor as it nears a breakout?
Hathor (HTR/USD) was trading over 10% high on Thursday, and investors are now looking to enter Hathor as it nears a long-awaited breakout which could end up with Hathor hitting some huge targets. Launched in 2020, Hathor is a proof-of-work blockchain network designed for lightweight financial transactions and contracts. Hathor has fallen by over 50% from the new all-time high it hit earlier in November, and it is now showing signs of an upper breakout soon. It has formed a symmetrical triangle however earlier this month a lower breakout was seen. However many investors are still uncertain and think that Hathor could still fall further. Should you buy Hathor in hopes of a new all-time high?
Here is what the charts are pointing towards-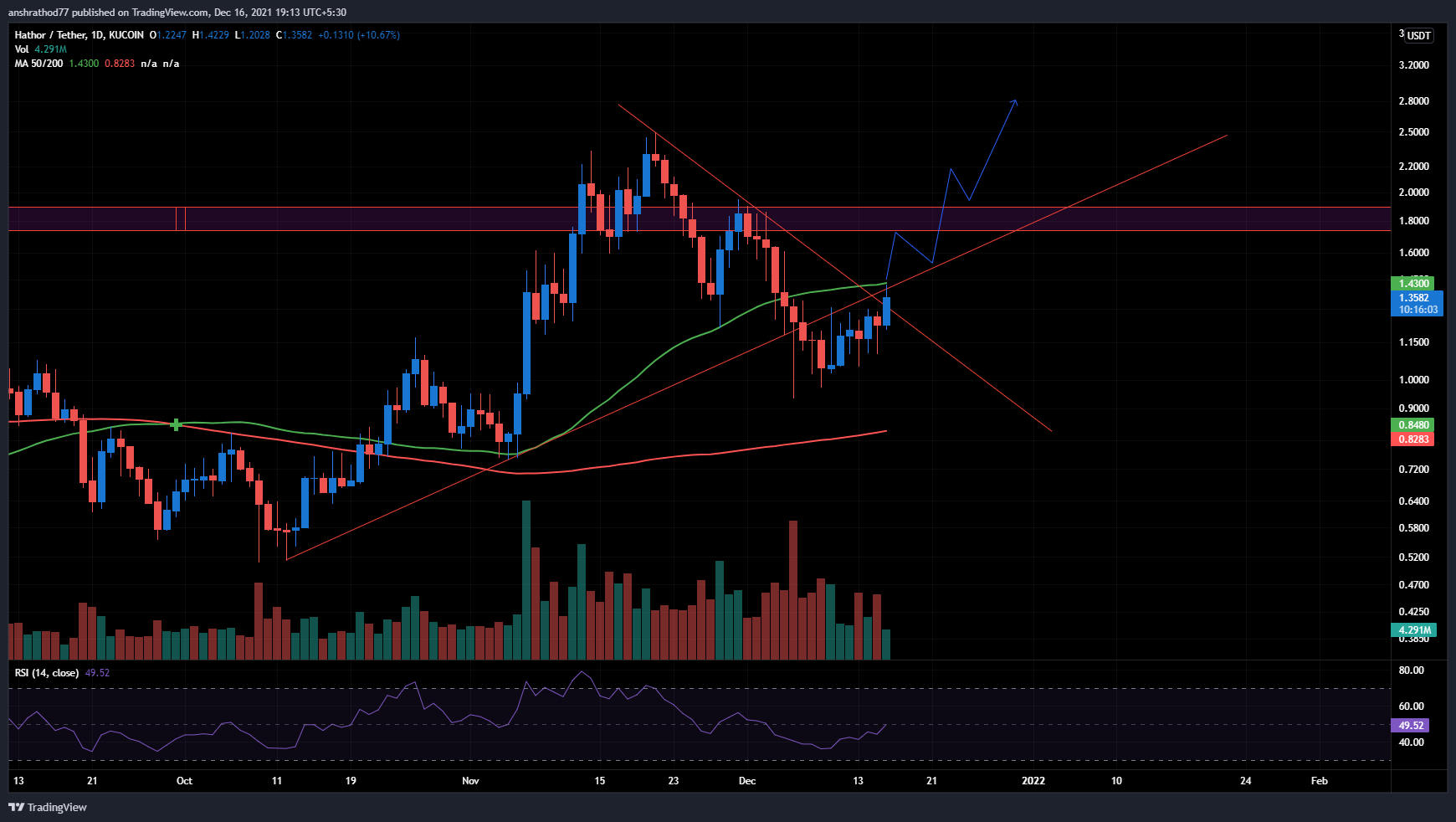 Hathor was over 10% higher on Thursday and increased buying volumes were seen, this is indicating towards a rally ahead of a breakout.

After a lower breakout from a symmetrical triangle, Hathor reversed and started rising back up and is now very close to the trendlines.

It is looking like Hathor was correcting after a sharp rally in November, and it has now corrected to the 0.786 Fibonacci level which could be a zone of reversal for Hathor.

Investors must be cautious as Hathor has shown a lot of weakness in the previous weeks and could fail the breakout, thus a long entry should only be taken once a clear breakout is seen or once the 50-day moving average is crossed. This will confirm a bullish bias and will indicate towards increased bullish momentum.

Investors must maintain a stop-loss as Hathor could fake out and cause many investors to get trapped in a long trade, thus investors can also wait for a retest before entering.

A target of $1.74 can be set, followed by $1.92 and eventually a new all-time high in the coming months.