NEAR price is trading at a key support level. Is it a buy or sell?
The NEAR price has lost momentum in the past few weeks. After soaring to an all-time high of $20 in January, it has dropped to about $10, meaning that it has lost about half its value. Its market cap has dropped to about $6.9 billion, making it the 23rd biggest cryptocurrency in the world.
What is NEAR?
NEAR is the native cryptocurrency for the Near Protocol. For starters, the Near Protocol is a blockchain platform that seeks to become a viable Ethereum alternative.
The protocol achieves its success through several technologies. For one, unlike Ethereum, it is a proof-of-stake network that uses validators. Ethereum, on the other hand, is a proof-of-work platform that is transitioning to a POS.
The Near Protocol is also using a technology known as sharding to improve the speed of its transactions. Sharding is simply a process in which blocks are subdivided into smaller pieces known as shards. By so doing, the speed of verifying transactions is made much faster.
Sharding is a technology that was initially used by the developers of Zilliqa. It was then used by the developers of Elrond, which is another leading blockchain platform. Indeed, as part of its ETH 2.0 rollout, Ethereum will start using the technology.
However, the Near Protocol faces a number of challenges going forward. For one, its industry is now significantly competitive, with the likes of Terra, Avalanche, and Solana leading the charge. This means that it has a long way to go to prove its worth.
At the same time, data compiled by DeFi Llama shows that the number of developers using the network is a bit low. There are now about 20 apps that have a total value locked of about $589 million. A closer look also shows most of these networks are built using Aurola.
NEAR price prediction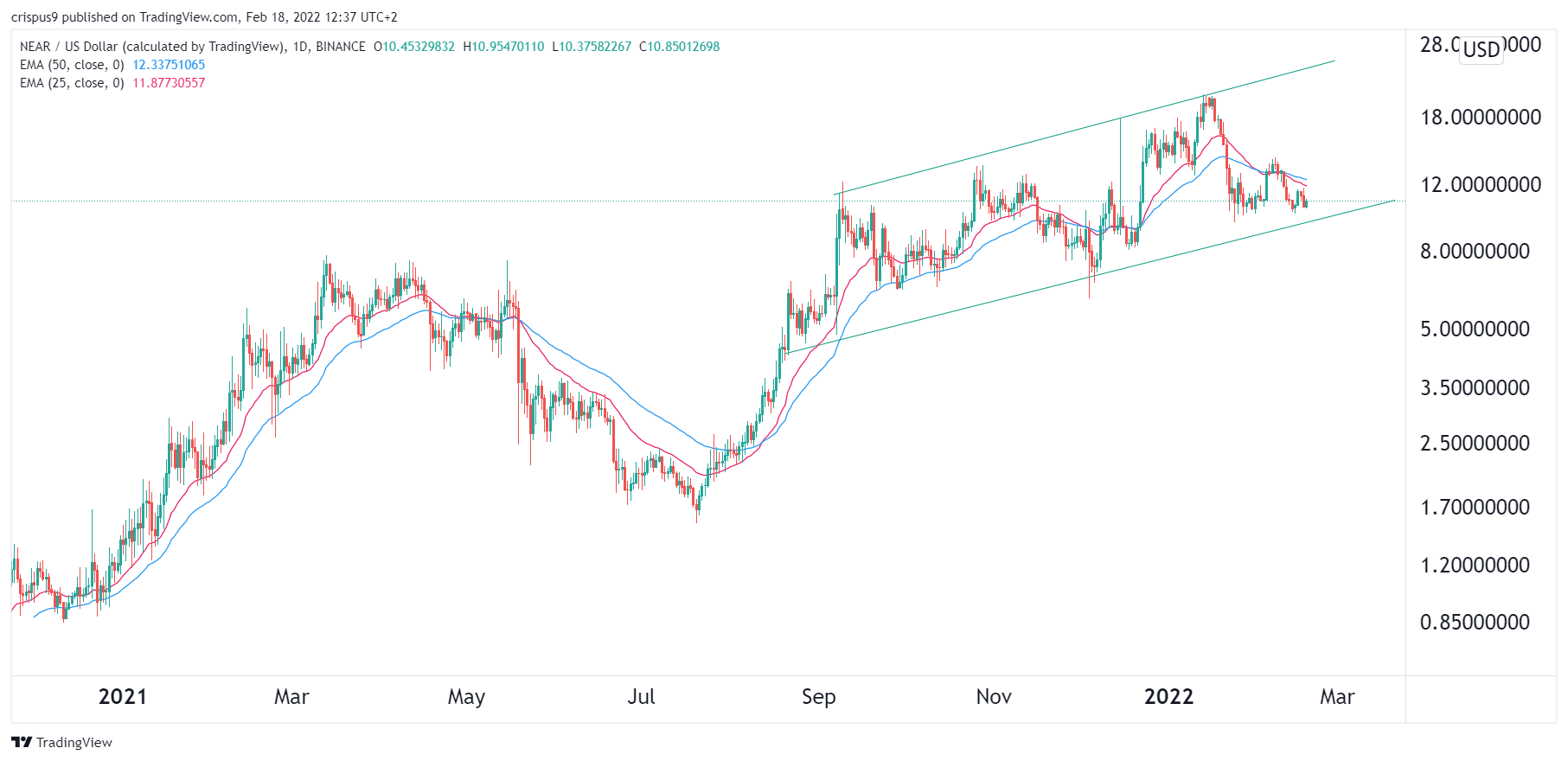 The daily chart shows that the NEAR price has been in a strong bearish trend in the past few days. It has managed to drop by about 50% from its all-time high.
Along the way, NEAR has moved below the 25-day and 50-day moving averages. It has also moved slightly above the lower side of the ascending channel.
Therefore, for now, the outlook for the NEAR price is bearish, with the next key support being at about $9.50. Moves below the lower side of the channel will mean that there are more sellers left in the market.