Chainlink price prediction: A drop to $10 cannot be ruled out
The Chainlink price has not been left behind in the ongoing cryptocurrency sell-off. LINK, its native token, is trading at $15, bringing its total market cap to about $7.44 billion, making it the 22nd biggest cryptocurrency in the world.
Chainlink sell-off
Chainlink is one of the most useful blockchain projects in the world since its products are used by most developers in the industry. It's use case is mostly in the DeFi, enterprise, insurance, Non-fungible tokens (NFT), and gaming industries.
Chainlink offers a number of services whose goal is to connect the off-chain network to the on-chain platforms. It does that using smart oracles.
Some of the top solutions it offers are market and data feeds, verifiable random number (VRF), Keepers, proof of reserve, and cross-chain bridging.
While most blockchain developers can build these projects on their own, they often turn to Chainlink, because of how easy it is to build.
Some of the top projects using Chainlink are Aave, Curve Finance, Uniswap, and PancakeSwap among others. According to DeFi Llama, the total value reserve in the network is over $50 billion, making it the biggest smart oracle network in the world.
The Chainlink price has dropped sharply in the past few months. Precisely, it has dropped by more than 70% from its all-time high. As a result, its ranking among cryptocurrencies has moved from top-ten to the current 22.
This drop is mostly because of the rising fear that the Federal Reserve will embrace a more hawkish tone in the coming months. Already, it has hinted that it will deliver at least three rate hikes this year.
Another reason is that market activity in its network has dropped sharply because of the ongoing cryptocurrencies winter season. Indeed, the total value reserved in its network has declined from over $60 billion.
Chainlink price prediction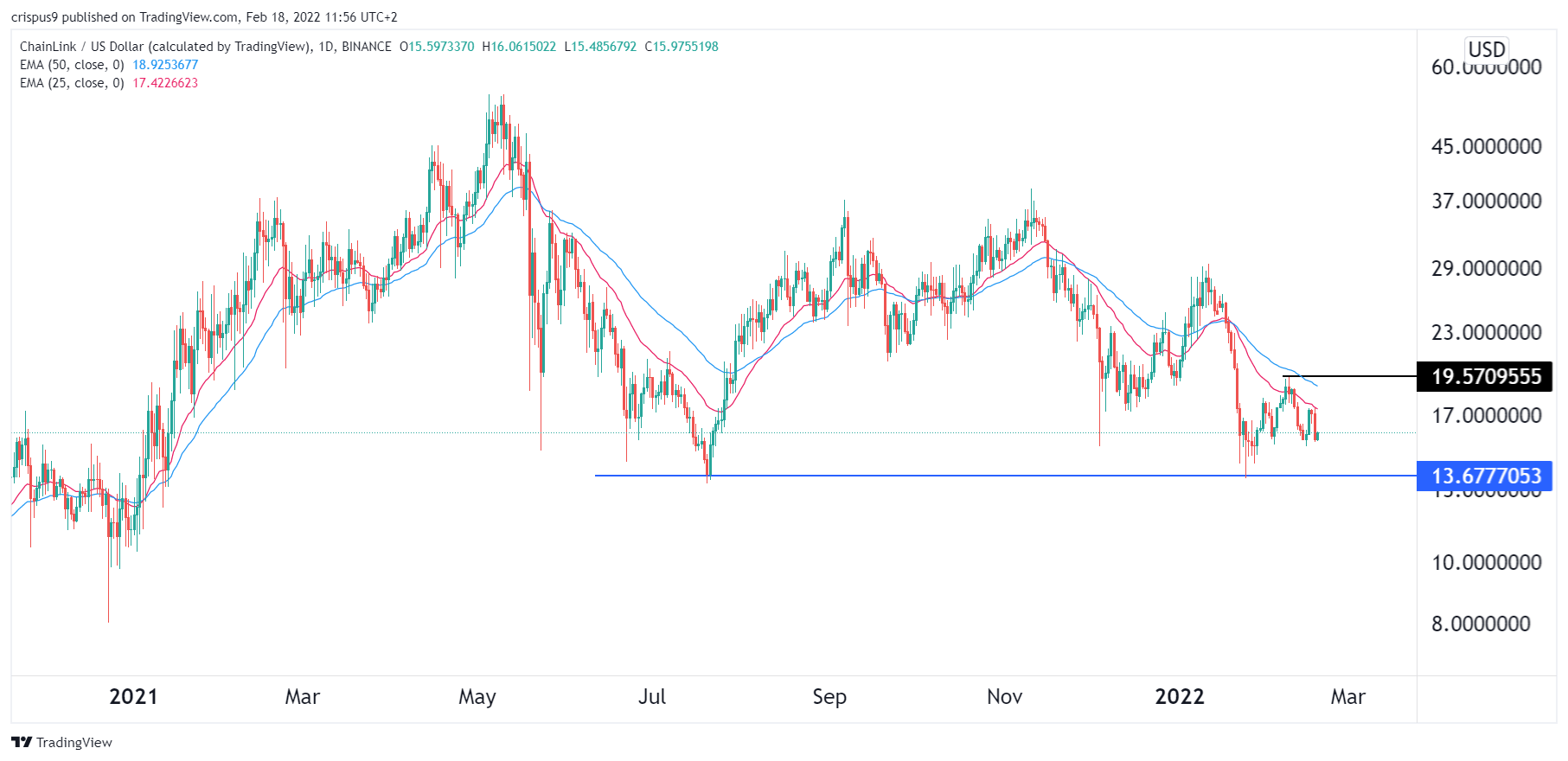 The daily chart shows that the LINK price has been in a strong bearish trend in the past few months. In January, the coin dropped to the important support level at $13.67, which was also the lowest point on July 22 last year.
The price remains below the 25-day and 50-day moving averages. It has also formed a small head and shoulders pattern. In price action analysis, such pattern is usually a bearish signal.
Therefore, there is a likelihood that the coin will continue falling as bears target the next key support at $10.