Is The Sandbox (SAND) worth buying after a partnership with banking giant HSBC?
The Sandbox (SAND) is essentially a play-to-earn game that combines blockchain technology with decentralized finance (DeFi) and even non-fungible tokens (NFTs) within a 3D metaverse.
This is a virtual world where players are allowed to create as well as customize their games and digital assets with free design tools, and any of the virtual goods created there can be monetized as NFTs and sold for SAND tokens.
The SAND token is the native token for The Sandbox and is used for all transactions and interactions within the game.
The HSBC partnership as a catalyst for growth
On March 16, 2022, The Sandbox posted an official publication where they announced that HSBC would become the first global financial services provider to enter The Sandbox.
The goal of this partnership is to open a lot of new opportunities for virtual communities across the world to engage with global financial services providers, as well as sports communities within The Sandbox universe.
This partnership between The Sandbox and HSBC will see the global financial services provider acquire a plot of LAND, which is the virtual real estate within The Sandbox metaverse.
This plot of LAND is intended to be developed as a means of engaging and connecting with sports, esports, and gaming enthusiasts.
All of this will lead to a growth in popularity of The Metaverse and could lead to an increase in the value of the SAND cryptocurrency token.
Should you buy The Sandbox (SAND)?
On March 16, 2022, The Sandbox (SAND) had a value of $2.95.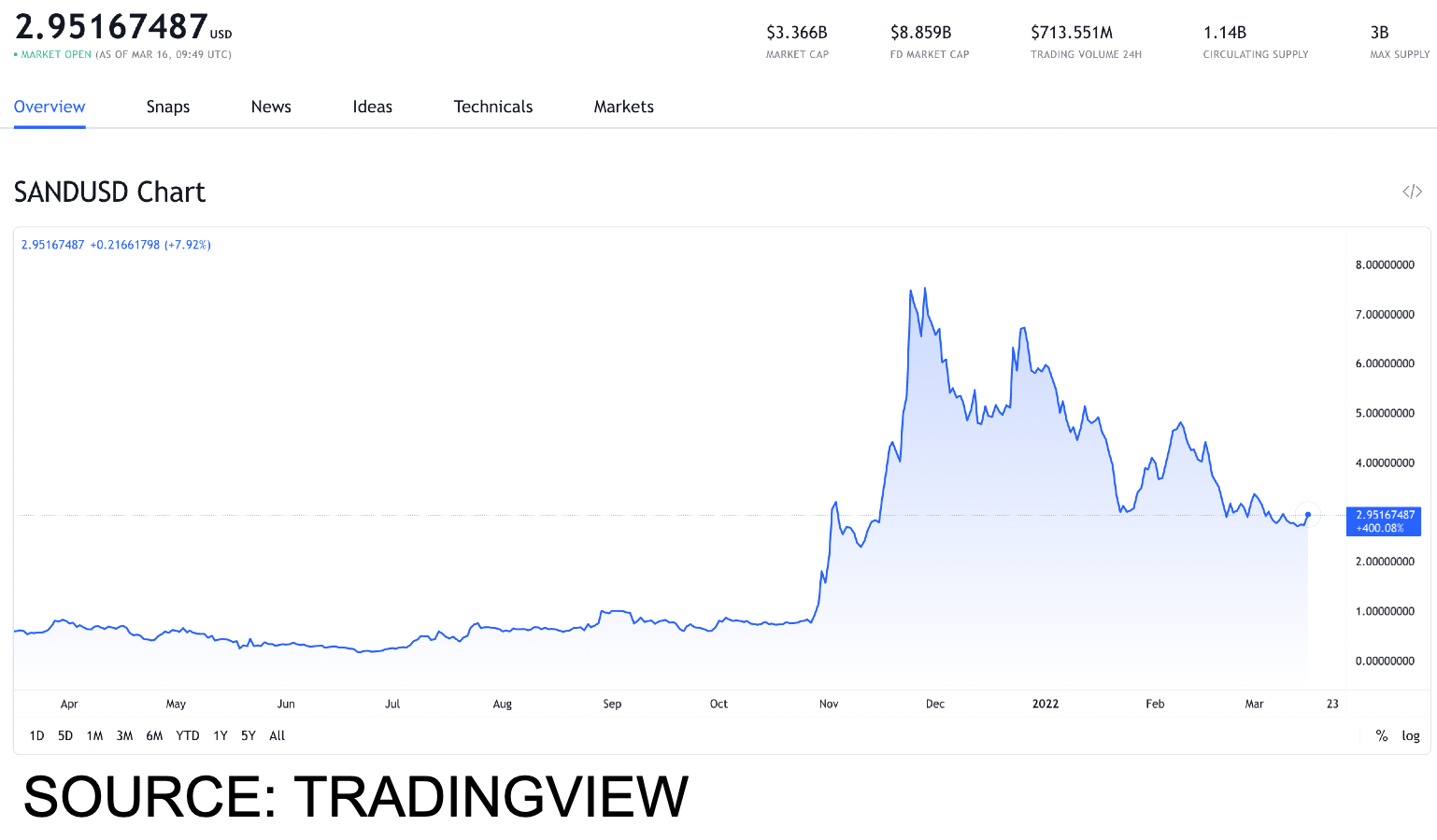 In order for us to get a better perspective as to what kind of value point this is for the SAND cryptocurrency token, we will be going over it's all-time high point of value, alongside its performance throughout the previous month.
The all-time high value of The Sandbox (SAND) token was on November 25, 2021, when it reached a value of $8.40. Here, we can see that at its ATH, the token was $5.45 higher in value or by 184%.
When we go over the performance of the token throughout the previous month, The Sandbox (SAND) had its highest point of value on February 9 at $4.81, while its lowest point was on February 24 at $2.69. This gives us an indication that the token decreased by $2.12 or by 44%.
With this in mind, at $2.95, SAND is a solid buy as the token can climb to $4 in value by the end of March 2022.