Is Enjin Coin a good buy as the NFT winter continues?
Enjin Coin price has been under intense pressure in the past few weeks as investors worry about the performance of the non-fungible token (NFT) industry. ENJ, the native token, is trading at $1.3525, which is about 73% below the highest level in 2021.
Is NFT bubble bursting?
NFT has been one of the top themes in the financial industry recently. In 2021, the industry generated over $25 billion, which was significantly higher than what it generated a year earlier. As a result, NFT companies like OpenSea achieved a private valuation of over $13.3 billion.
Enjin is a leading platform that enables developers build, market, and sell their NFT projects. As a result, its price jumped sharply in 2021 as the NFT craze continued.
Another catalyst for its performance was Efinity. Efinity is a project built on Polkadot's ecosystem that enables a cross-chain bridge that enables the communication of NFT projects built in other chains like Ethereum and Avalanche.
Its other features are decentralized governance, fuel tanks, and multiple incentives. Efinity raised millions of dollars in the past parachain auctions.
Enjin also owns Platform, a feature that enables developers to integrate NFTs with games and other metaverse projects like Decentraland and Sandbox. As a result, they are able to do all this without doing coding themselves.
The reliance of NFTs is one reason why the Enjin price has dropped in the past few months. While the industry did well in 2021, there is a sense that the bubble is bursting. For example, most NFT coins like MANA and SAND have all crashed.
Further, data shows that activity in the leading NFT platforms like OpenSea has declined sharply. In February, the platform's fees declined by more than 50% from the previous month. This trend will likely continue as the Fed embraces a more hawkish tone.
Enjin Coin price analysis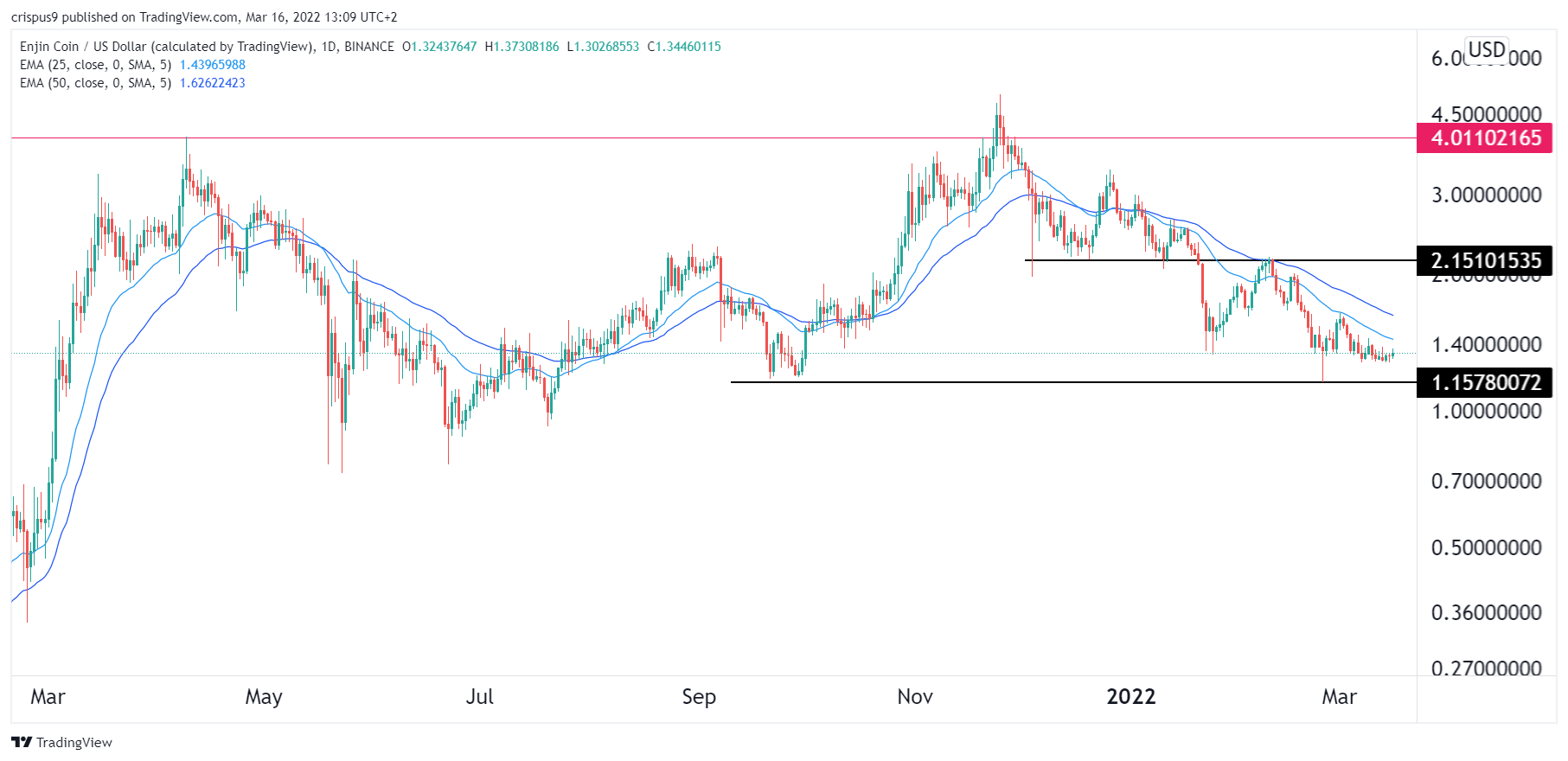 The daily chart shows that the ENJ price has been in a strong bearish trend in the past few months. Along the way, it has formed a head and shoulders pattern, which is usually a bearish sign. The coin has also moved below the 25-day and 50-day moving averages. Oscillators like the Relative Strength Index (RSI) and the MACD have all declined.
Therefore, the Enjin coin price will likely have a bearish breakout in the coming days. If this happens, the next key support level will be at $1.