Is Internet Computer a good buy as its price surges to Feb highs?
The Internet Computer price continued its bullish comeback on Monday morning as demand for most cryptocurrencies rose. ICP jumped to a high of $23, which was the highest it has been since February 22. It has risen by over 56% from its lowest level this year, bringing its total market cap to over $4.8 billion.
ICP rebounds
The Internet Computer is a leading blockchain project that was developed by Swiss-based Dfinity. The project was launched in May 2021 with a lot of success. Indeed, in its initial days, ICP became one of the top ten biggest cryptocurrencies in the world.
Since then, the ICP price performance has been patchy at best. It has moved from the top ten to the current 36. At the same time, the hype it had back then has declined sharply.
Still, Dfinity is still building the project and achieving the milestones it set out in its roadmap. For example, they are now developing the Chromium part of the roadmap that includes several upgrades to the network.
For example, they expect to offer features that let it integrate with Bitcoin, the biggest cryptocurrency in the world. The goal of this upgrade will be to make powerful smart contract functionality available for BTC transactions. It will also enable BTC transactions with fast finality and low transaction costs.
Other upgrades set to be implemented in the Chromium upgrade are the signing of the ECDSA threshold, implementing ICOS boundary nodes, and enabling simple APIs for ledger transactions. Analysts believe that these upgrades will lead to substantial improvements of the ecosystem.
Still, a major issue for Internet Computer is whether developers will embrace the network. While some have already embraced it, its usage is still substantially low.
Internet Computer price prediction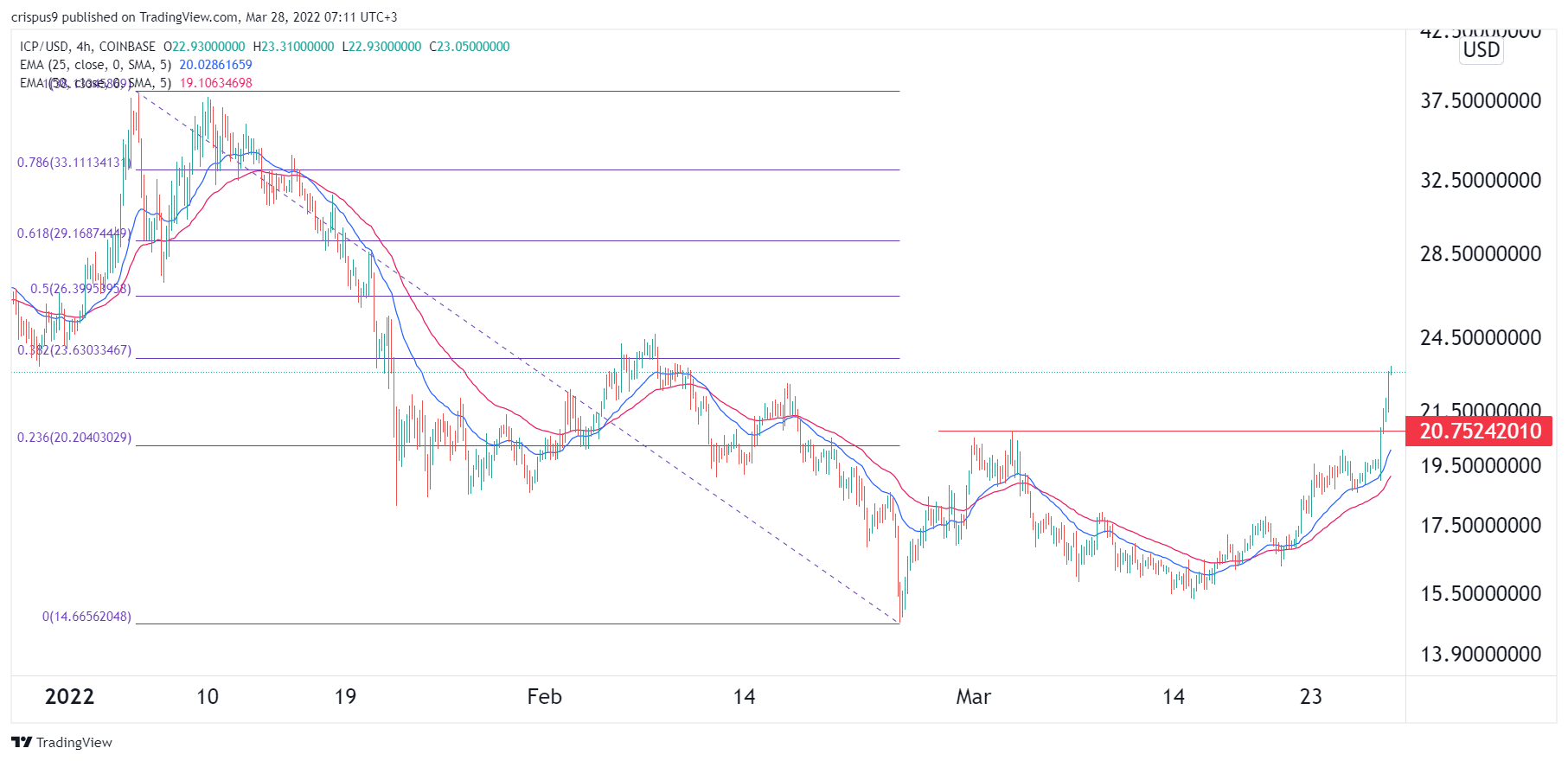 The four-hour chart shows that the ICP price has been in a strong bullish trend in the past few weeks. And during the weekend, it managed to move above the key resistance at $20.75, which was the highest point in March. It is now approaching the 38.2% Fibonacci retracement level while the price has moved above the 25-day and 50-day moving averages.
Therefore, there is a possibility that the coin will keep rising as bulls target the 50% Fibonacci retracement level at $26.40.