Bitcoin price prediction: Here's why BTC is targeting $50,000
The Bitcoin price surged to a multi-week high on Monday morning as the Ukrainian risks reduced and as Russia considered accepting Bitcoin for its oil exports. The coin is trading at $46,960, which is the highest it has been since January 5th this year.
Russia optimism boosts BTC
The BTC price has been in a strong bullish trend in the past few weeks. It dropped to a low of $33,000 in January and has held quite steady.
The rally accelerated during the weekend as investors continued focusing on the ongoing crisis in Ukraine. After suffering substantial defeats, Russia announced that it will refocus on the Eastern side of the country.
That was seen as a success for Ukraine because of the stiff resistance the country's military has offered. And in another statement, the country's president said that he would consider holding negotiations with Russia on neutrality.
As a result, the prices of most assets jumped on Monday morning. US and European futures tilted upwards while the price of crude oil held steady.
The Bitcoin price also jumped after signs emerged that Russia was considering accepting oil and natural gas in the coin as sanctions hit. This would be a major progress for Bitcoin and other cryptocurrencies because of the role that Russia plays in the energy market. It produces over 12 million barrels every day and then sells more than 8 million of them globally.
Other countries are also making statements on Bitcoin. El Salvador has already accepted BTC as a legal tender while Sri Lanka is considering doing the same.
Notably, the BTC price is holding steady even as the Federal Reserve turns more hawkish. In the past few weeks, the bank has hinted that it will deliver several 0.50% rate hikes this year.
Bitcoin price prediction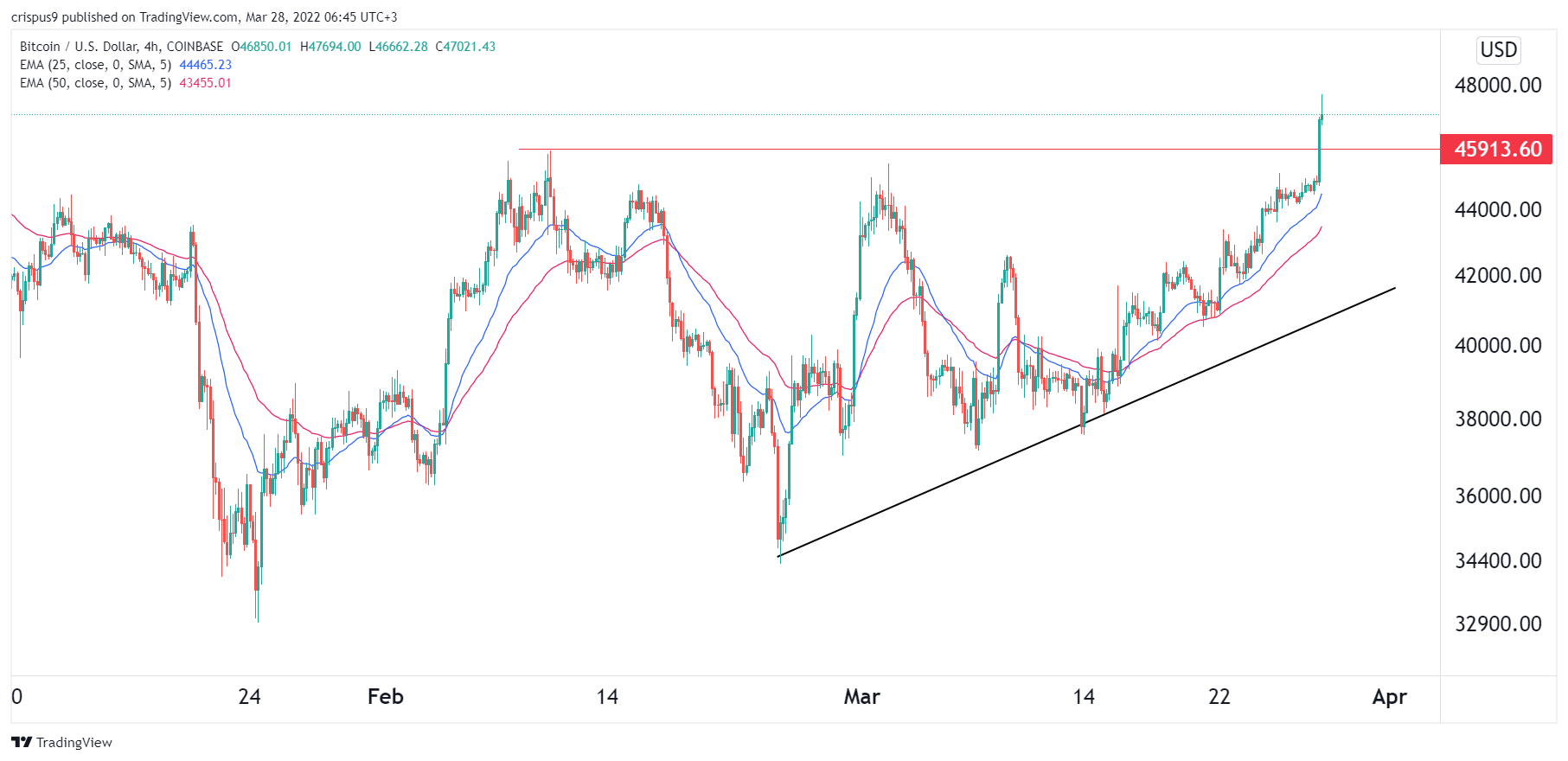 The BTC price has been in a strong bullish trend in the past few weeks. Along the way, the coin managed to move above the important resistance level at $45,000, which was an important psychological level.
The coin's bullish trend is being supported by the 25-day and 50-day moving averages. It is also above the ascending trendline shown in black.
Therefore, with momentum returning, there is a likelihood that the coin's price will continue the bullish momentum as bulls target $50,000.