Is Decentraland MANA a good buy after falling by 53% from ATH?
The Decentraland price has fallen sharply in the past few months. MANA, it's native token, is trading at $2.82, which is about 53% below the all-time high. Its total market cap has fallen to about $4.29 billion, making it the 34th biggest coin in the world.
Why has MANA price declined?
There are several reasons why the Decentraland price has fallen sharply in the past few months.
First, data compiled by Dune analytics show that market activity in the network has declined substantially in the past few weeks. The data show that the sum collected fees in the past 30 days was about 118,172 MANA.
At the same time, the number of seller and buyer addresses in the platform has been in a downward trend. The market activity is currently dominated by estates followed by LAND, names, and wearables.
Second, the decline is in line with the overall performance of tje cryptocurrencies industry. Indeed, a closer look at the sector shows that most cryptocurrencies have been in a bearish trend in the past few months. Bitcoin has crashed from almost $70,000 in November to about $38,000. Similarly, Ethereum has moved from almost $5,000 to about $2,600.
The overall weakness of these cryptocurrencies is that there is a lingering fear of the Federal Reserve. The bank has hinted that it will start hiking interest rates in March 2022. And analysts expect that it will deliver more than 5 hikes this year.
While many blockchain projects are exposed to high rates, metaverse and NFT projects are more exposed because of how volatile these products are. There are concerns about whether these assets will keep growing in a high rate environment.
Decentraland price prediction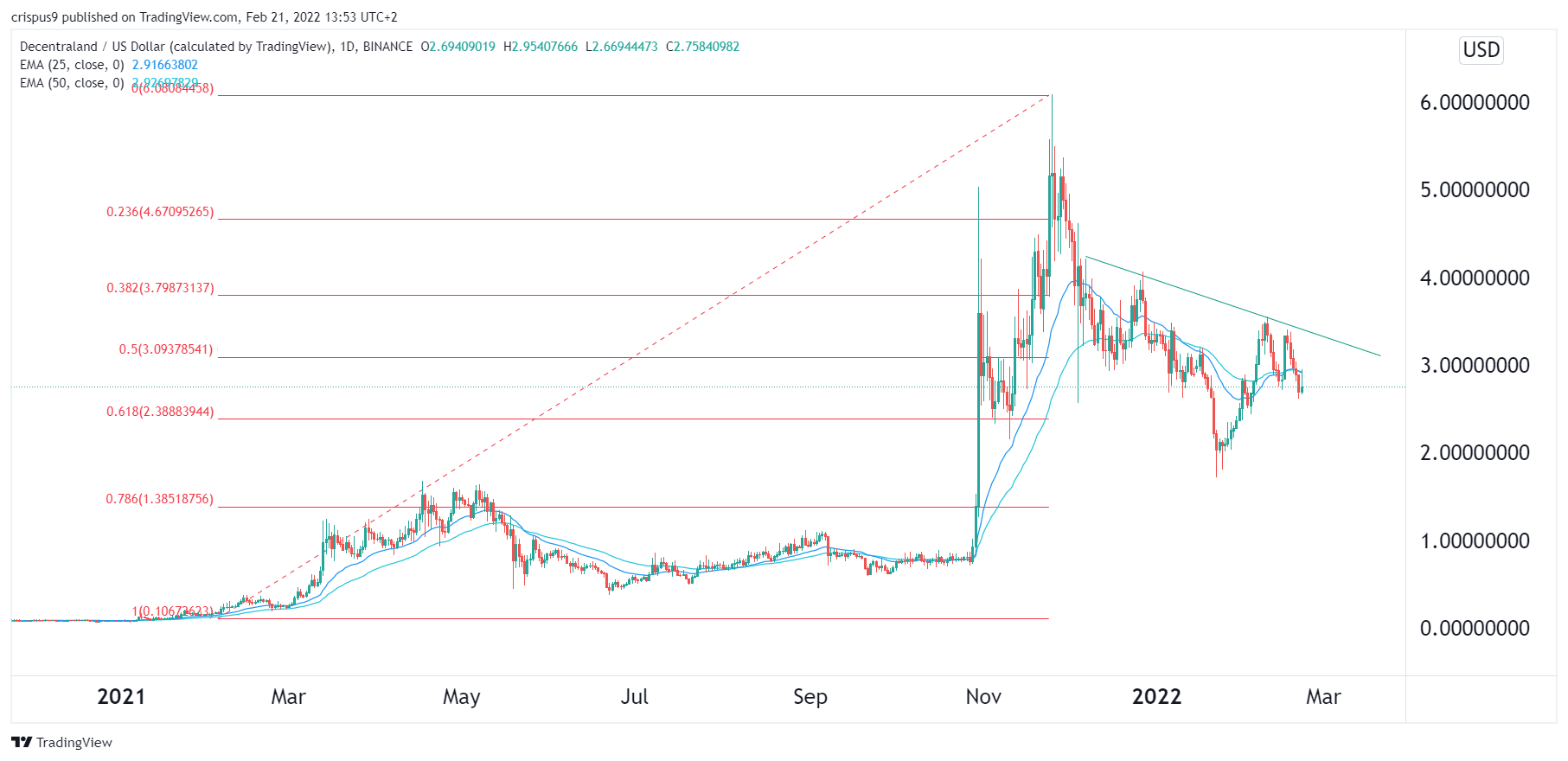 The daily chart shows that the MANA price has been in a bearish trend in the past few months. The coin has moved between the 50% and 61.8% Fibonacci Retracement level. It is also below the descending trendline that is shown in green.
Also, a closer look shows that it has formed a small double-top pattern whose chin is at $2.72. In price action analysis, this pattern is usually a bearish sign. Also, it has dropped below the key support at $3 and the 25-day and 50-day moving averages.
Therefore, there is a possibility that the Decentraland price will keep falling as bears target the next key support at $2.0.