Cardano price prediction: ADA sell-off set to get worse
The Cardano price has been in a deep sell-off in the past few months as demand for the coin has waned. ADA is trading at $0.9478, which is about 70% below its all-time high. Its market capitalization has dropped to about $30 billion, meaning that investors have lost over $60 billion of value since September last year.
Cardano sell-off continues
Cardano is a leading blockchain – and often controversial – blockchain project whose goal is to become a better platform for companies and developers to build decentralized applications (DAPPs).
It is primarily a proof-of-stake network that has better stats than Ethereum and other platforms like Binance Smart Chain. However, for a long time, it was impossible for developers to build applications in the network because it did not have smart contract features.
This changed last year when the developers launched the Alonzo hard fork. With this fork, developers started building applications of all types such as DeFi, metaverse, and DEXes.
Recently, we have seen Cardano's ecosystem keep growing as the number of developers launch their projects. Some of the top projects built on Cardano are SundaeSwap, AdaSwap, Cardax, and MueliSwap among others.
However, Cardano faces several key challenges going forward. First, it is competing with platforms that are significantly ahead in terms of deployments. For example, Ethereum has thousands of applications in its ecosystem while other fast-growing platforms like Avalanche and Solana are gaining traction among developers.
Second, while the ecosystem is growing, a quick look at apps in its ecosystem shows that they are a bit small projects. In total, Cardano has a total value locked (TVL) of less than $100 million. In contrast, Ethereum has a TVL of more than $100 billion while Terra has a value of $15 billion.
Third, there are general issues of regulations and the Federal Reserve that will affect the coin's price.
Cardano price prediction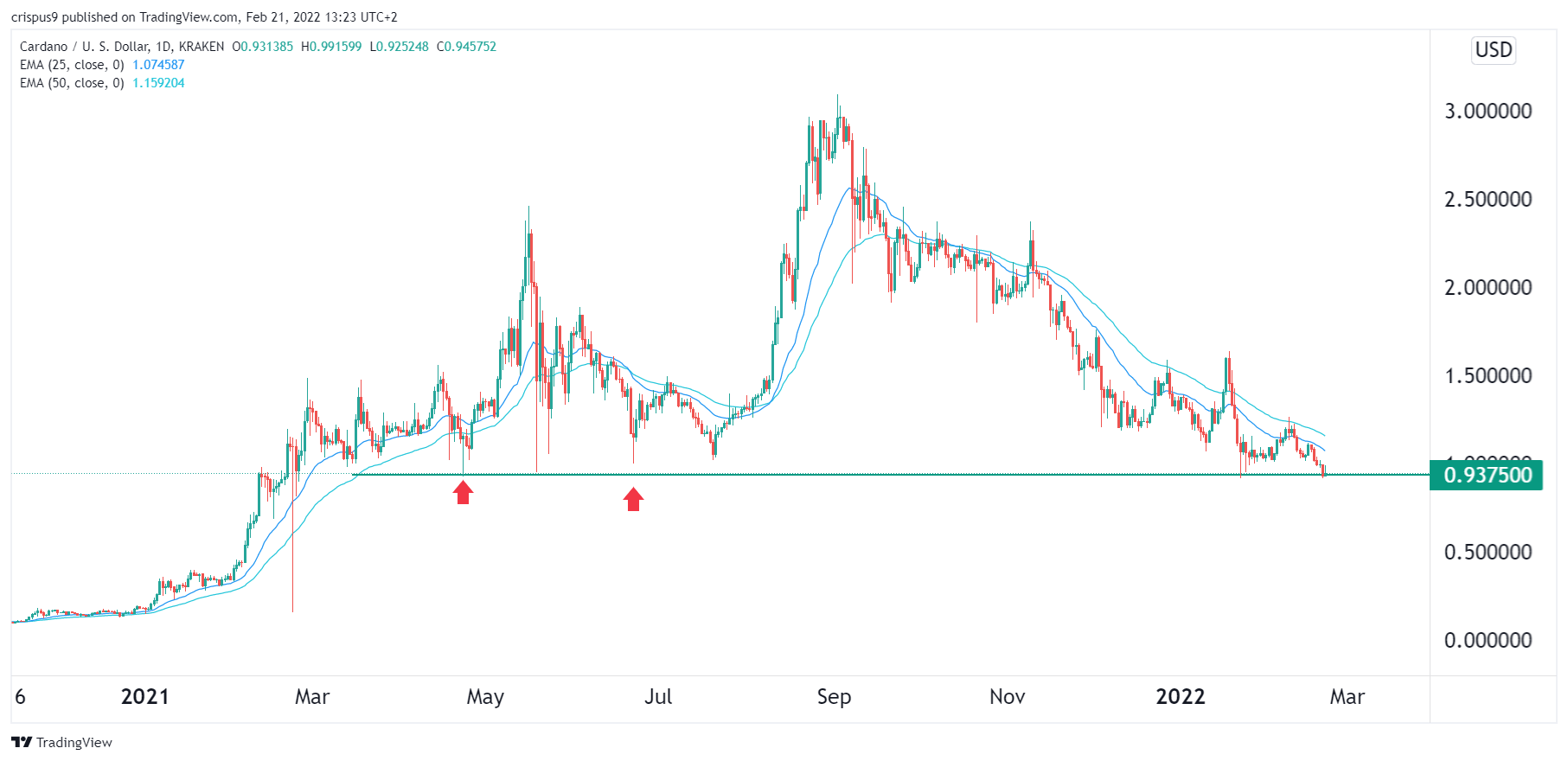 A quick look at the daily chart shows that the ADA price has not been doing well. And a closer look shows that things may get worse from here.
The coin is trading at $0.9375, which is sharply below its all-time high of almost $3. The current price is notable because the coin struggled moving below the level several times in 2021 as shown in red..
Worse, the coin is sharply below the 25-day and 50-day exponential moving averages (EMA). This is a signal that bears are still in control.
Therefore, there is a likelihood that the coin will keep falling as bears target the next key support level at $0.900.