Here's why the Waves price has plummeted
Waves price plummeted to the lowest level in more than a week as investors watched the market action of Neutrino. The token crashed to a low of $33.66, which is about 47% below its highest level this month. Its market cap has dropped to about $3.3 billion, making it one of the worst performers.
Why did Waves crash?
Waves is a blockchain project that aims to be a better alternative to Ethereum. In the past few months, the platform's ecosystem has been in a strong growth. According to DeFi Llama, some of the top apps in its ecosystem are Neutrino, Vires Finance, and Waves Exchange among others.
The Waves price is crashing because of the performance of Neutrino, an algorithmic stablecoin. The price of Neutrino declined sharply after it lost its peg to the US dollar. At the time of writing, the coin's price has crashed by more than 12% in the past 24 hours, bringing its total market cap to about $913 million.
Waves is a unique stablecoin in how its assets are backed up. While it is backed by the US dollar, it has some algorithmic features that determine how it is generated. The maximum cap and supply of the USDN is limited by the maximum cap of the WAVES token,
Therefore, the decline of Neutrino has helped contribute to the Waves price action. This is notable because it is the biggest platform built in Waves. It has a dominance of 66.87%, making it highly influential. Indeed, its climb helped to fuel the strong performance of Waves in the past few months.
Waves price prediction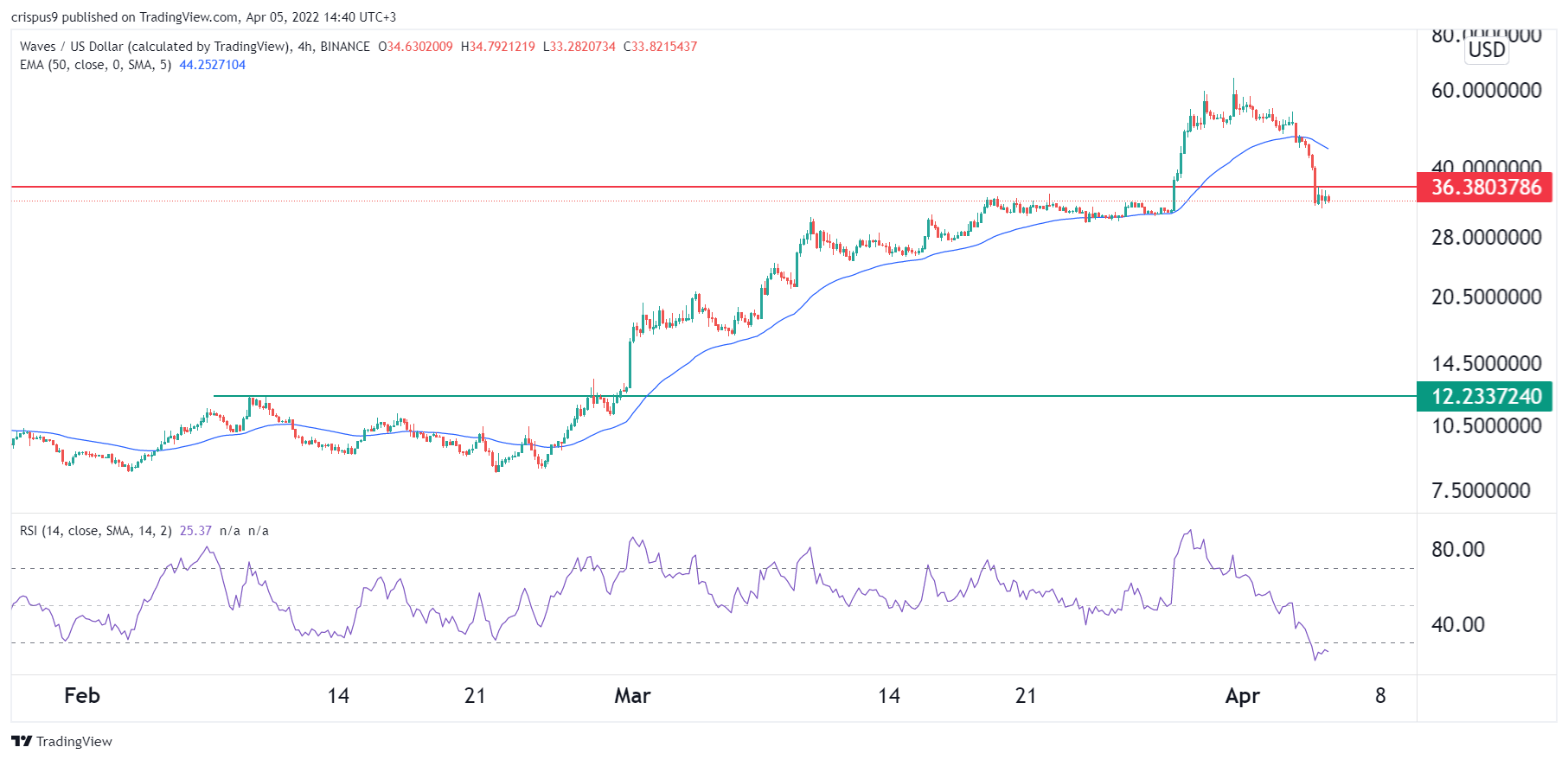 Like most digital coins, WAVES price has been in a strong bullish trend in the past few months. As a result, it became one of the biggest cryptocurrencies in the world. Now, because of the Neutrino crisis, the coin has crashed and moved slightly below the key support level at $36. It has also moved below the 25-day moving average while the Relative Strength Index has moved below the oversold level.
Therefore, the coin's price will likely keep falling in the coming days. If this happens, the next key support level to watch will be at $25.