Here's why the Solana price just crashed to a 7-month low
Solana price collapsed to the lowest level since August 2021 as investors reflect on the escalating tensions in Ukraine. The SOL token is trading at $77, which is about 70% below the highest level in 2021. Its market capitalization has collapsed to more than $24 billion.
Russia invades Ukraine
Solana is a leading blockchain platform whose goal is to offer a better alternative to Ethereum, a network that is known for its slow speed and high inefficiencies.
Solana has multiple technologies that enable apps developed in its ecosystem to be significantly faster and cheaper. For example, it uses a proof-of-stake technology that makes it easy and cheap to mint tokens through validators.
In the past few months, many developers have moved their projects to the Solana ecosystem. These are developers in all areas like the metaverse, decentralized finance, and non-fungible tokens (NFT). Some of the biggest apps currently using Solana's technology are Serum, Raydium, and Solanart among others.
There are several reasons why the Solana price has fallen by more than 10% in the past 24 hours. First, the main reason is geopolitics after Russia announced entry into Ukraine. In a televised speech on Wednesday, the country's president announced that the decision was necessary to prevent the close association between Ukraine and Nato.
As a result, all cryptocurrencies declined sharply as the total market capitalization crashed to about $1.65 trillion. This means that investors have lost over $1.5 trillion in the past few months.
Solana price is also falling as worries about its ecosystem have declined as risks rise. A quick look shows that activity in its DeFi ecosystem has fallen sharply in the past few months. The same is true with the metaverse and NFTs.
Solana price outlook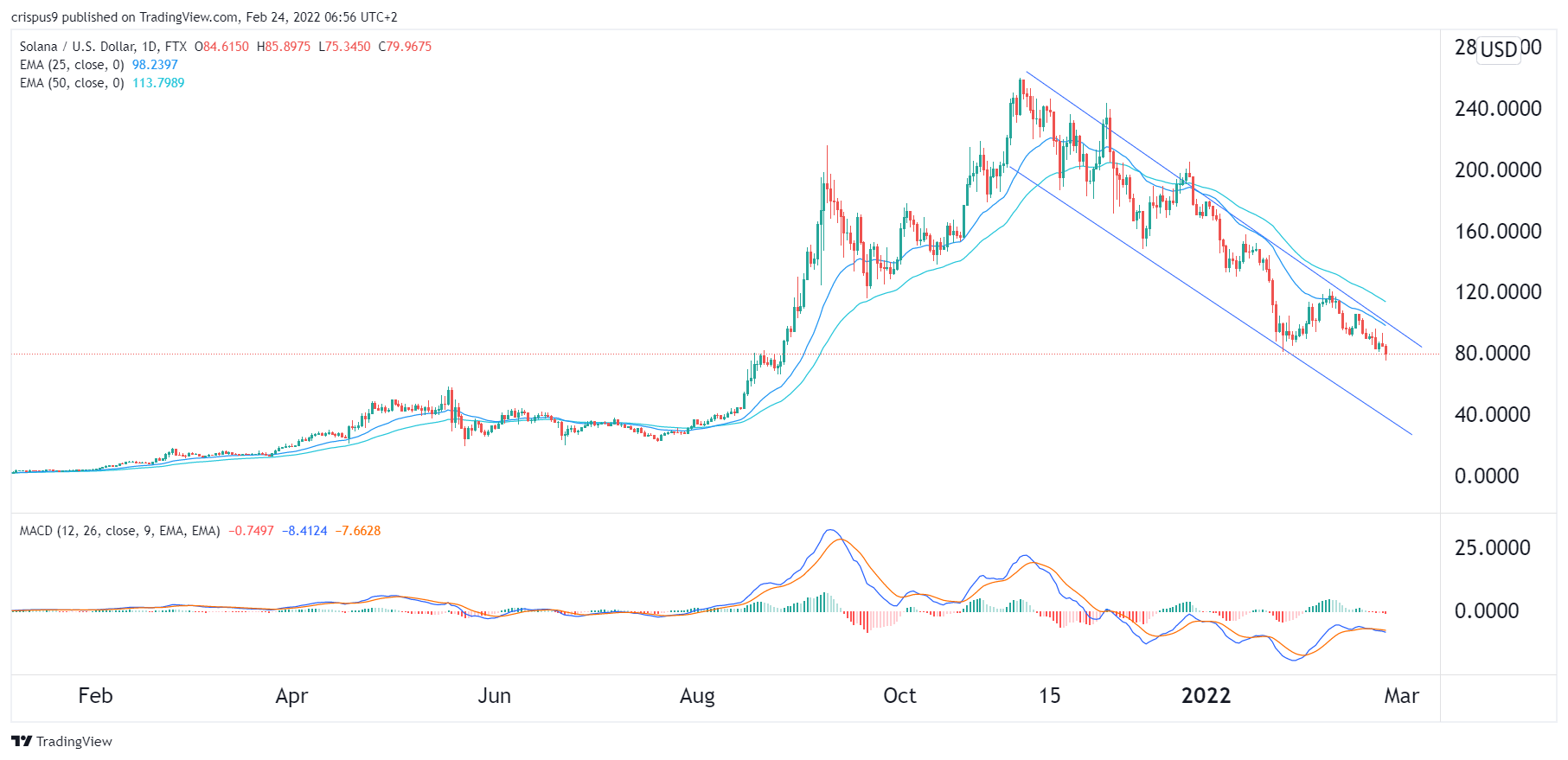 The daily chart shows that the SOL price has been in a bearish trend in the past few months. The coin has managed to move below the upper side of the descending channel pattern. It has also formed a death cross, which happens when the 50-day and 200-day moving averages make a crossover. The Relative Strength Index has also moved below the oversold level.
Therefore, there is a likelihood that the Solana price will continue falling as bears target the next key support at $50