Here's why Ethereum price tilted upwards after the hawkish Fed
Ethereum price has held steady in the past few hours even after the Federal Reserve delivered a hawkish interest rate decision. The coin is trading at $2,774, which is a few points above the lowest level this week. Other cryptocurrencies have also risen, with the total market cap of digital currencies moving to about $1.9 trillion.
Fed decision
The Federal Reserve concluded its monthly monetary policy meeting on Wednesday and delivered a different tone than what it said a few months ago. The bank decided to hike interest rates by 0.25% in its first rate hike since 2008.
In a statement, the bank said that it will continue rising interest rates in all the remaining monetary policy meetings of the year. As such, if the trend goes on, the final interest rate at the end of the year will be at 1.75%. It also hinted that it could increase the pace of increases from 0.25% to 0.50%.
The Fed attributed its change of tone to the current state of the American economy. The labor market has tightened with the unemployment rate falling to 3.8% while inflation has jumped to the highest level in a few decades.
Ideally, the logical view is that Ethereum and other cryptocurrencies should retreat after the Federal Reserve hiked interest rates. Besides, risky assets tend to underperform in a period of tight monetary policy conditions.
The main reason why Ethereum rose is that the decision did not catch investors by surprise. They already knew that the bank will move this month. For example, in his congressional testimony, Jerome Powell reiterated that the bank will abandon its pandemic-era policies and start hiking interest rates.
Another reason why Ethereum price rose is the successful merge on the Kiln testnet.
Ethereum price prediction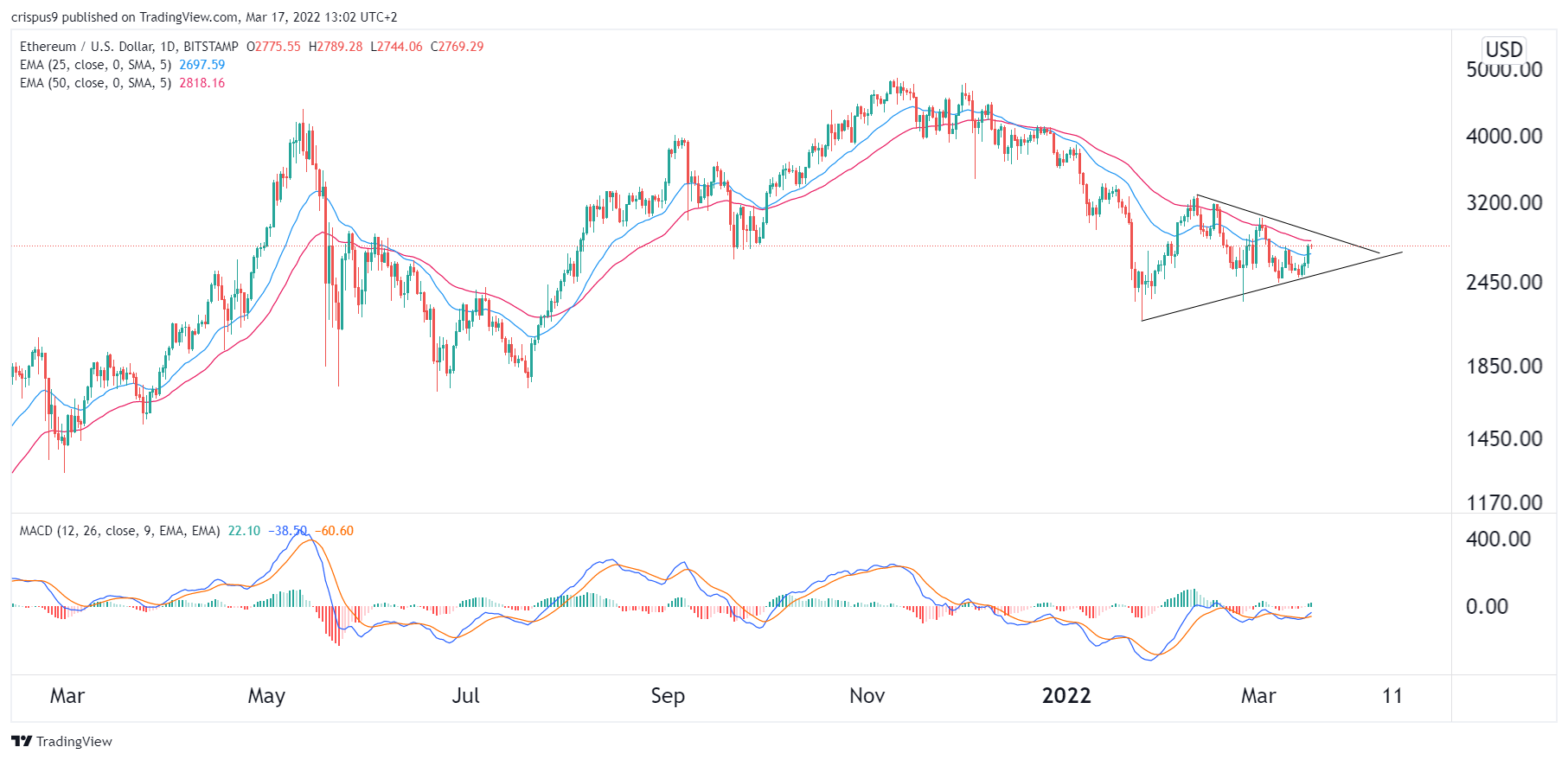 The daily chart shows that the ETH price has been in a tight range in the past few weeks. As a result, the price is trading at the 25-day and 50-day moving averages range.
A closer look shows that Ethereum price has formed a symmetrical triangle pattern that is shown in black. And this triangle is nearing its confluence zone, meaning that it is about to have a bullish or bearish breakout.
Since this is a symmetrical triangle, it is a bit difficult to predict the direction of the breakout. But we can estimate that it will be a bearish one since it seems like Ethereum has formed a head and shoulders pattern.