Here's why Bitcoin price unhinged meltdown accelerated
Bitcoin price crashed to the lowest level since February 4th as investors rushed to safe havens as geopolitical risks rose. The coin is trading at $36,358, which was about 20% below the highest point this month.
Russia-Ukraine crisis
The biggest geopolitical story this month has been about Russia and Ukraine. The two countries are engaged in one of the most significant conflict the world has seen since 2014.
Russia's main concern is that Ukraine is heading towards joining NATO, an organization that was formed to counter the Soviet Union. Putin fears that by joining Nato, western militaries and their equipment will be moved close to its border.
In the past few weeks, Putin has accumulated more than 150k troops near the Ukrainian border. And this week, tensions appeared to worsen after he delivered a fiery speech on Monday. In it, he announced that Russia will recognize two separatist zones in Ukraine.
As a result, this means that he now has the power to bring his military to these locations, which will provoke a war. This explains why the Bitcoin price declined sharply in the overnight session.
It was not alone. Most cryptocurrency prices declined sharply as their total market capitalization fell by 6.75% to about $1.75 trillion.
As such, this price action means that most investors have stopped viewing Bitcoin as a safe haven coin. Instead, they have moved to gold, which has been in a strong bullish trend. The gold price has risen sharply in the past few sessions and is currently at the highest level in months.
Bitcoin's drop has also mirrored the performance of other assets like stocks. The Nasdaq 100 index futures declined by more than 200 points while the Dow Jones fell by over 300 points. Meanwhile, the closely watched Bitcoin fear and greed index crashed to 20, the lowest it has been since last month.
Bitcoin price prediction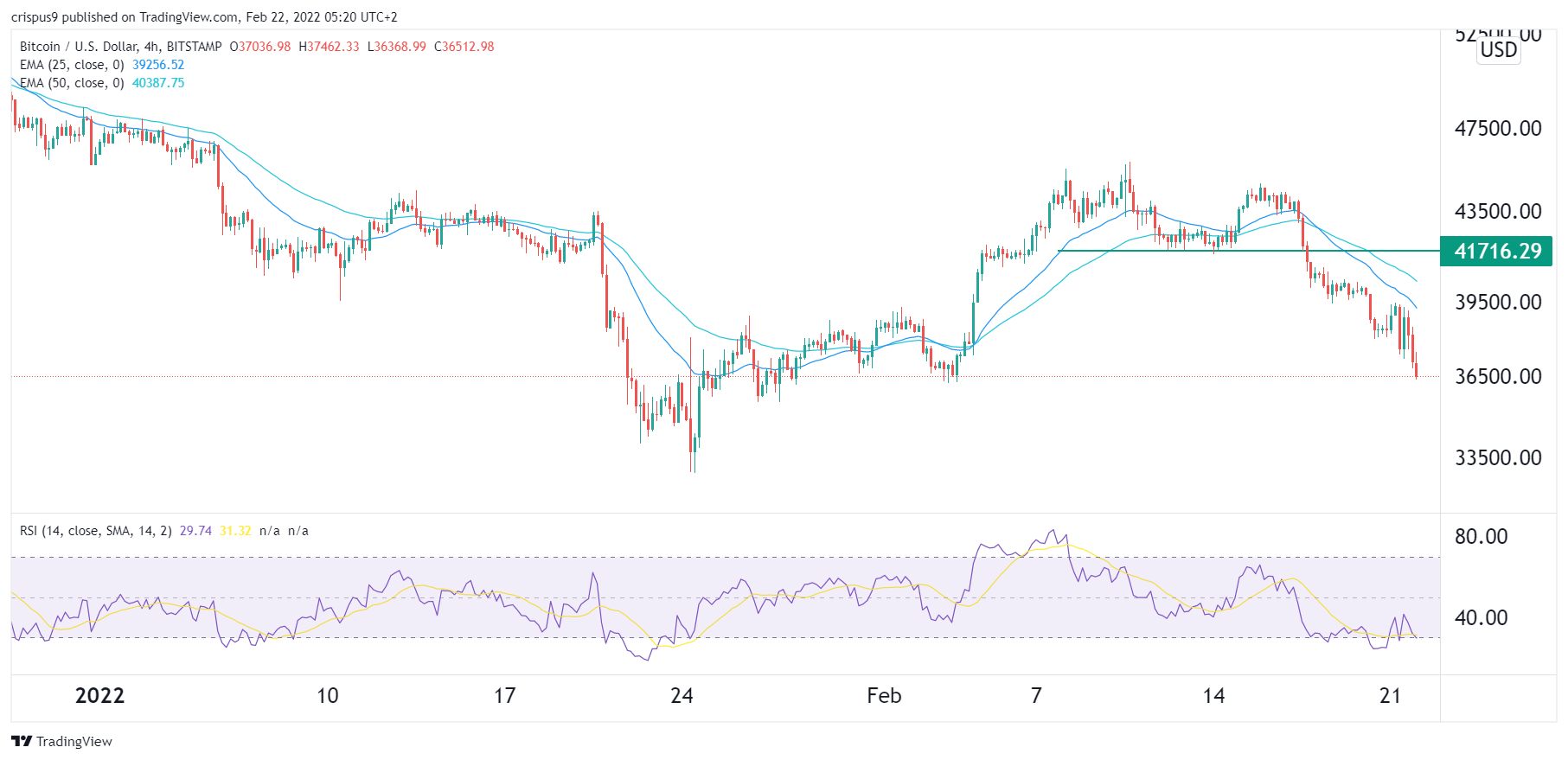 The daily chart shows that the BTC price has been in a strong bearish trend in the past two weeks. After peaking at about $45,000 in the first week of the month, the coin's price has dropped to almost $36,000.
As a result, the price has managed to move below the 25-day and 50-day moving averages while the Relative Strength Index has fallen to the lowest point in months. The sell-off accelerated when the pair dropped below the support at $41,716, which was the chin of the double-top pattern.
Therefore, the Bitcoin price will likely keep falling as bears target the next key support at about $35,000.