Is Bitcoin a good buy as the fear and greed index retreats to 25?
The Bitcoin price continued its sell-off on Monday morning as the fear and greed index moved to the extreme fear zone. The coin is trading at $39,211, which is slightly above the lowest level during the weekend.
Fear and greed index falls
The cryptocurrency market is usually driven by fear and greed. When things are going on well, investors tend to become extremely greedy and buy all types of tokens.
In the past few months, the mood has been a bit fearful. Indeed, the fear and greed index has remained below the neutral level of 50 for the most part of the year.
At the time of writing, the index is trading at the extreme fear zone of 25, which is the lowest it has been in months. Similarly, the CNN Money fear and greed index has crashed to about 37, which is lower than the previous close of 38.
The CNN figure is usually broader because it looks at more economic numbers like the safe-haven demand, junk bond demand, and put and call options in the market.
There are three main reasons why Bitcoin price is falling as fear rises. First, there is the main fear of the Federal Reserve. In the past few months, the Fed has changed its tone on inflation and interest rates.
In 2021, the bank maintained that the current state of inflation was transitory, a fact that has been proven wrong. Therefore, to correct its mistakes, analysts expect that the Fed will deliver more than 5 hikes this year.
Second, there are geopolitical fears, with the most notable one being on Russia and Ukraine. During the weekend, Russia continued its drills near the Ukrainian border as Western countries warned that an attack will happen soon.
Bitcoin price prediction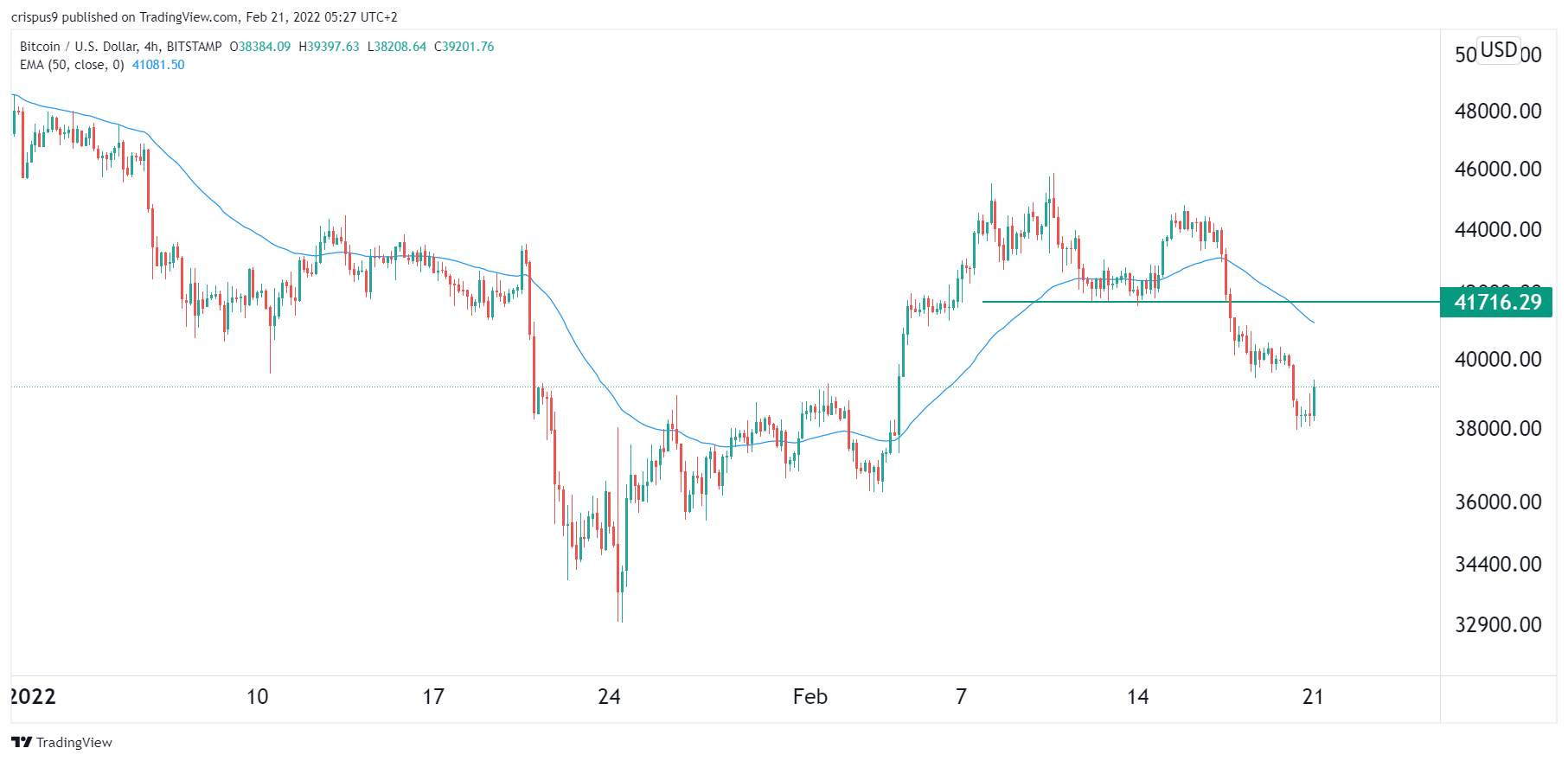 The four-hour chart shows that the BTC price declined sharply in the past few days. The decline continued when the pair managed to move below the key support at $41,716. This was an important level since it was the chin of the double-top pattern.
The pair has also moved below the 25-day and 50-day moving averages while oscillators like the Relative Strength Index and the MACD have continued the bearish trend.
Therefore, the outlook for the Bitcoin price is bearish since demand seems to be waning. If this happens, the next key support level to watch will be at $3,700.