Here's what Bitcoin Dominance is indicating for the coming weeks.
Bitcoin (BTC/USD) dominance is a measure of how much of the whole crypto market cap is made up of Bitcoin. It might assist you in understanding the trend of BTC and altcoins. Take a look at Bitcoin's current dominance. So in basic terms, when BTC dominance rises, the altcoins lose their value against Bitcoin whereas when Bitcoin dominance falls the altcoins rise in value against Bitcoin. Thus for investors whose portfolios consist mainly of altcoins, a fall in Bitcoin dominance would be beneficial and profitable.
Thus for a bull market, the Bitcoin dominance has to drop, only then will money flow into the altcoins leading to their prices being increased. However, some analysts think that analysing Bitcoin dominance is flawed as it does not exclude the Bitcoin, not in moving supply such as in wallets whose keys have been lost. Moreover, analysts worry that it fails to account for Bitcoin's high liquidity. An altcoin's worth of $2 billion may be artificially exaggerated, undermining BTC's dominance. However, it can definitely give a clear idea of the overall market and can indicate the condition of the market and help investors get an idea to time their entries perfectly.
Here is what the Bitcoin dominance is pointing towards-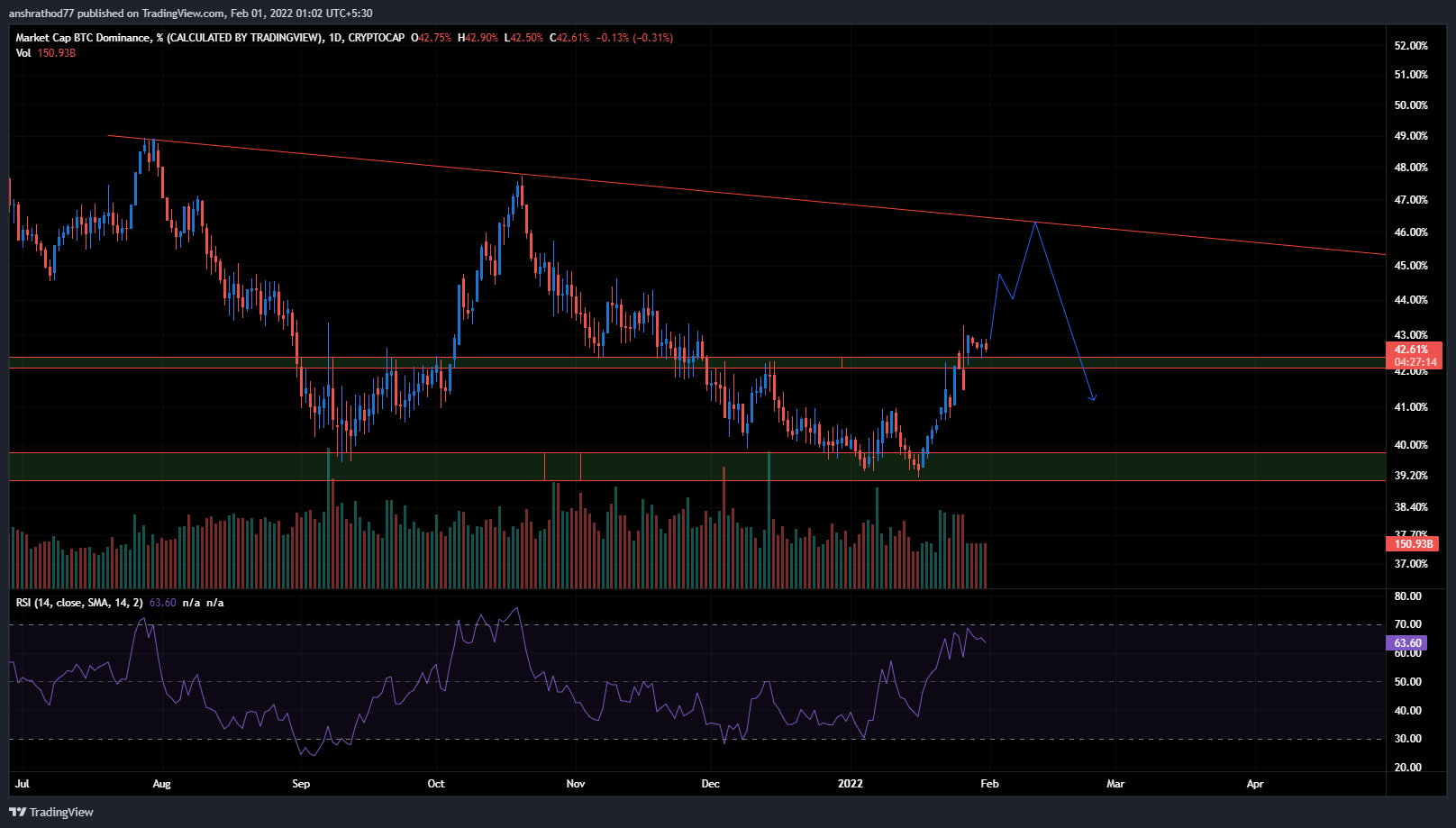 Bitcoin dominance has formed a flag pattern, thus it is looking like it could rise to 45% which could cause the price of numerous altcoins to fall.

However, it is also forming a descending triangle and it can face resistance from the trendline which could be when a bounce in the price of altcoins could be seen.

Thus investors can take long positions once Bitcoin dominance starts falling from the 46% level as there is a high chance that prices could be seen increasing then.