Fantom price prediction: dead cat bounce pattern forms
The Fantom price is crawling back after it crashed to a two-month low on Thursday. The coin is trading at $1.60, which is about 23% above the lowest level this week. Its market capitalization has risen to about $4 billion, making it the 33rd biggest coin in the world.
Fantom crawls back
Fantom is a leading smart contract platform that enables developers to build scalable decentralized applications. It is a viable alternative to Ethereum because of its fast speeds, low energy uses, and better scalability.
In the past few months, the number of developers opting for Fantom has been rising. According to DeFI Llama, there are now about 177 DeFi apps built using the network's platform. Some of these apps are Multichain, Solidly, SpookySwap, Scream Finance, and Geist Finance among others. All these apps have a total value locked (TVL) of more than $8.48 billion.
The Fantom price has risen today as part of the overall rebound of the cryptocurrency industry. Indeed, most coins have risen by double digits today. Ethereum and Bitcoin have rallied by more than 10% in the past 24 hours while Terra and Polkadot have risen by 24% and 13%, respectively.
There are several catalysts for this performance. First, investors are cheering the suite of sanctions that the US applied on Russia. The US sanctioned some of the biggest Russian banks and some oligarchs. But the US did not do the nuclear option of sanctioning the country's access to the Swift Network. Swift is a network that connects global banks to ensure that funds move globally.
Second, investors are buying the fact. In the past few months, the Fantom price has been in a downward trend as the US warned about Russia. Now, since the invasion happened on Thursday, investors are buying the fact.
Fantom price prediction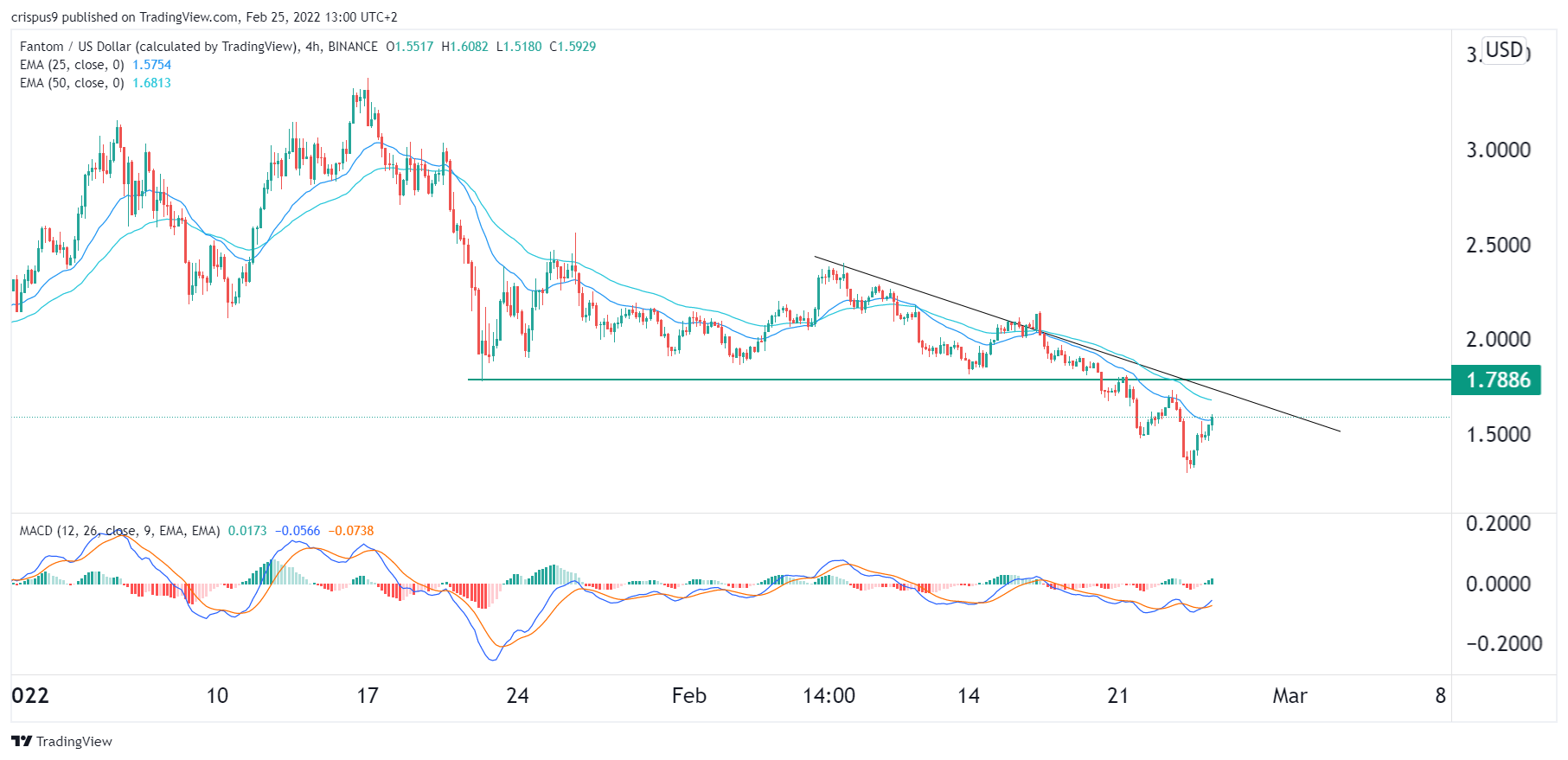 The daily chart shows that the FTM price has been in a bearish trend in the past few months. On Thursday, the coin declined to a low of $1.2930. Now, it remains below the 25-day and 50-day moving averages. It is also slightly below the important resistance level at $1.788, which was the lowest level in January this year.
The coin is also slightly below the descending trendline shown in black. Therefore, there is a likelihood that the Fantom price will resume the downward trend. The current bounce is part of a dead cat bounce pattern.