Anchor Protocol price prediction as the ANC token defies gravity
The Anchor Protocol has defied gravity in the past few weeks as interest in its ecosystem has risen. The ANC coin is trading at $3.50, which is the highest it has been since January 4th this year. It has risen by more than173% from its lowest level this year, bringing its total market capitalization to more than $879 million.
Anchor Protocol growth
Decentralized Finance (DeFi) is one of the fastest-growing industries in the world. The industry has a total value locked (TVL) of more than $120 billion, which is an excellent sum considering that it was not inexistent a few years ago.
The industry has been enabled by the fast-growing smart contract sector that is currently dominated by Ethereum. Anchor Protocol is one of the fastest-growing DeFi protocols in the world. It was built using the smart contract platform provided by Terra.
Anchor Protocol was developed in 2020 by Nicholas Platias, Joon Lee, amd Marco Di Maggio to help people from around the world access stable yield. Users can access a more stable yield than they can get in other platforms like Maker and Compound.
Anchor solves the challenge of volatility by providing a savings protocol that offers yield powered by block rewards of major proof-of-stake platforms. It stabilizes the deposit interest rate with bock rewards accruing to assets used to borrow stablecoins.
The Anchor Protocol price is rising as investors cheer the strong performance of the protocol even as the cryptocurrency industry goes through challenges. For example, data shown in its dashboard shows that it has 11.7 billion UST in total value locked. These funds are made by a deposit of 7.4 billion UST and total collateral of about 4.2 billion. Depositors in Anchor are making an APR of about 19.45%.
Anchor Protocol price prediction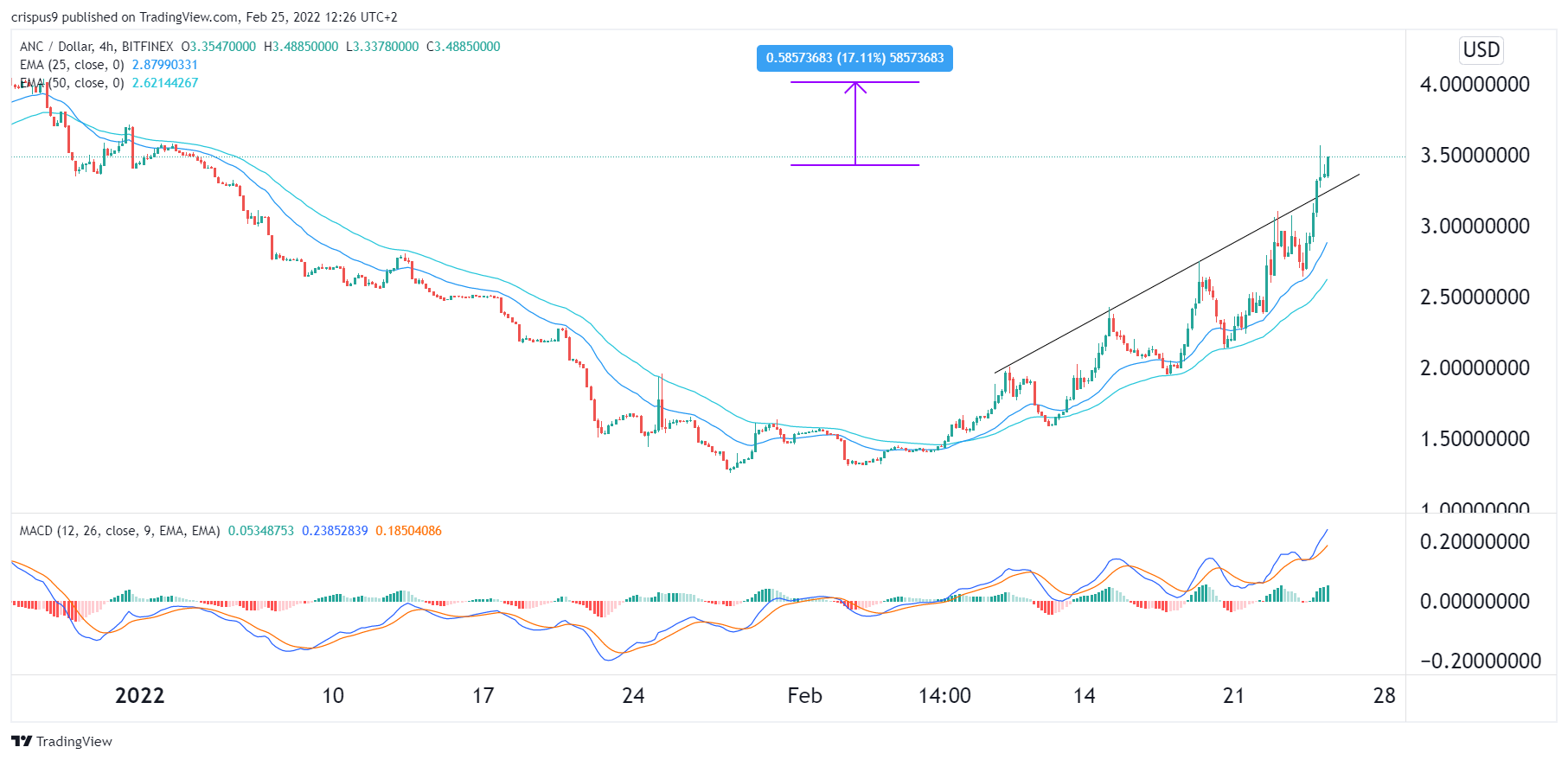 The four-hour chart shows that the ANC price has been in a strong bullish trend in the past few weeks. Along the way, the coin has moved above the 25-day and 50-day moving averages. It also moved above the upper side of the ascending channel that is shown in black.
Therefore, the coin's price will likely keep growing as bulls target the next key resistance level at $4, which is about 17% above the current level.