EOS price prediction after the spectacular comeback
EOS price has been in a strong bullish trend in the past few days as the altcoin rally continued. The coin is trading at $2.41, which is the highest it has been since February 17th. It has jumped by over 30% from the lowest level this month. As a result, its total market cap has jumped to over $2.4 billion.
EOS and altcoins rebound
EOS is one of the biggest blockchain projects in the world. It has a storied past since it was built by Block.one, the same company that raised the most funds in its Initial Coin Offering (ICO). It raised over $4.4 billion and was later sued by the Securities and Exchange Commission (SEC).
EOS goal is relatively simple. Developers hope that it can be adopted by other creators of decentralized applications like in DeFi and NFT industry.
However, most analysts believe that EOS has not lived to its initial promise. For one, its ecosystem is relatively empty because most developers have not embraced it well. Indeed, it is almost impossible to name some of the apps built using its platform. A quick look at DappRadar shows that most of its apps have little or no activity.
One of the main reasons why EOS has lagged is that competition in its industry has become significant. For example, there are newer projects like Terra, Solana, and Avalanche that are giving strong competition to Ethereum.
Most developers prefer these platforms because of their speed, energy efficiency, and the fact that they are easy to build with. Indeed, in a statement last year, the CEO of EOS Foundation said that he believed that the platform had become a failure.
It is unclear why the EOS price is rising on Tuesday. A possible reason is that the performance is in line with that of other popular altcoins like Ethereum Classic and Elrond.
EOS price prediction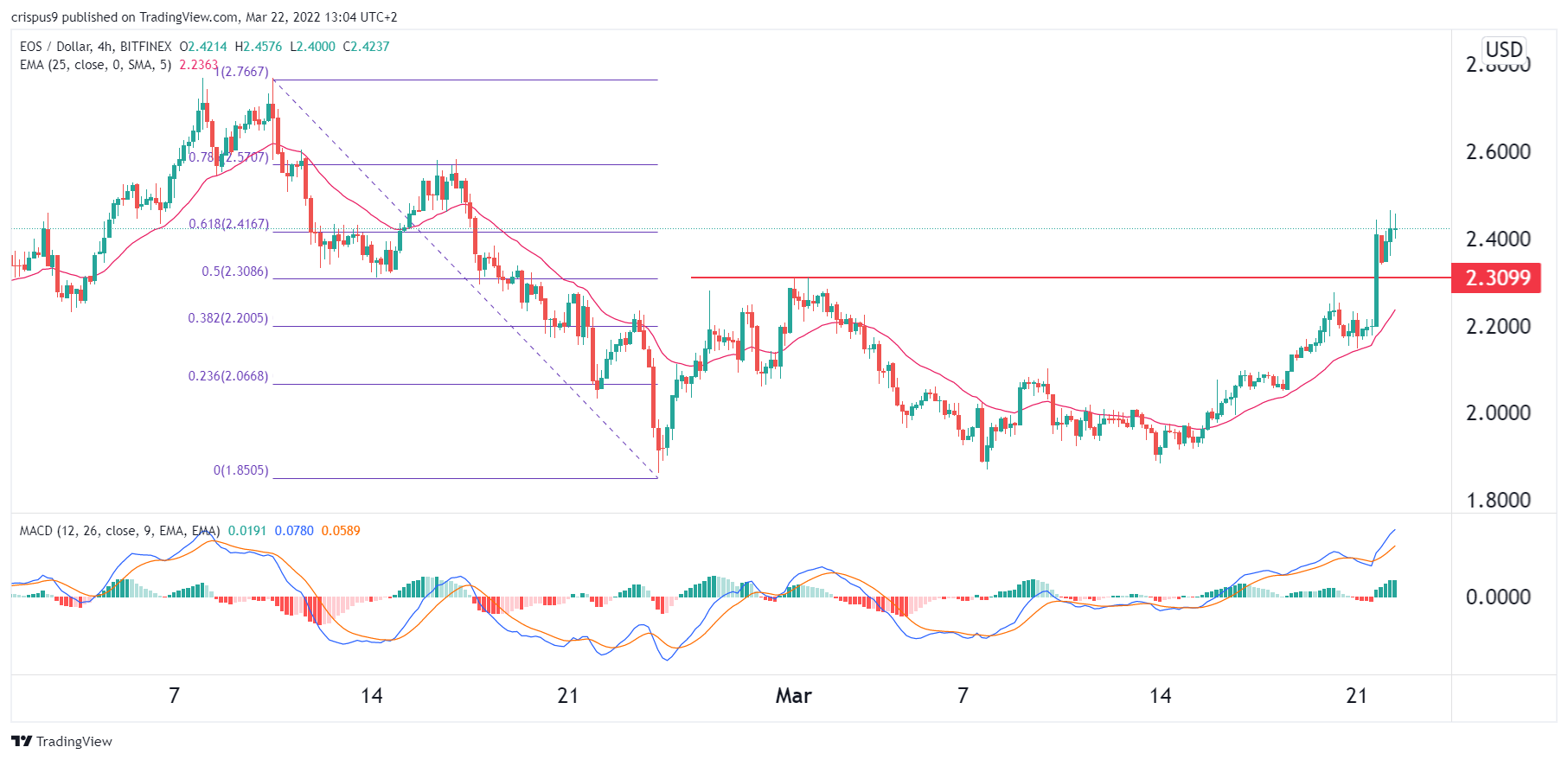 The four-hour chart shows that the EOS price has been in a strong bullish trend in the past few days. Along the way, it has moved above the key resistance level at $2.30. It has also moved above the 25-day and 50-day moving averages. It has also moved above the 61.8% Fibonacci retracement level.
Therefore, there is a likelihood that the coin will continue rising as bulls target the next key resistance level at $2.60.