Curve DAO Token price prediction as CRV crashes to September lows
The Curve DAO Token price crashed to the lowest level since September 2021 as the crisis in Ukraine continued. The CRV token is also falling as market activity in the ecosystem continues. It is trading at $2.04, which is about 71% below the highest level this year.
Geopolitical tensions
Curve DAO is a leading Decentralized Finance (DeFi) platform that enables people to swap their stablecoins. The platform uses an automated market maker (AMM) and liquidity pools to swap their coins.
Curve Finance was initially built using Ethereum's technology but has expanded to other chains like Avalanche, Polygon, Fantom, and Harmony among others.
According to DeFi Llama, Curve Finance has a total value locked (TVL) of over $18 billion. The value has been in a downward trend in the past few months after it peaked to about $24 billion in November.
The main reason why the Curve Finance Token price has crashed sharply today is the ongoing tensions in Ukraine. Early Thursday morning, President Vladimir Putin announced that his military was moving to Ukraine, which could provoke a war in the region.
As a result, other financial assets have all dropped sharply in the past 24 hours. For example, Bitcoin has fallen by more than 7% while Ethereum has crashed by more than 12%. In total, cryptocurrency prices have crashed to about $1.65 trillion.
The same trend is happening across other markets. Futures tied to the Dow Jones have fallen by more than 600 points while the Nasdaq 100 index has fallen by more than 340 points. In Asia, the Hang Seng and Nikkei 225 have fallen by more than 3% while the DAX and CAC 40 have retreated by over 2%.
Curve DAO Token price forecast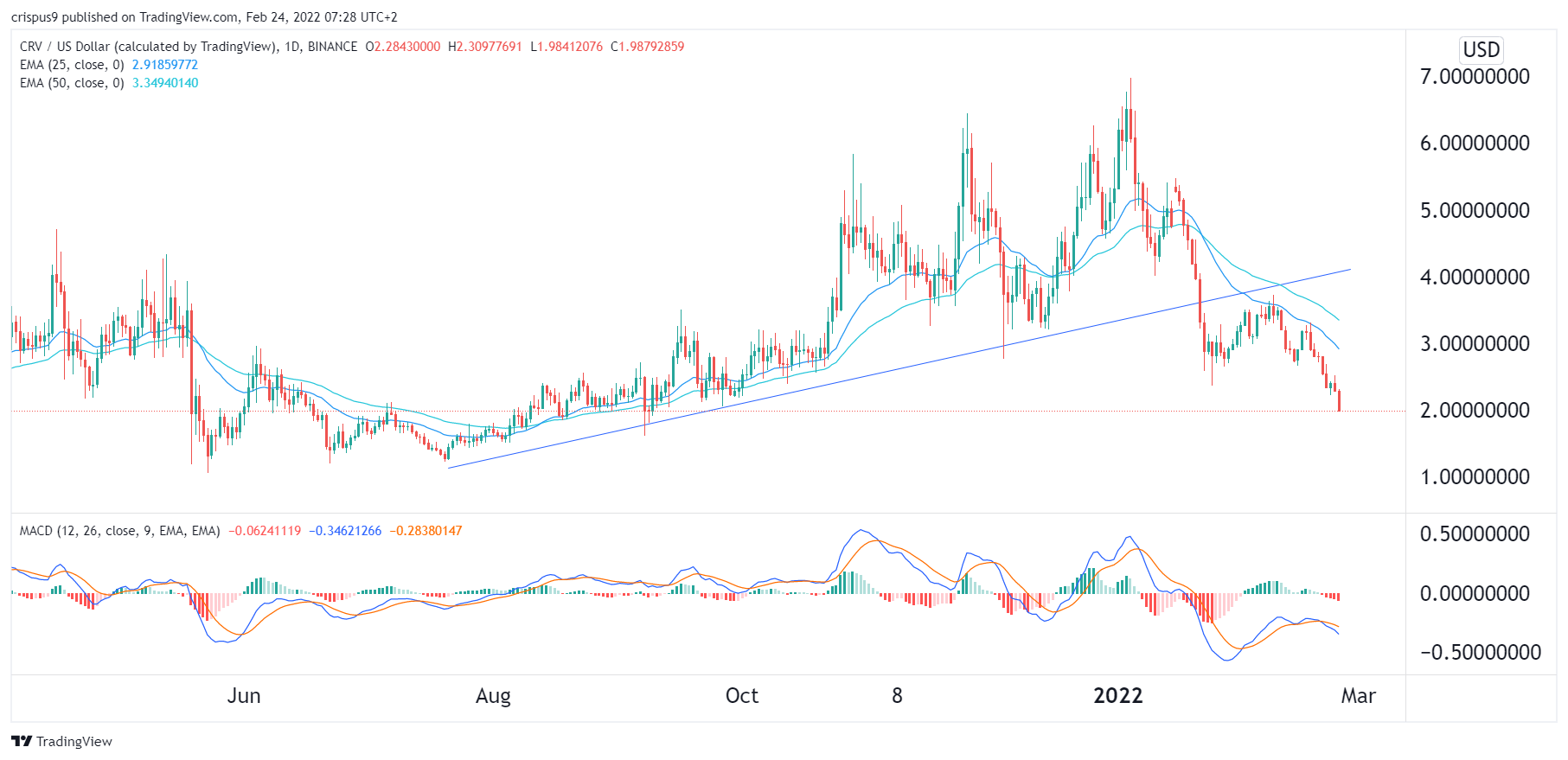 The daily chart shows that the CRV token price has been in a strong bearish trend in the past few months. As a result, the coin has managed to move below the ascending trendline that is shown in blue. It has also moved below the 25-day and 50-day moving averages while the MACD has moved below the neutral level.
Therefore, there is a likelihood that the Curve DAO token will keep falling as bears target the next key support level at $1.50.