Cronos price prediction: Triangle pattern forms ahead of FIFA partnership
The Cronos price remained in a tight range ahead of a new partnership deal between Crypto.com and FIFA. the coin is trading at $0.4226, where it has been in the past few days. The price is about 56% below its all-time high, bringing its total market cap to about $10.57 billion, making it the 17th biggest coin in the world.
FIFA partnership with Crypto.com
Crypto.com is one of the leading companies in the blockchain industry. The firm is well-known for its large suite of products and services such as an NFT marketplace, payment card, exchange, and margin trading platform. According to its website, it has over 10 million customers from around the world.
Crypto.com will today unveil its latest partnership. According to the Financial Times, it will make a deal with FIFA that will make it the official cryptocurrency sponsor for this year's World Cup in Qatar. The amount of the deal has not been made public but it is expected to be over $100 million. FIFA's other sponsors are companies like Adidas and Coca-Cola.
Crypto.com has used sports advertising and sponsorships to grow its brand. For example, the former Staples Center is now known as Crypto.com Center. The firm is also one of the biggest sponsors in Formula 1, the most prestigious racing event in the world.
It has also spent a lot of money in areas like UFC and Australian Football. Most importantly, it spent millions sponsoring Super Bowl, an event that was seen by more than 120 million Americans.
As a private company, Crypto.com does not publish its financial results. As such, it is a bit difficult to predict whether these marketing events have been effective or not. One way of doing the assessment is to look at the performance of Cronos, a blockchain project it owns. Like most coins, it has crashed by more than 50% from its all-time high.
Cronos price prediction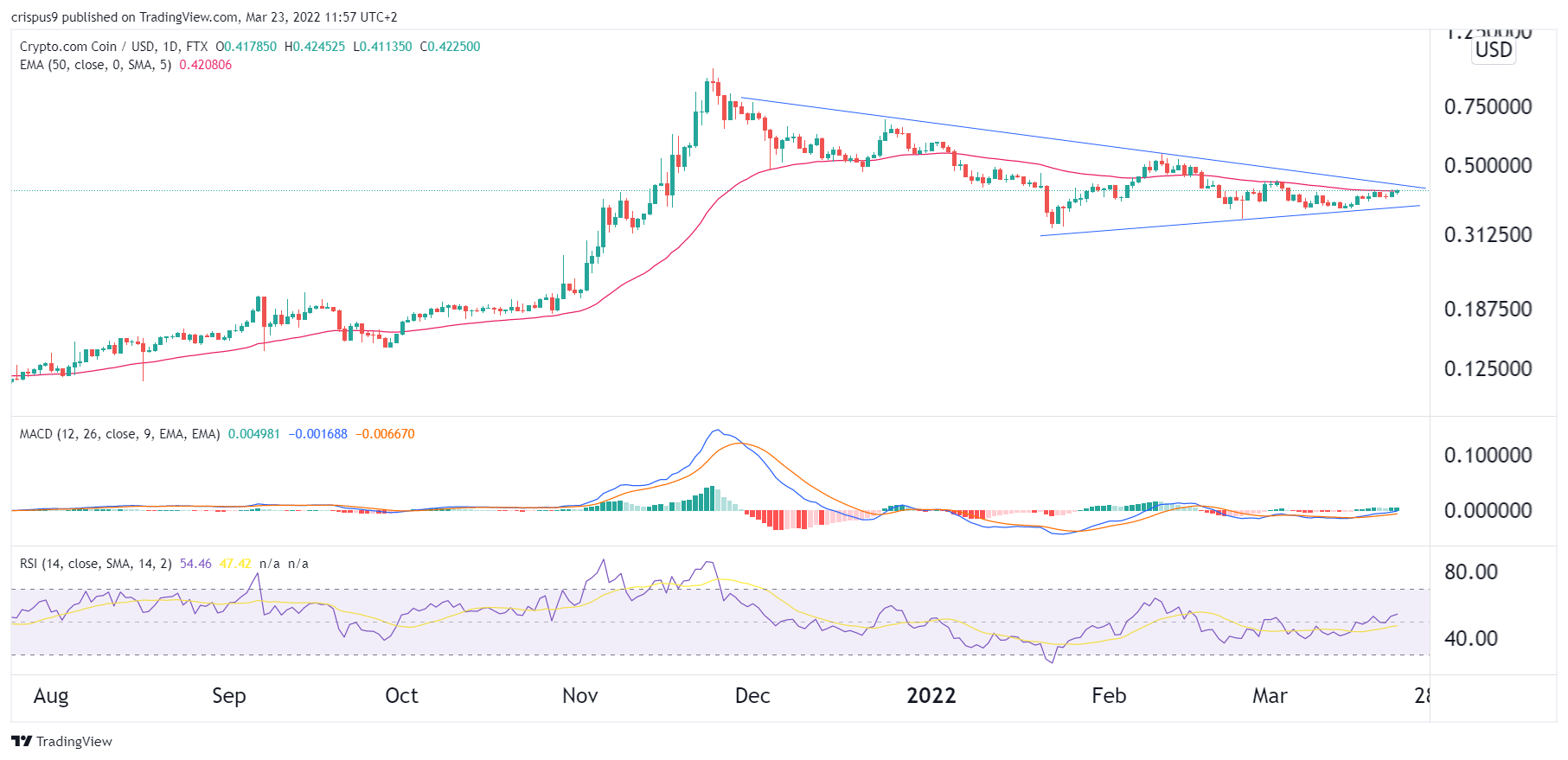 The daily chart shows that the CRO price has been in a tight range in the past few weeks. As a result, the coin is trading at the same point as the 25-day and 50-day moving averages. Oscillators like the Relative Strength Index (RSI) and the MACD are also at a neutral level.
A closer look shows that the coin has formed a symmetrical triangle pattern, which is nearing its confluence zone. Therefore, there is a likelihood that the coin will have a breakout in the near term. The key support and resistance levels to watch will be at $0.3125 and $0.50.