Bitcoin price forecast: BTC broke past $43k, what's next for this cryptocurrency?
The Bitcoin (BTC) cryptocurrency token has passed the $43,000 price barrier.

Bitcoin's value has increased by 2% in the last 24 hours.

Bitcoin can grow much higher in value.
Bitcoin (BTC) is by far one of the largest cryptocurrency tokens in terms of market capitalization and overall value.
This has made the token a benchmark that other tokens follow, and its price fluctuations send shockwaves across the entire crypto industry, as its effects can be seen in the value of many altcoins as well.
Bitcoin has passed the $43,000 price point and is on its way to much higher growth.
The $10 billion BTC allocation from Terra as a catalyst for growth
Terra, which has been putting specific focus on plants towards establishing a $10 billion BTC allocation, has sent the value of the BTC token higher.
The co-founder of Terra, Do Kwon, through a Twitter post on March 22, 2022, first gave a $10 billion target for backing the firm's new U.S. dollar stablecoin, which was followed by $3 billion in an interview throughout the weekend.
When the liquidity started getting up, traders were gaining confidence, alongside the spot price.
Furthermore, El Salvador pushed back the release of the "Volcano Bonds" with Bitfinex to September.
El Salvador President Nayib Bukele remained vocal on social media after U.S. lawmakers escalated their measures towards investigating the country's adoption of the BTC cryptocurrency token.
Should you buy Bitcoin (BTC)?
On March 24, 2022, Bitcoin (BTC) had a value of $43,003.32.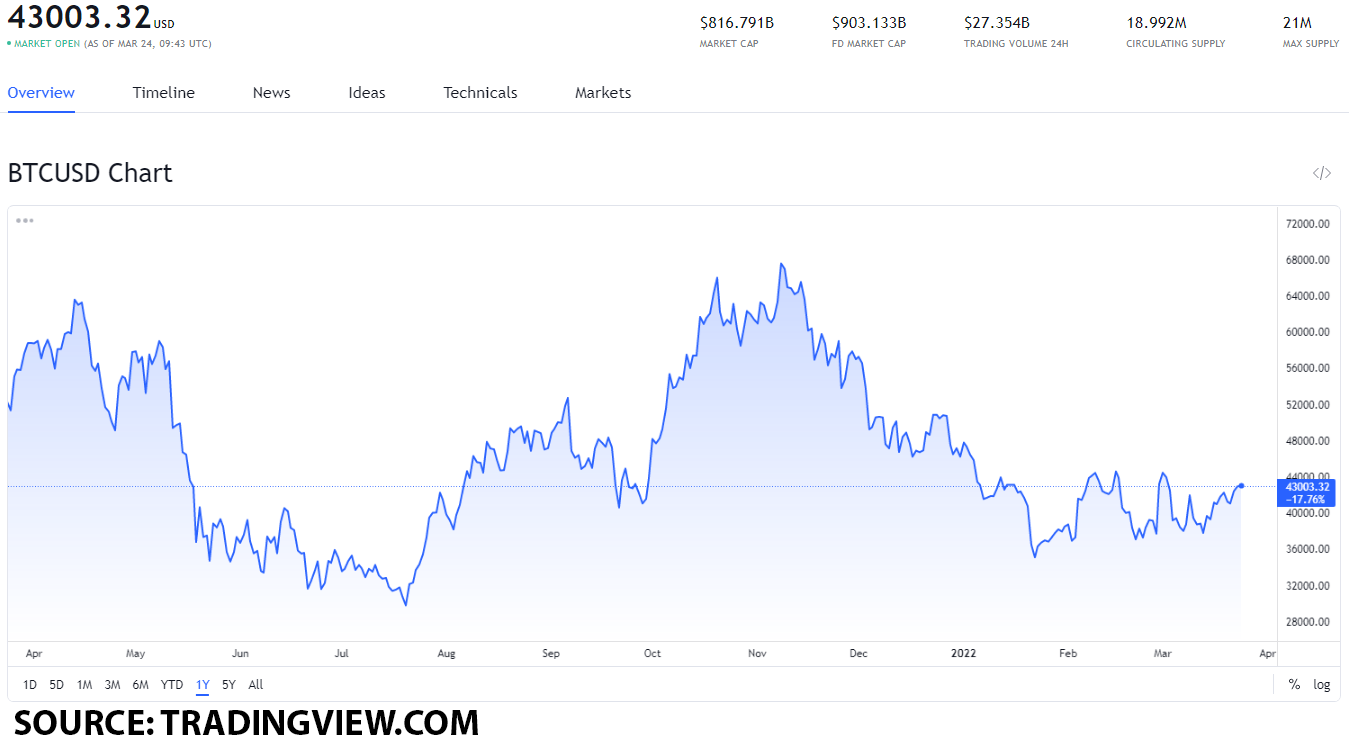 To see what this value point truly indicates for the Bitcoin (BTC) cryptocurrency token, we will be going over its all-time high value, alongside the performance it showcased throughout February.
Going over the token's all-time high, Bitcoin (BTC) had a value of $69,044.77 on November 10, 2021.
Discussing the value of the token throughout the previous month, Bitcoin (BTC) had its highest point of value on February 10, when it reached $45,387.26.
However, its lowest point of value was on February 24, when the token decreased to a value of $34,750.15. This gives us an indication that the token saw a decrease in its value by $10,637.11 or by 23%.
However, from February 24 to March 24, the token has increased in value by $8,253.17.
With this in mind, we can expect the BTC cryptocurrency token to reach $44,000 by the end of March 2022.