4 reasons why the Terra price seems to be defying gravity
The Terra price has defied gravity in the past few months. While other coins have dropped by more than 20% from their highs, LUNA is hovering near its all-time high. It is trading at $91.3, which is a few points below its record high of $104. Its price has risen by more than 2,214% from its lowest level in May last year.
Why has LUNA jumped?
There are several reasons why the Terra LUNA price has risen as other cryptocurrencies remain under pressure. First, investors have cheered the platform's ecosystem growth. In the past few months, the number of developers who have embraced the network has been in an upward trend.
For example, data shows that there are now 21 DeFi apps built in Terra that have a total value locked of over $23 billion. This makes it the second-biggest platform in the world after Ethereum. Indeed, its TVL is higher than that of the BNB Chain and Avalanche combined. Therefore, investors seem to believe that Terra is the future of the smart contract industry.
Second, the Terra price has outperformed its peers because of the growth of its stablecoins. Terra USD has grown to become the fourth-biggest stablecoin in the world after Tether, USD Coin, and Binance USD. It has a total market cap of over $13 billion, making it the 15th biggest coin in the world. There is a possibility that the coin will keep attracting more investors in the next few years.
Third, Terra has grown because of the popularity of Chai, a South Korean payment application powered by Terra. The app is accepted by thousands of merchants in the country and used by hundreds of people. Finally, it has also performed well because of the popularity of Anchor Protocol which has a TVL of over $11.6 billion.
Terra price prediction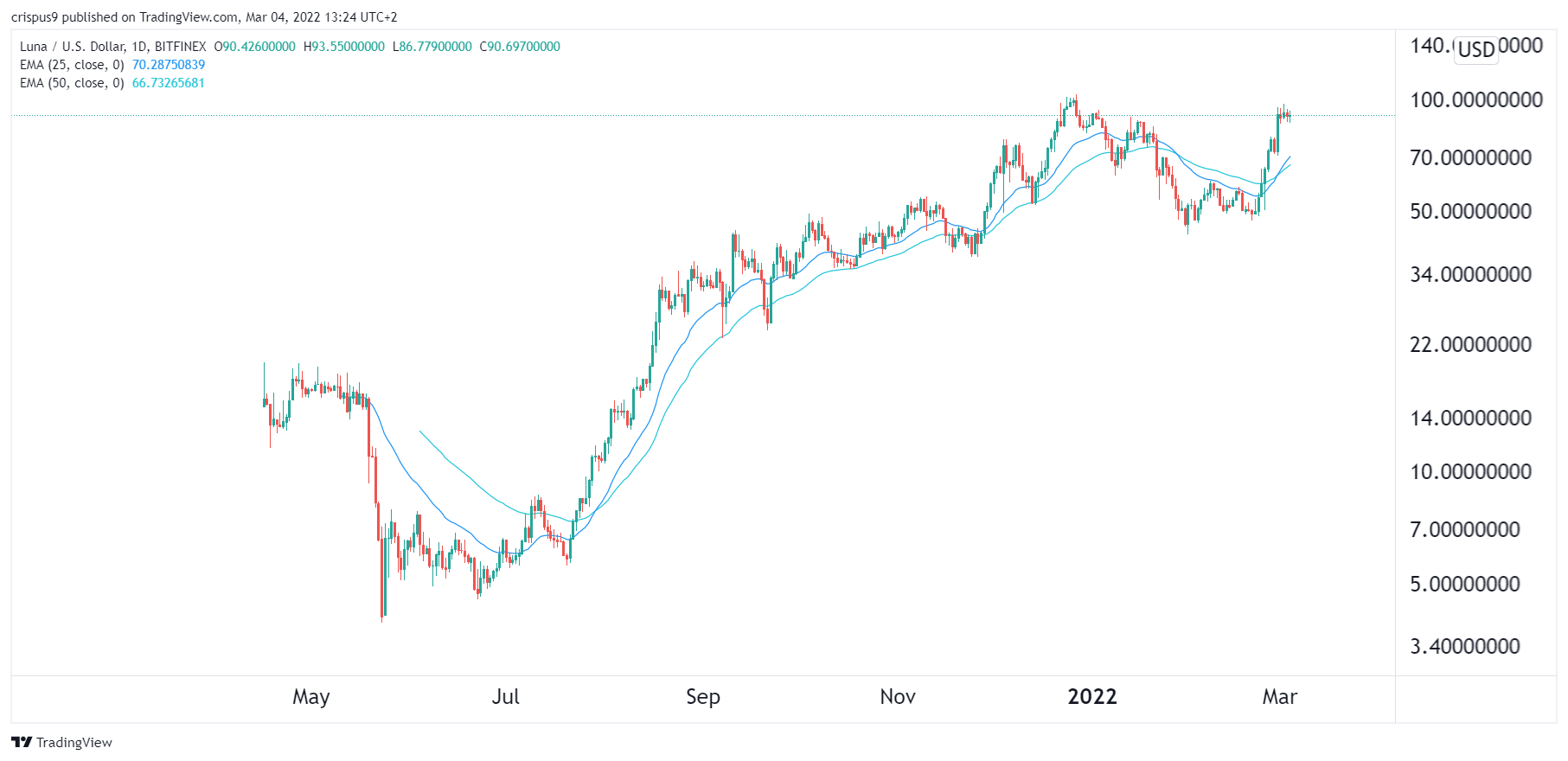 The daily chart shows that the LUNA price has been in a strong bullish trend in the past few months. As a result, it is now approaching its all-time high of $104, the coin is also above the short and long-term moving averages, signaling that bulls are still in control.
Therefore, there is a likelihood that the coin will continue the bullish trend as bulls target the all-time high of $104. A breach above that level will open the possibility of Terra price soaring to $120.