Will Matic sustain above the $1 mark?
Polygon Network (MATIC/USD) fell by over 40% in just the past two weeks, and once known as the coin immune to market corrections has also fallen to the deep market sell-off as Bitcoin (BTC/USD) fell to the $33000 levels. Matic is used to power the network and serve as a utility token for Polygon. It functions as the network's main transactional currency and as a financial incentive for those who want to contribute to the ecosystem. Matic has fallen by over 55% from the new all-time high it hit earlier this month and investors are fearing that the fall may not be over.
A sharp rally was seen in Matic earlier this month where-in Matic surged by over 60% to hit a new high, however, it has lost all the gains from the rally and is now trading in a very sharp downtrend thus investors must wait for the right time before buying Matic. After the recent sell-off, numerous coins including Matic are oversold thus a pullback could be seen soon however this may not mean that the uptrend too would back. Matic hit a new all-time even as a huge drop in Bitcoin and other major coins was seen in December thus if Matic could get the strenght back it could be a great coin for investors to buy.
What the charts are suggesting will happen in the coming weeks-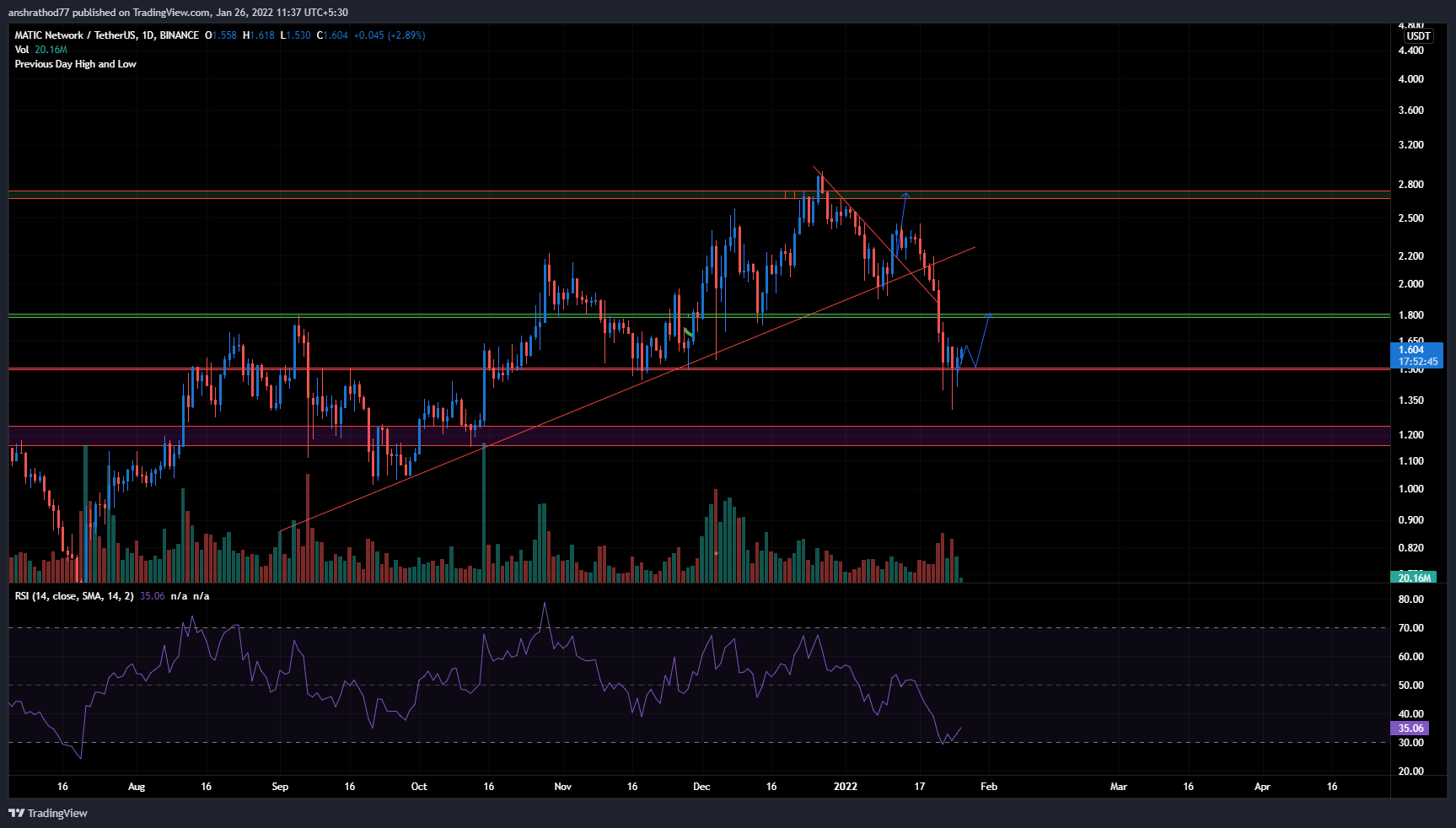 A strong support can be seen at the $1.5 mark, thus it is crucial for Matic to sustain over the zone. Moreover, it is looking like a shakeout was seen earlier this week, which is a bullish sign that Matic could rally once again soon.

Matic is also trading near the oversold zone in the RSI thus buyers could be seen soon.

If Matic breaks the $1.5 zone it could head towards the demand zone at $1.1 thus investors should take an entry near the zone.

A target of $1.8 can be set, followed by $2.1.