Will LUNA rally towards the $100 level following a recent recovery?
LUNA could target the $100 level again as the broader cryptocurrency market slowly recovers from its slump.
The broader cryptocurrency market has been in a slow recovery mode over the past 24 hours. The total market cap is now above $2 trillion again after falling below that level earlier this week.
Bitcoin is trading close to the $43k mark while Ether is now heading towards the $3,300 level following its recent rally. However, one of the best performers in the market at the moment is LUNA, the native token of the Terra blockchain.
TerraUSD, the stablecoin of the Terra ecosystem, became the leading decentralised stablecoin after reaching a market cap of $10 billion. It is also the fourth-largest stablecoin, behind Tether's USDT, USDC and Binance's BUSD.
LUNA rallied to an all-time high of $103 last month before losing more than 30% of its value in the last two weeks. However, LUNA is rallying again and could target the $100 mark again if the bulls remain in control.
Key levels to watch
The LUNA/USD 4-hour chart is very bullish, thanks to the coin's recent performance. The technical indicators show that the token is performing well and could rally higher over the coming hours.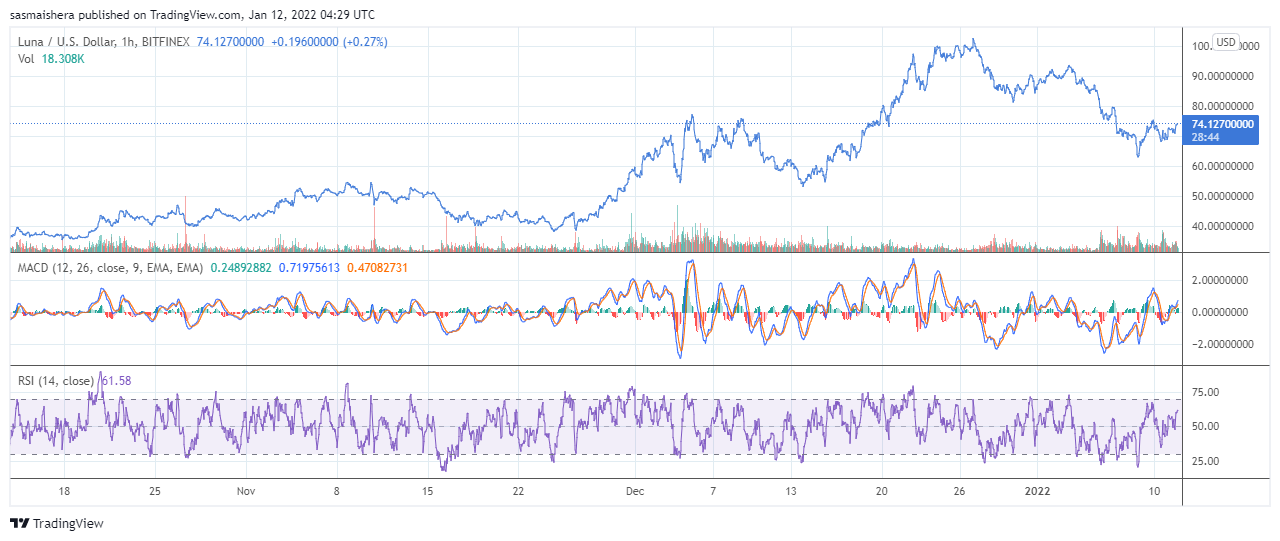 The MACD line crossed the neutral zone into the positive region a few hours ago. The RSI of 61 shows that LUNA could soon enter the overbought region if the existing market conditions are maintained.
If the bullish momentum is maintained, LUNA will rally past the first major resistance point at $81 in the coming hours. However, it would need the support of the broader market if it intends to move past the second major resistance level at $93 over the next few days.
In the event that the bears regain control, LUNA would lose its $70 support level over the next few hours.