Will Dogecoin be able to sustain above the crucial support zone at $0.16?
Dogecoin, a coin that has been silent for the past couple of months is now trading at a crucial support level, thus a decisive move could be seen soon. A break down from this point could lead to huge losses to investors as the next support zone is at $0.085 thus investors have to be patient and wait for a clear reversal before entering.
Dogecoin is an altcoin that is mainly used just for tipping users on Reddit and Twitter. It is mainly because of this reason that many investors do not prefer DogeCoin, moreover another concerning point is that the supply of DogeCoin is unlimited which can be extremely dangerous as a sudden increase in the supply could cause the price to crash. Thus investors must be cautious with Doge coin and must set a stop-loss as coins like DogeCoin are very volatile in price and huge price movements can be seen at any time. Many investors also think that ShibaInu is the next DogeCoin thus they prefer investing in ShibaInu however the problem remains the same as it was in DogeCoin which is the limited functionality .
Thus should you buy DogeCoin with hopes of a reversal soon?
Here is what the charts are suggesting-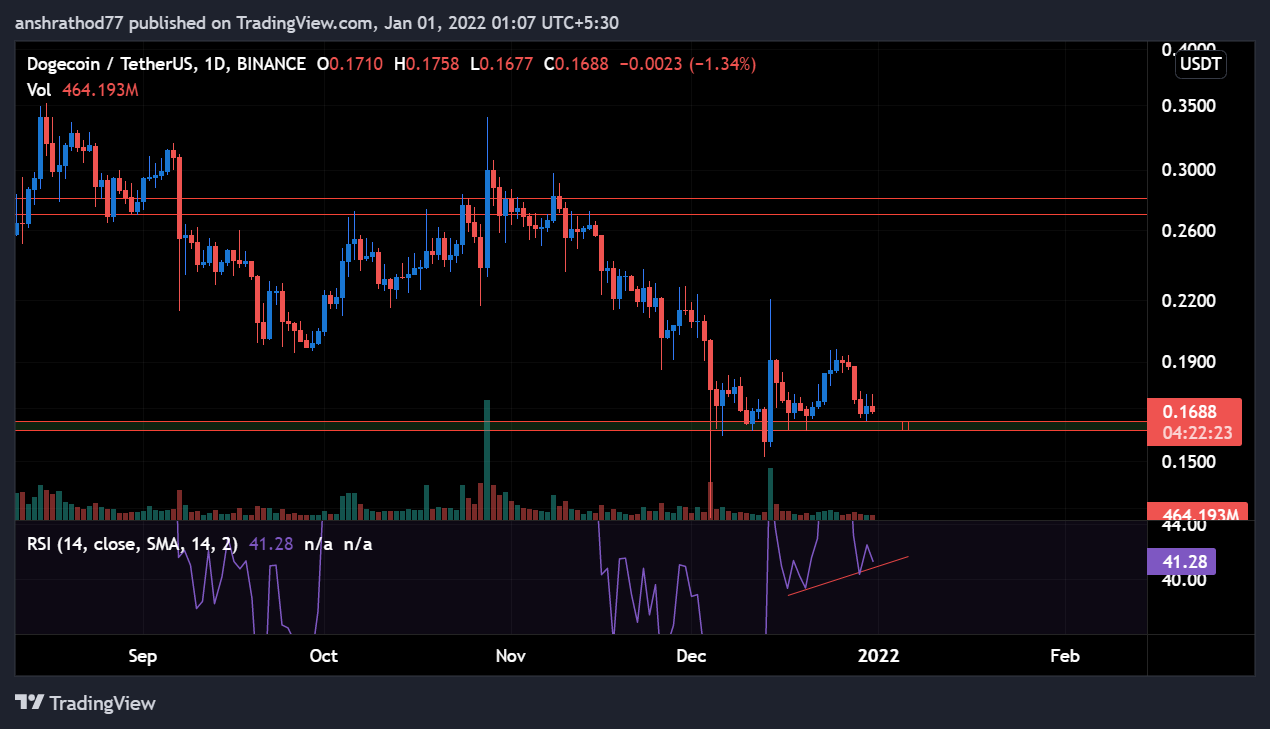 Doge has been falling after a rally which was seen in october, and has now fallen by over 50%.

A strong support zone can be seen at $0.16, which Doge has been trying to break since the past week thus it has clearly become very weak. Thus investors must be patient and avoid a long entry until a clear reversal is seen as Doge can breakdown from the $0.16 zone.

A slight bullish divergence can be seen, which is indicating that a reversal could be seen soon, thus investors can enter once a clear reversal is seen with the target of $0.21, followed by $0.26.