Why is XRP up by more than 15% so far today?
XRP is one of the best-performing coins in the last 24 hours, adding more than 15% to its value during that period.
The cryptocurrency market has been performing well over the past few days. Bitcoin, the world's leading cryptocurrency by market cap, is trading above the $42k level after adding nearly 3% to its value in the last 24 hours.
Ether is also closing in on $3,100 and is up by more than 2% so far today. However, XRP is the biggest winner amongst the top ten cryptocurrencies by market cap.
XRP has added more than 15% to its value in the past 24 hours and is currently trading around $0.77 per coin. Over the past seven days, XRP's value has soared by more than 30%, outperforming the other major cryptocurrencies during that period.
There is no major catalyst behind XRP's current rally except the fact that the broader cryptocurrency market has been recovering from its recent slump.
The total cryptocurrency market cap has increased by more than $200 billion over the past few days. At press time, the total cryptocurrency market cap is above $1.9 trillion. If the rally continues, it could climb above $2 trillion for the first time in weeks.
Key levels to watch
The XRP/USD 4-hour chart is one of the most bullish in the cryptocurrency market at the moment. The technical indicators show that XRP is performing excellently, and its value could soar higher soon.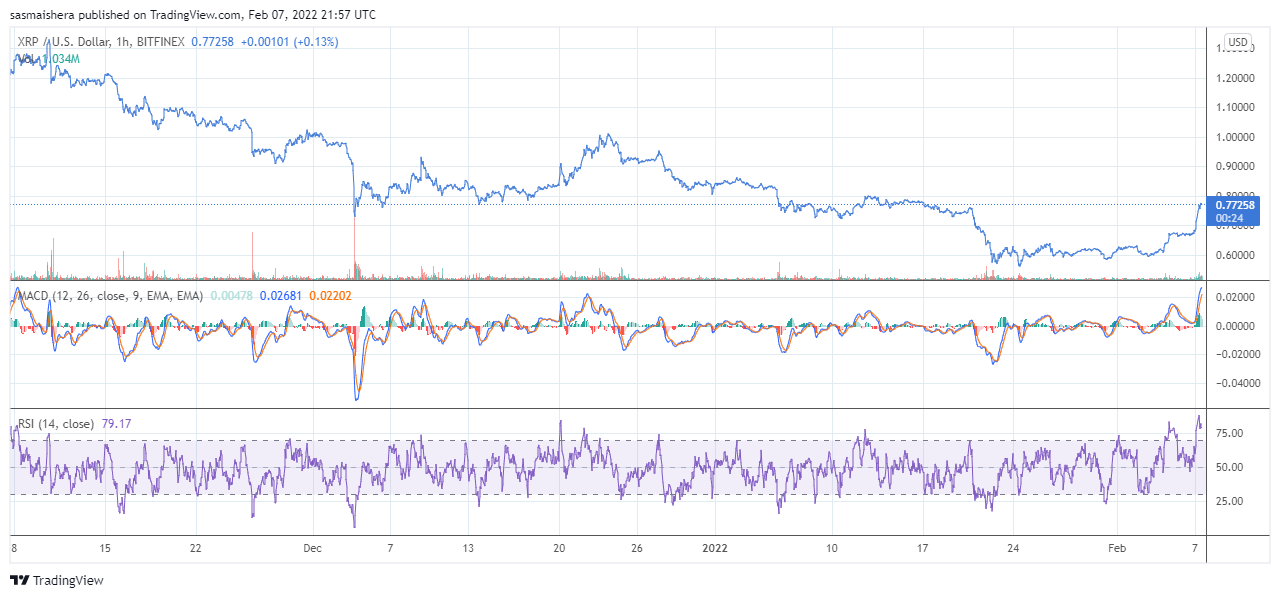 The MACD line is in the positive territory, thanks to the strong performance by XRP over the past few days. The RSI of 71 shows that XRP could soon enter the overbought region if the rally continues.
XRP could look to break past the first major resistance level at $0.895 over the next few hours. An extended rally could see XRP trade above the $1 level for the first time since December 2021.