Waves price prediction: Strong growth but a major risk remains
The Waves price has done remarkably well in the past few weeks as investors cheer the growth of its ecosystem. It has jumped to a high of $33, which was the highest level since October last year. It has risen by over 330% from its lowest level in February this year, bringing its total market capitalization to over $3.3 billion.
Neutrino growth
Waves is an Ethereum-killer that enables developers to build quality and scalable decentralized applications (dApps) such as those in the DeFi, gaming, and non-fungible tokens (NFT) industries.
Waves has a relatively small and concentrated ecosystem that is showing strong growth in the past few months. One of the biggest platform built in its platform is known as Neutrino, which provides a DeFi toolkit for algorithmic trading.
Neutrino offers Neutrino USD (USDN), which is an algorithmic stablecoin that is pegged to the US dollar and backed by WAVES. As a result, because of the staking capability offered by Waves, holders of Neutrino USD are able to earn an APY of up to 15%. This is a strong APY considering that most popular coins yield less than 10%.
Another feature of Neutrino is that it allows people to trade foreign exchange (forex) pairs in a decentralized ecosystem. It has an exchange known as Defo where people can buy and sell these assets and avoid the traditional brokers.
Therefore, the Waves price has done well in the past few months because of the success of Neutrino. In this period, its total value locked has jumped to over $1.8 billion, which is about 340% above where it was a month ago.
Other apps in Waves ecosystem have also done well. For example, Vires Finance has seen its TVL jump by 120% in the past 30 days to over $928 million.
Waves price prediction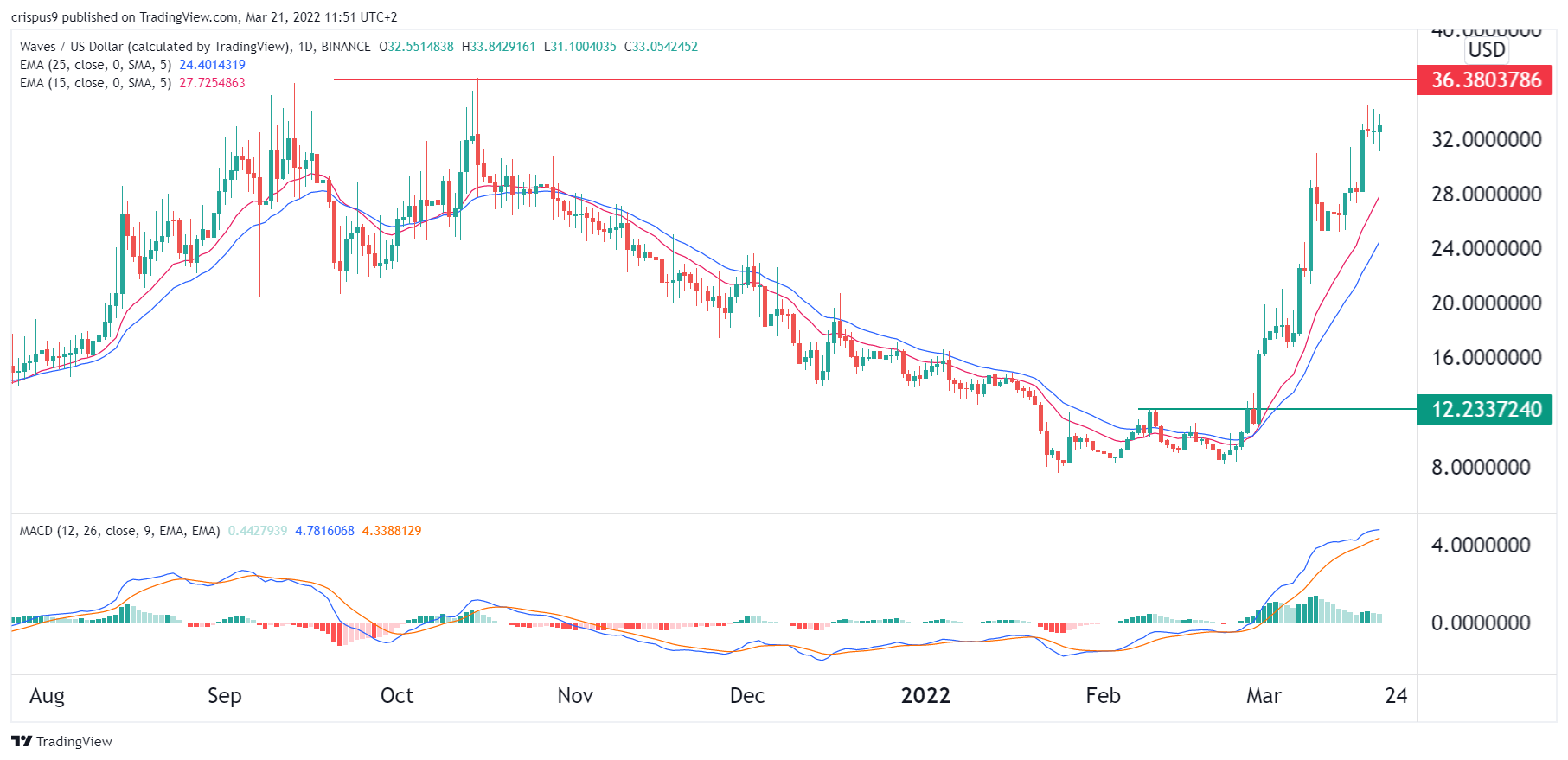 The daily chart shows that the Waves price has been in a strong bullish trend in the past few weeks. As a result, the coin has managed to move above the 25-day and 50-day moving averages. Oscillators like the Relative Strength Index (RSI) and MACD have also been rising.
Notably, the coin's price is approaching its all-time high. Therefore, there is a likelihood that it will retest the key resistance level at $36 and then retreat as investors start taking profit. Also, it is a bit difficult since Neutrino and Vires Finance have a market dominance of almost 100%.