Uniswap price rises as Binance locks sanctioned Russians
The Uniswap price did better than most altcoins on Monday as calls for banning Russian accounts as the crisis in Europe escalated. The UNI token is trading at $9.86, which was slightly above last week's low of $7.56.
Russia and Ukraine crisis
The prices of most cryptocurrencies dropped sharply on Monday as the market sentiment worsened. Indeed, the CNN fear and greed index crashed to the fear zone of 33. Similarly, the Bitcoin fear and greed index has moved to the extreme fear level.
The performance of cryptocurrencies coincides with that of global stocks. On Monday, European indices like the German DAX, CAC 40, and FTSE 100 indices dropped by more than 3%. The same is true among American futures like the Nasdaq 100 and S&P 500 indices.
The Uniswap price is rising as investors predict that regulators will start putting more emphasis on cryptocurrencies. Last week, Christine Lagarde of the European Central Bank (ECB) pressed EU regulators to start focusing on cryptocurrencies.
And now, several companies have started blocking Russians targeted by sanctions. In a statement on Monday, Binance said that it was blocking Russians who have been targeted by sanctions. Other exchanges like Crypto.com and Kraken are expected to do the same.
In a statement, the Ukrainian president also pleaded for companies in the industry to block Russian accounts in a bid to pressure the government.
All these measures are positive for Uniswap and other decentralized companies simply because of how they operate. They don't use individuals' data and only rely on their wallets. In fact, the Uniswap total value locked has risen to over $7.5 billion.
Uniswap price prediction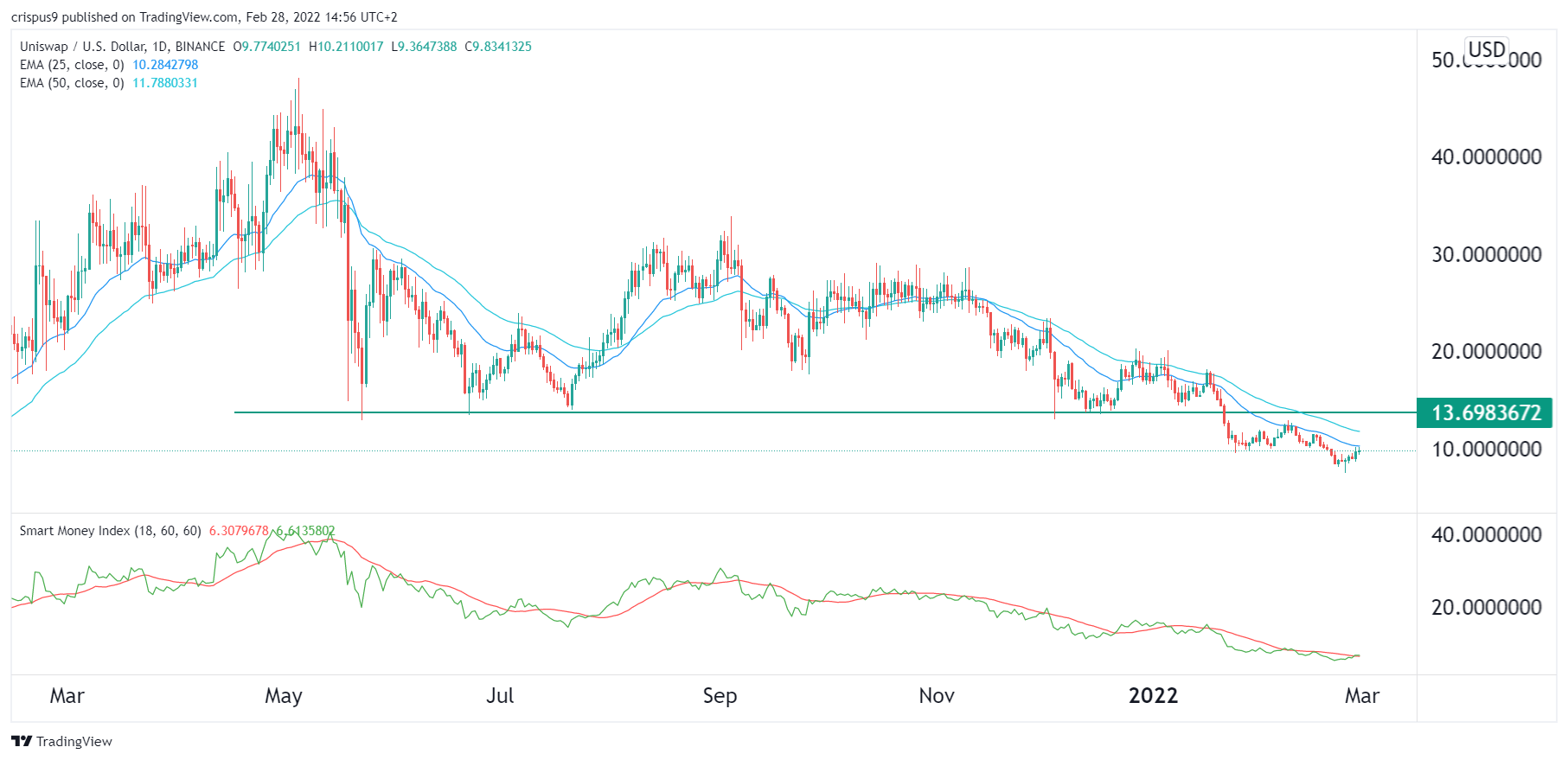 The daily chart shows that the UNI price has been in a bearish trend in the past few days. Along the way, the coin has managed to move slightly below the key support level at $13.6, which was the lowest level in July last year.
It has also managed to move below the 25-day and 50-day moving averages while the Smart Money Index (SMI) has been in a downward trend.
Therefore, there is a likelihood that the Uniswap price will likely keep falling as bears target the next key support at $7.