Ukraine receiving millions of dollars of crypto donations
One o of this weekend, the Ukrainian government has been accepting donations in the form of crypto. Forkast.news reports that the amount donated to NGOs and the government now exceeds $50.9 million.
More ways to support Ukraine
Now that tensions are reaching their peak and the government needs all the support it gets, they have switched to accepting crypto. On Saturday, February 26, it was announced the Ukrainian government was welcoming donations in Bitcoin, Ether and USDT.
It didn't take long before large sums of money poured into the country. In the meantime, large donations have also been made to the country from several altcoin projects. For example, by Gavin Wood of Polkadot, who personally donated $5 million to DOT. The call to donate in crypto has been heard loud and clearly, as over $50.9 million has been donated so far.
The Ukrainian government now also accepts DOT donations for that reason. In addition, Uniswap Labs has built a 'donate to Ukraine' button in the platform. It allows users to directly donate funds to Ukraine that will be converted into ethers. Mikhailo Fedorov, the minister of digital transformation in Ukraine, has already expressed his thanks for this.
One of the most notable actions is an NFT of the Ukrainian flag, whose funds are being used to help Ukraine. At the time of writing, the tally stands at 3.5 million dollars (£2.5 million). Additionally, Masha Efrosinina, local TV host and a United Nations ambassador, reports that Russian military personnel who surrender will receive about $45,000 (£33,000) in crypto.
Reporting of mixed numbers
Donations to the government and NGOs are worth $36 million together, Forkast.news says. Other news platforms however reported a total amount of about 20 million dollars.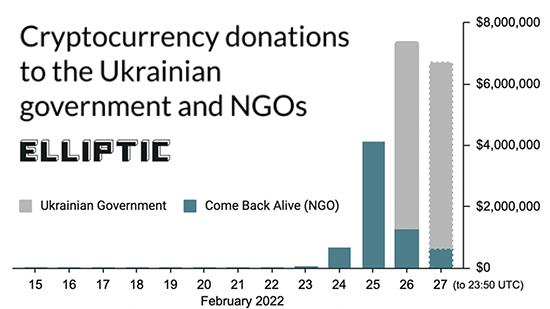 In the figures provided by Elliptic, this large number is not reflected in the table. This may be because Binance made a donation of $10 million. Not to the government itself, but to independent aid organizations such as UNICEF and UNHCR. As a result, it may not be included in Elliptic's figures.
Donated assets
People are free to donate in any asset of their choice. More than half of the donations are market leader Bitcoin. About one third is Ethereum and the other percentage is stablecoins and other crypto.
Come Back Alive Patreon Suspended
Not only the government accepts crypto, but also NGOs like Come Back Alive, an organization supporting the Ukrainian army through crowdfunding. They have been accepting crypto since as early as 2018.
They also previously collected donations through Patreon, but that page has been suspended as it violates the platform's rules. A centralized party like Patreon gives a rationale for using crypto, which seems crucial in this war. Digital assets allow people to donate money where they need it most, without the involvement of a third party.