Top 3 crypto fallen angels that are making a comeback
Fallen angels are financial assets that were once hot but that fell out of favor with investors. Examples of such assets in the stock market are GoPro, LendingClub, and Groupon. Here are the best fallen angels to trade in crypto.
Zilliqa (ZIL)
Zilliqa was once one of the hottest cryptocurrencies in the cryptocurrencies industry. It is a pioneer layer 1 project that introduced the concept of sharding that has now been embraced by other projects like Ethereum, Near Protocol, Polkadot, and Elrond.
Zilliqa is a fallen angel because its token was once red hot but has been out of favor from investors for a while. For example, its ranking among digital currencies declined from top 20 to below 100 a while ago.
Things have changed in the past few days after the network announced several partnerships. As a result, its price jumped by over 283% from its lowest level this year while its ranking has risen to 85. This makes it a good cryptocurrency to trade but a risky one to invest in.
Filecoin (FIL)
Filecoin is a blockchain project that is disrupting the storage industry that is currently dominated by mega companies like Alibaba and Microsoft. It is using the concept of blockchain and decentralization where anyone can provide data center services.
In the past few months, Filecoin has been embraced by several companies, especially in the blockchain industry. However, the performance of the FIL price has been a bit discouraging. As a result, its ranking moved from top 20 to below 50.
Recently, however, the coin has done modestly well, with the Filecoin price rising by over 54% from its lowest level this year. It has then moved to position 36 of the biggest cryptocurrencies in the world.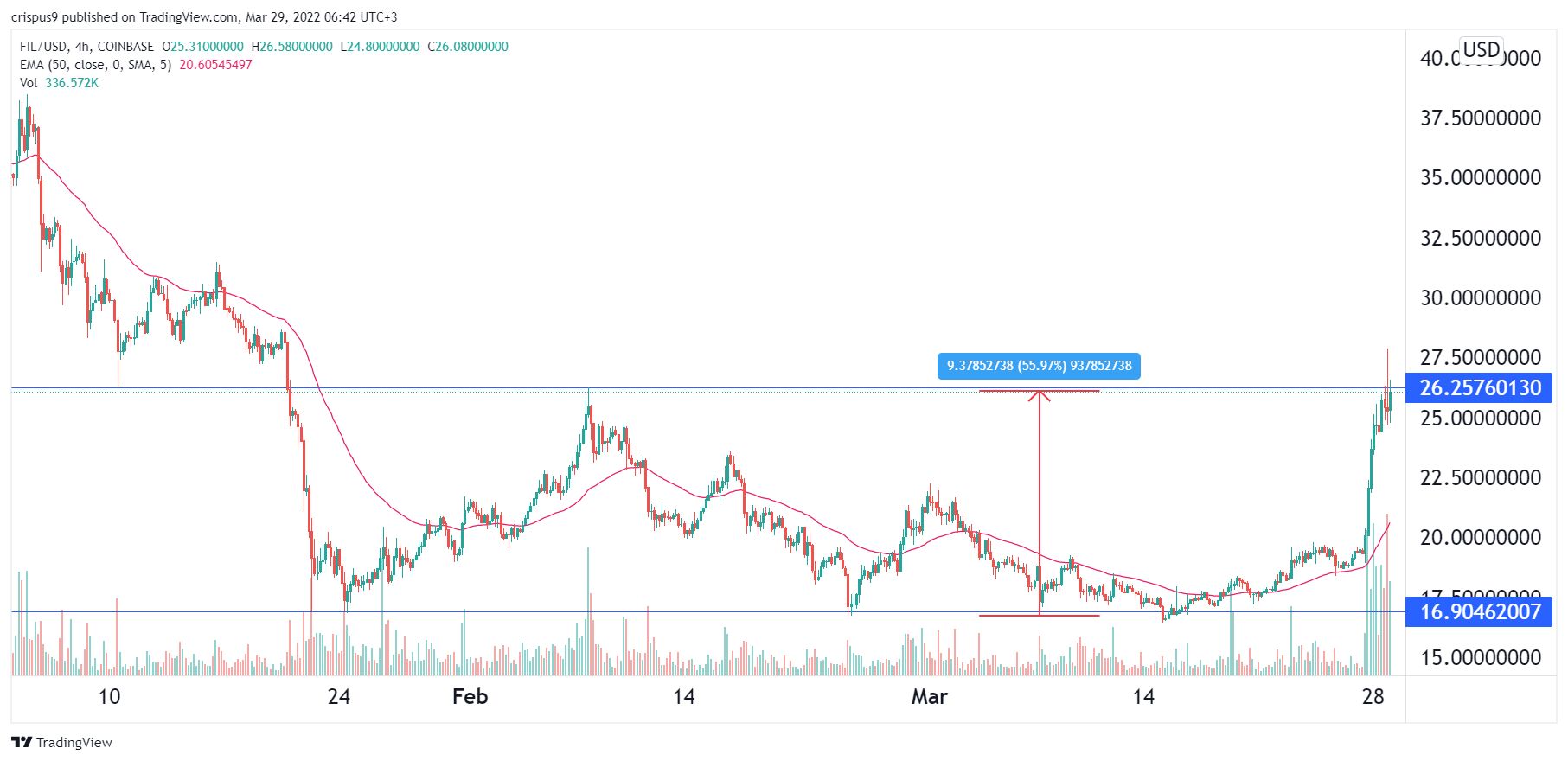 Spell Token
Spell Token is the native cryptocurrency for the Abracadabra Money network. This is one of the biggest DeFi platforms that is part of the Frog Nation. Wonderland is another DeFi platform in the ecosystem.
The SPELL token price has lagged in the past few days as investors reflect on Andre Cronje's resignation and other controversies that have faced the network. For example, it was reported that a senior team in the network was also a member of Quadriga CX.
As a result, Spell Token has become a fallen angel in the cryptocurrencies industry. The TVL in the Abracadabra network has plummeted. The same is true with the Spell Token price and the market cap of the Magic Internet Money.