Tezos price has slipped by 63% from ATH. Buy the dip?
Tezos price has lost the momentum in the past few months as the fear and greed index in the market retreats. XTZ, its native token is trading at $3.5, which is about 63% below its highest level in 2021. Its market capitalization has dropped to about $2.9 billion, making it the 46th biggest coin in the world.
Tezos under pressure
Tezos is one of the oldest blockchain projects in the world. It is a project that is designed to evolve as the industry grows. Today, its ecosystem is made up of apps in all industries like decentralized finance (DEFI) Non-fungible Tokens (NFT), and even the metaverse.
Tezos has become well-known for its NFT projects. For example, last week, the network reached a $27 million deal with Manchester University, one of the best-known football teams in the world.
As part of the sponsorship, Tezos will see its logo in Manchester United's kits and other media publications. The goal is to enable more people to know about its ecosystem and possibly buy the XTZ token. More so, the deal will see the team use the Tezos blockchain to build its NFTs.
Tezos has made several sports investments before. Its most notable one is its sponsorship of RedBull, one of the best-performing Formula 1 teams. It has also partnered with MacLaren Racing, another iconic team in Formula 1.
Tezos has also seen its ecosystem grow in the past few months. Some of the leading apps built using its network are BazaarNFT, Beacon, CTez, and FlameDefi among others.
However, the biggest challenge for Tezos is that its industry is getting competitive. Today, there are tens of Ethereum-killers that have better speeds than Tezos. This explains why its ranking among cryptocurrencies has been slipping.
Tezos price prediction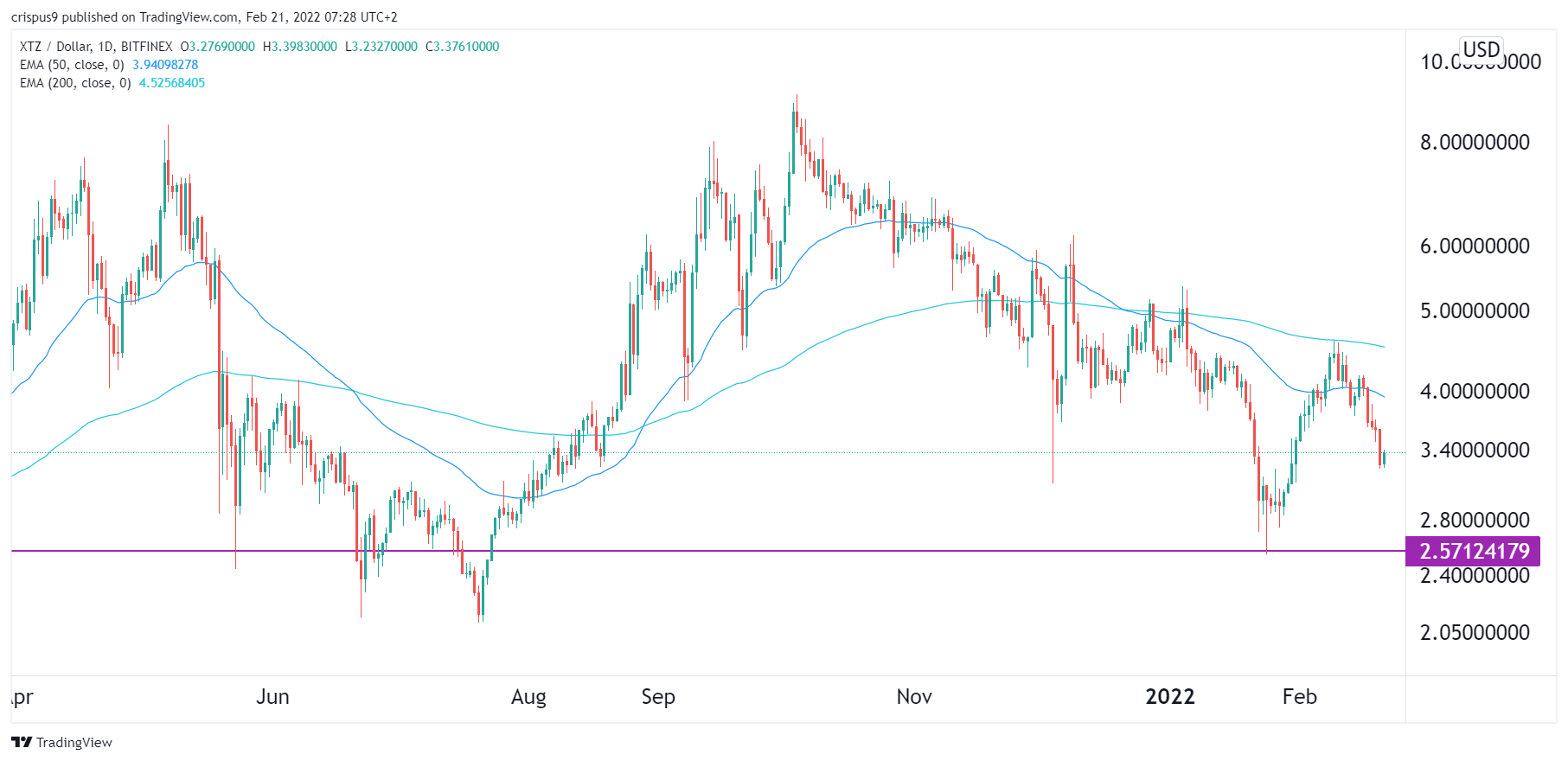 The daily chart shows that the XTZ price has been in a major decline in the past few months. It has even formed a death cross, which happens when the 200-day and 50-day moving averages make a crossover. Oscillators like the Relative Strength Index (RSI) and MACD have also been falling.
Therefore, there is a likelihood that the Tezos price will keep dropping in the coming weeks. If this happens, the next key support to watch will be at $2.50, which was the lowest level this month.