Should you buy the dip in Ray on Saturday?
After Bitcoin (BTC/USD) fell by over $10000 on Saturday, many coins slumped in price by over 20%. It was one of the largest sell-offs in a day ever, and many investors got liquidated from their long positions however the crash has given an opportunity for investors who missed the previous rally. Raydium (RAY/USD) fell by over 25% and approached a crucial support level for Ray.
The $9.1 mark has been a very important demand zone for Ray as it has reversed from the same level multiple times in the past few months, this is also a great zone to buy as buyers seem to return at this level. Ray was up over 27% before the fall, which could be an indication that a breakout is about to be seen.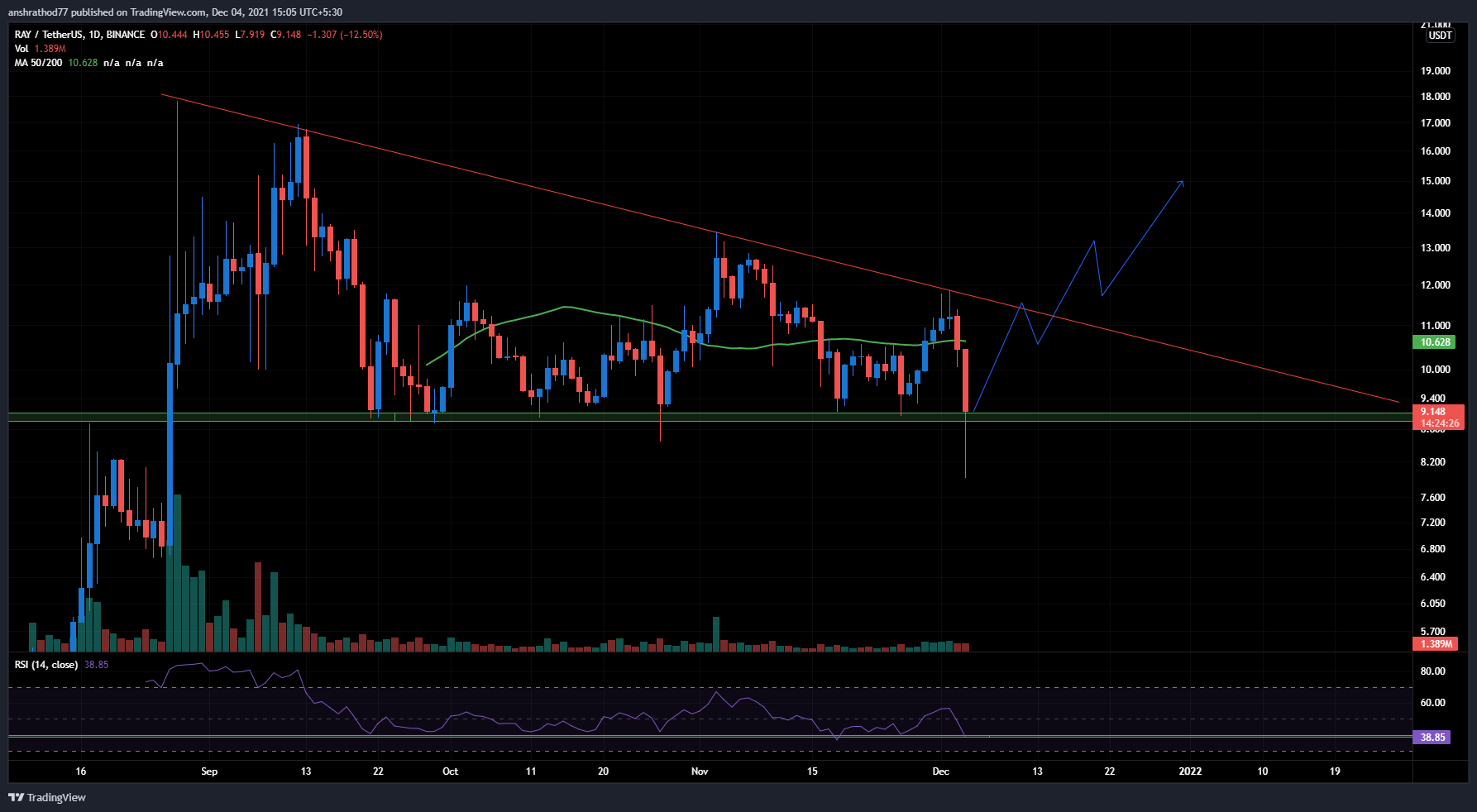 Ray has formed a descending triangle and has tried breaking out multiple times in the past few months however it has weakened the resisting trendline after testing it multiple times.

The support at $9.1 has proved to be extremely strong as Ray has not broken down below it even after testing it multiple times.

Ray also recovered on Saturday as it climbed back up to the zone after falling down to $8. This is pointing towards a false breakout which is a strong indicator that a breakout could be seen soon, thus Ray is looking bullish for the coming weeks.

The RSI is also at the support level of $35, this has been the level from which buyers have returned thus buyers could be seen returning soon.

Investors must be cautious as Ray could still break down from the zone thus any long entries should be taken only once a clear reversal is seen.

Ray could breakout soon, and a target of $11.4 can be set, followed by a target of $13.5.