Should you buy Hbar as charts point towards a huge breakout soon
Hedera Hashgraph (Hbar/USD) was up over 6% on Thursday. It has tried breaking out from the upper trendline multiple times this week by trying to break the resistance at $0.452 however the sellers came in full force and caused the breakout to be rejected.Nevertheless It has weakened the resistance and a breakout could be seen anytime now.
Hbar has been trying to breakout since September and a breakout now could yield some huge moves soon.
A look at this years charts-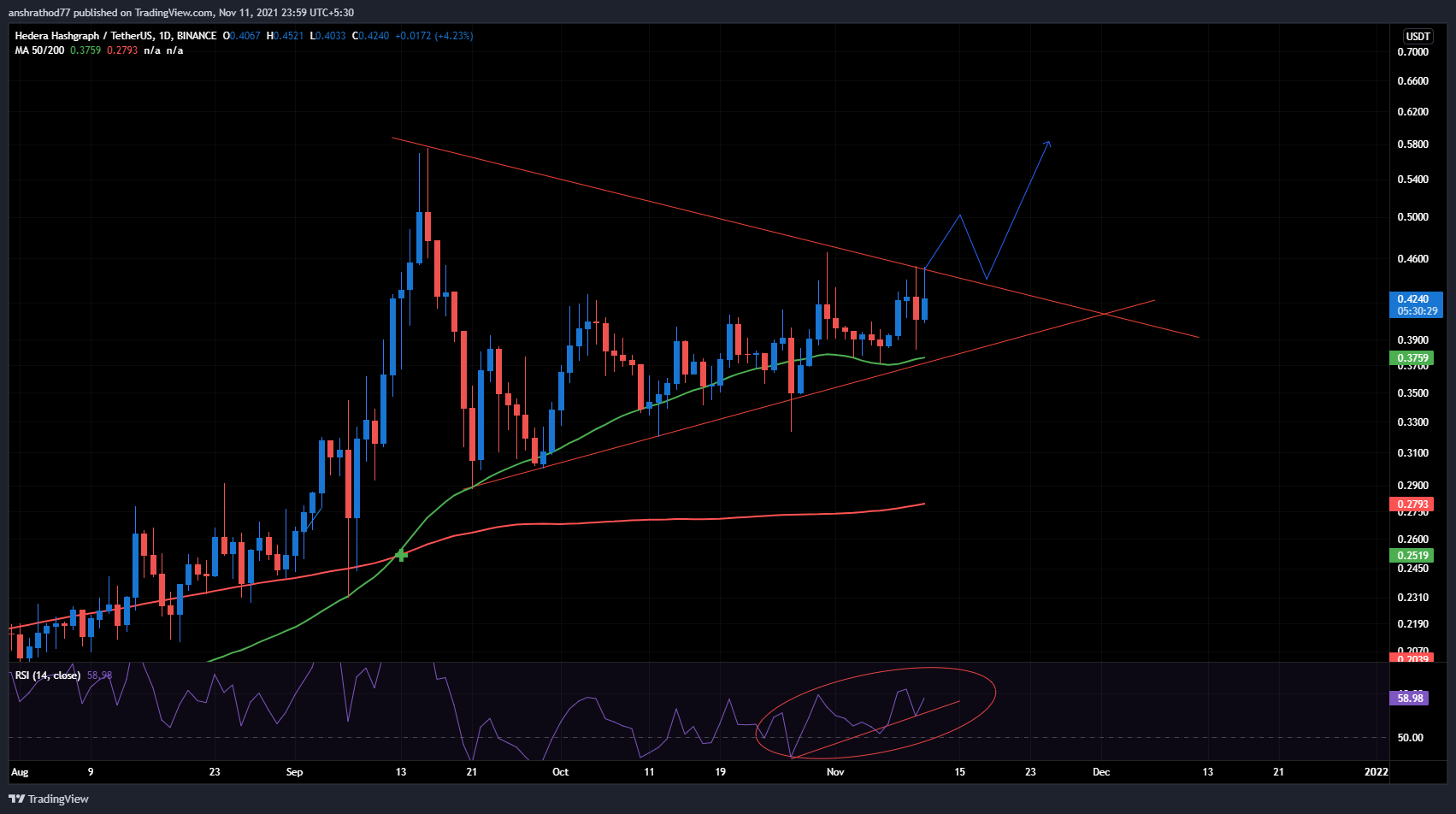 Hbar has formed a symmetrical triangle after a sharp rally this week and is extremely close to breaking out now.

Hbar has been in a strong uptrend since October and has been consistently making higher highs, this is a great structure and a continuation can be expected.

A breakout was rejected on Wednesday and Thursday however the upper trendline won't be able to reject the breakout for too long thus a breakout could be coming very soon.

Hbar has also consolidated this week which shows that it is preparing towards a huge breakout.

The 50-day moving average is also supporting the price thus a breakdown should not be expected.

A bullish RSI divergence can also be seen, moreover the RSI also sharply rose on Thursday suggesting that the buying volumes are increasing sharply.

An entry can be taken after the breakout above the $0.46 level.

A stop-loss can be set at $0.414 to avoid getting caught in a false breakout.
Conclusion
Hbar could be a great pick for investors to get in early to yield higher results however investors must wait for a breakout before entering. Investors should set a stop loss too as a shakeout could occur as well.