Should you buy Ethereum after the breakout on Friday?
After a huge rally of over 80% in October Ethereum (ETH/USD) has been correcting ever since hitting a new all-time high, and it has finally given a breakout after a healthy correction. Ethereum has broken out from falling wedge and could soon start a rally towards a new all-time high, thus investors are now looking for opportunities to buy Ethereum. Ethereum enables the deployment of smart contracts and decentralized applications (dApps) to be built and run without any downtime, fraud, control, or interference from a third party.
Ethereum is also a very strong coin fundamentally thus it is a great pick for the longer-term too, many analysts have also set targets of $10000 for Ethereum in the coming months. Thus should you buy Ethereum now or wait for a lower price?
Here is what the charts are pointing towards-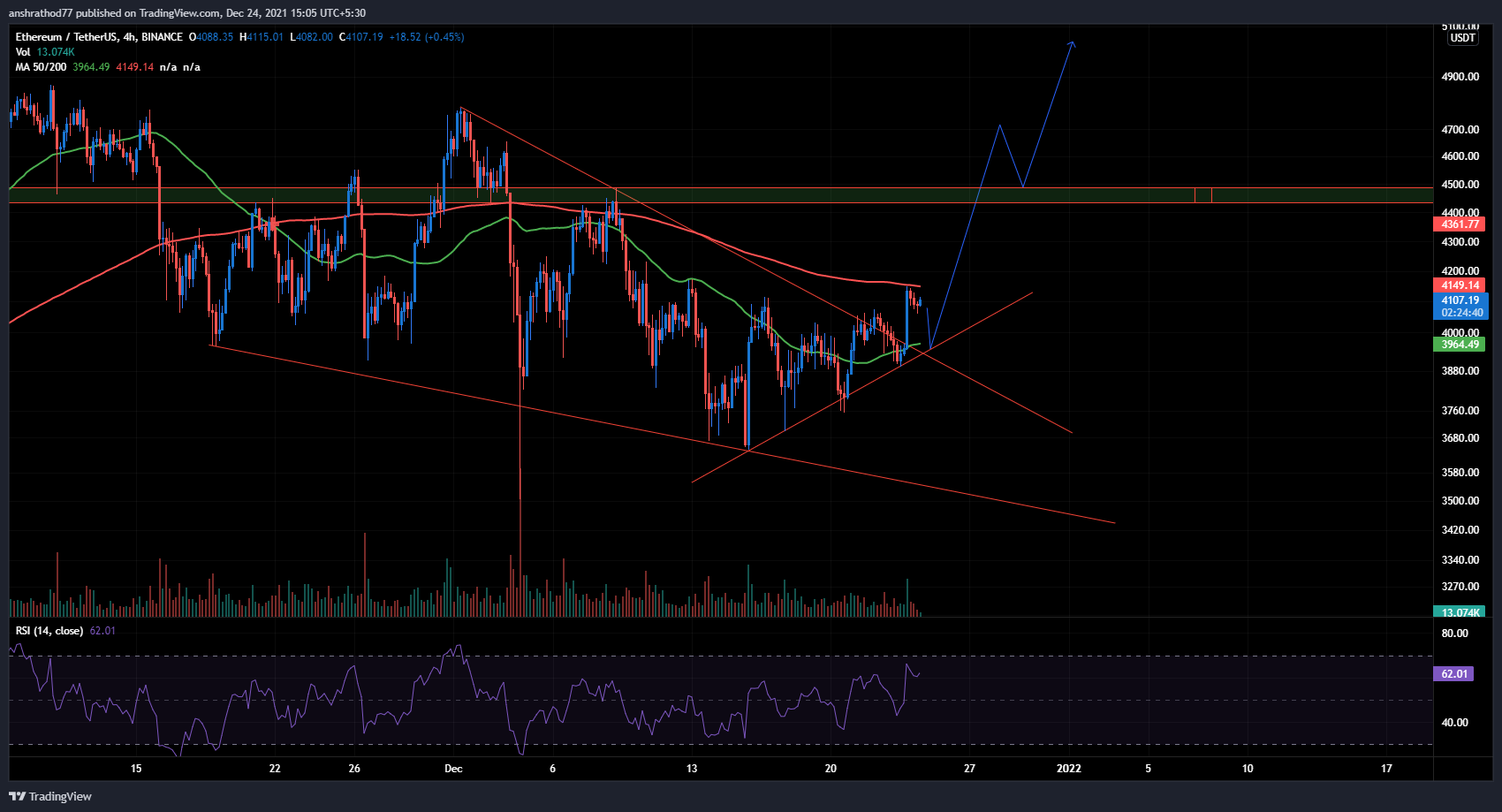 After a sharp rally in October which took ETH to a new all-time high, it has been correcting ever since and has also hit the Fibonacci 0.618 level, which is suggesting that the correction is over and that a rally could be seen soon.

ETH formed a falling wedge in December and has given a breakout on Friday, however, it is looking it will re-test the trendline before starting a rally, thus investors can wait for a re-test at the $3950 zone before taking a long position.

ETH is taking resistance from the 200-day moving average thus investors can wait for ETH to break through before taking an entry.

The correction has given time for ETH to accumulate, which could be an indication that in the next rally a new all-time high will be hit.

Investors have to be cautious of the resistance at $4400, moreover once ETH breaks out from the zone at $4400 a new all-time high can be hit.

Investors should set a stop-loss too as it could be a bull trap thus a stop-loss can be set at $3800.